If you've been following me on Social Media for the past few months, you've no doubt noticed that I've been posting tons of behind the scenes photos about a project I'm working on with Fstoppers. In truth, it would probably be more accurate to say that it's the only thing I've been talking about on Social Media besides the new launch of Dream Photo Tours. But, to make a short story long, now that principal production has wrapped up after 3.5 months of shooting in 6 different countries, I wanted to talk a bit more about the project and share some of my favorite behind the scenes moments we had along the way.
But first, let's start with the beginning. How did this massive project come to be? Well, it all started in a pub in Cologne Germany.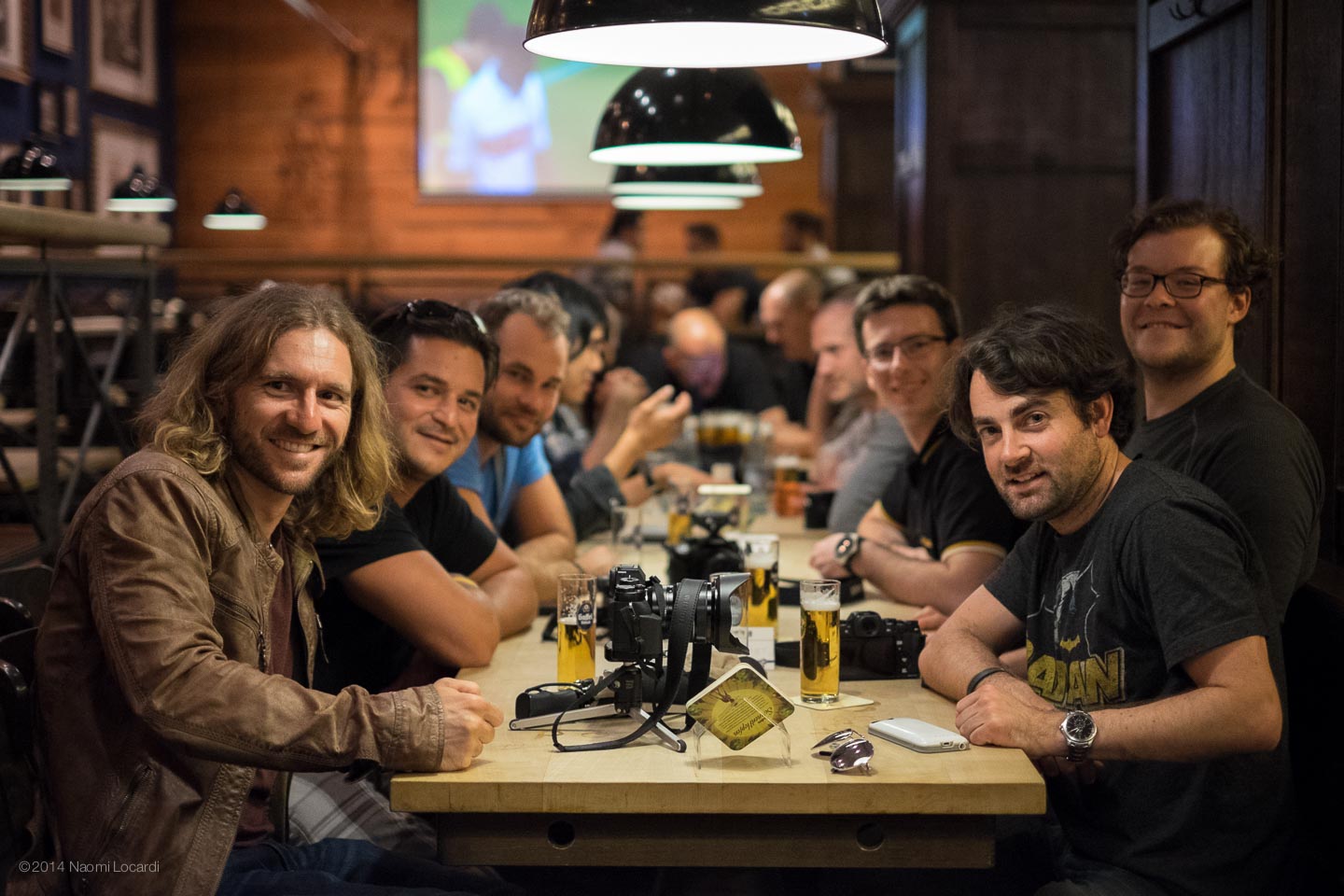 In September of 2014 while I was presenting for Fujifilm and Wacom during Photokina, I had the pleasure of being introduced to Lee and Patrick, the founders of Fstoppers in an interesting little beer garden in downtown Cologne. Over a drink, we hit it off right away and almost immediately began talking about ways we could partner up on something fun. With their Bahamas workshop coming up, the first idea was for me to be a part of that event and teach some classes, but sadly the dates conflicted with my upcoming Italy Photo Tour.
After that was ruled out, we started bouncing around other ideas, and then they pitched me on an idea that turned out to be quite possibly one of the most ambitious photography video education projects ever conceived.
Why not travel the world and teach photography and post-processing from start to finish in some of the most inspiring and beautiful destinations on the planet? Sounds great but could we seamlessly teach and combine natural landscapes, ancient and modern architecture, and astrophotography into a educational video that would get progressively more difficult as we went along? All while combining in-camera techniques with the advanced post-processing that I'm known for? At the time, I was invigorated by the prospects of something so challenging, but I also knew it would require intensive planning and preparation, and even with all that, the weather patterns while shooting could have the potential to either make or break us. With so many variables to work with, I was honestly a bit nervous at first, but I quickly decided: challenge accepted. 🙂
I knew we had a winning idea on our hands, so Naomi and I immediately began laying out the detailed travel plans. By October 2014, after a few facetime calls over shoddy internet connections, we had agreed on an outline that would have Lee and Patrick join us on an aggressive shooting schedule to some of our favorite photography locations worldwide. Once we were all on the same page, Naomi and I began putting it on the calendar, booking flights, vehicles and hotels, and set out to prepare Lee and Patrick for the trip of a lifetime—and setting out to create the most epic video training imaginable.
With 30 – 40 worldwide shooting locations planned and a heap of lessons in the outline, we set out to begin shooting the incredible landscapes of Iceland and New Zealand and the beautiful structures of Cinque Terre, Rome, Singapore, Hong Kong and the ancient Angkor Wat Temple complex.
Interestingly enough, what started out as an outline for one video quickly became two, when it became apparent that the amount of educational material there was to cover would be way too overwhelming to fit in one video. With two videos on the plate, we added an extra two weeks in New Zealand planned around the new moon phase to really expand the section on Astrophotography and make sure we had enough time to account for the unpredictable nature of the South Island weather.
Quite honestly, this has probably been the most challenging thing I've ever worked on, which is saying a lot for someone who has been living out a suitcase for three years now. And while the things I've done up until now have built a solid foundation for me as a seasoned educator, speaking and teaching on camera every day for three and a half months has been a very challenging undertaking. That being said, it's also probably the most rewarding thing I've ever done as I've learned so much about teaching live on camera while working on location. Setting out on this project we were all very excited, but we had no idea that our working chemistry would be so strong. Within the first week of shooting, the three of us became a super production team, ticking off lesson after awesome lesson and getting some of the most incredible B-Roll and Drone footage I've ever seen.
During our time in Iceland, Lee filmed a great deal with the Drone. He cut together this incredible video just after our first week there called "A Drone in Iceland". I think he did an awesome job, not only with the filming, but the edit as well! Check it out below.
Landscape photography had us keeping some insanely rough hours but Lee and Patrick are just as driven and determined to create a quality product as we are. Though they didn't like getting up early, 3 and 4am wake up calls became standard practice and they settled into the tough schedule like seasoned champs. All in all, its been really nice to work with such talented people who are just as thrilled as I am to get this information out into the world, and who are just as willing to push the limits of human exhaustion every day to get the shots we needed. I know I speak for all of us when I say that knowing that we're getting to share this photography knowledge and experience from these places with people all over the world is extremely exciting.
So as I write this, we've just wrapped up 3.5 months of shooting on location together and what we're putting together here will no doubt be the most comprehensive educational landscape, cityscape, and astrophotography video tutorial available on the market. It feels surreal to think that after so much work together, we've managed to capture everything we needed on location. All that's left is a visit to Charleston this May – June, where we'll wrap up the interviews, voice overs, and most importantly, the extensive post-processing demonstrations where I'll be covering every trick and advanced technique I use to craft my imagery.
So, from Iceland to New Zealand and everywhere in between, this was our trip around the world together.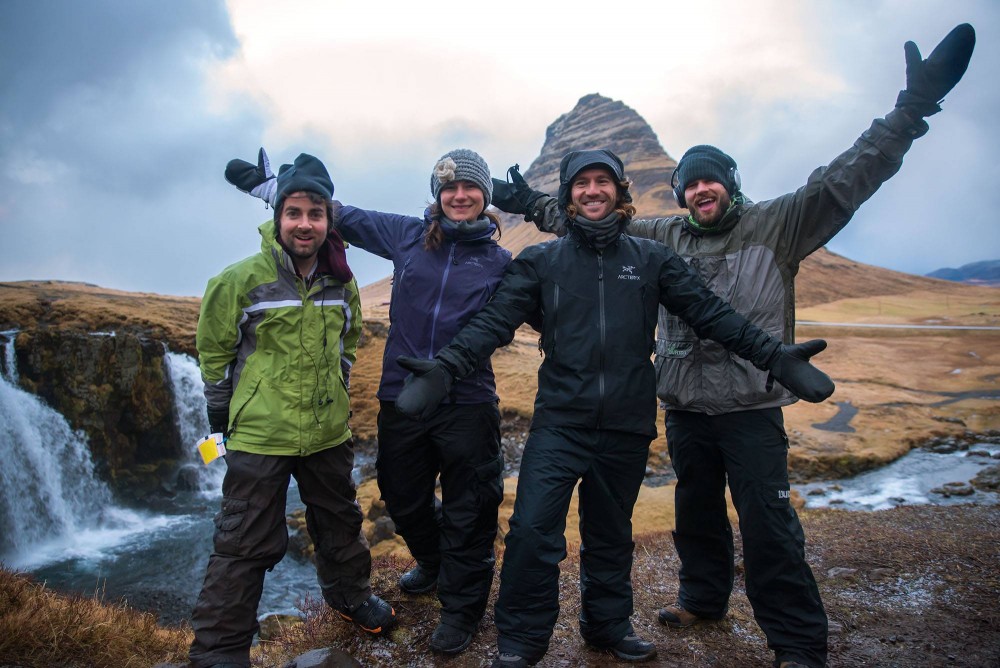 Iceland
When deciding on where to teach the landscape photography portion, Iceland of course was the natural choice. It is hands down the most epic landscape I've ever seen, so this is where our adventure began.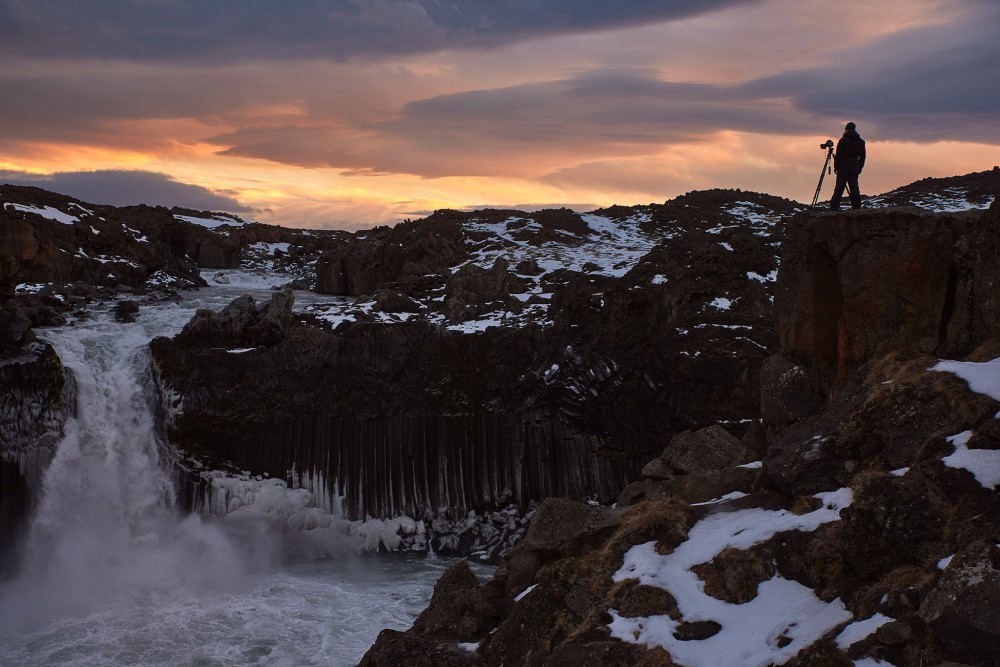 It was important to us as well to give Lee and Patrick an amazing life experience throughout this project and seeing Iceland certainly delivered on that. Going there first, during the winter months, also gave us a good chance of catching the Northern Lights and thankfully we also got lucky with clear skies and were able to capture the Aurora over the famous Jokulsarlon Glacial Lagoon.
Starting out in Reykjavik and then heading west to the Snaefellsness peninsula, we circled the island giving them an overview of this photographer's island paradise. Being our first visit to Iceland during the winter months, we got to share the first experience of the Ice Caves with them and witnessed Iceland completely covered in snow, a winter wonderland like we've never seen before.
---
Italy
Visiting Italy always feels a bit like coming home for Naomi and I, this visit was no exception.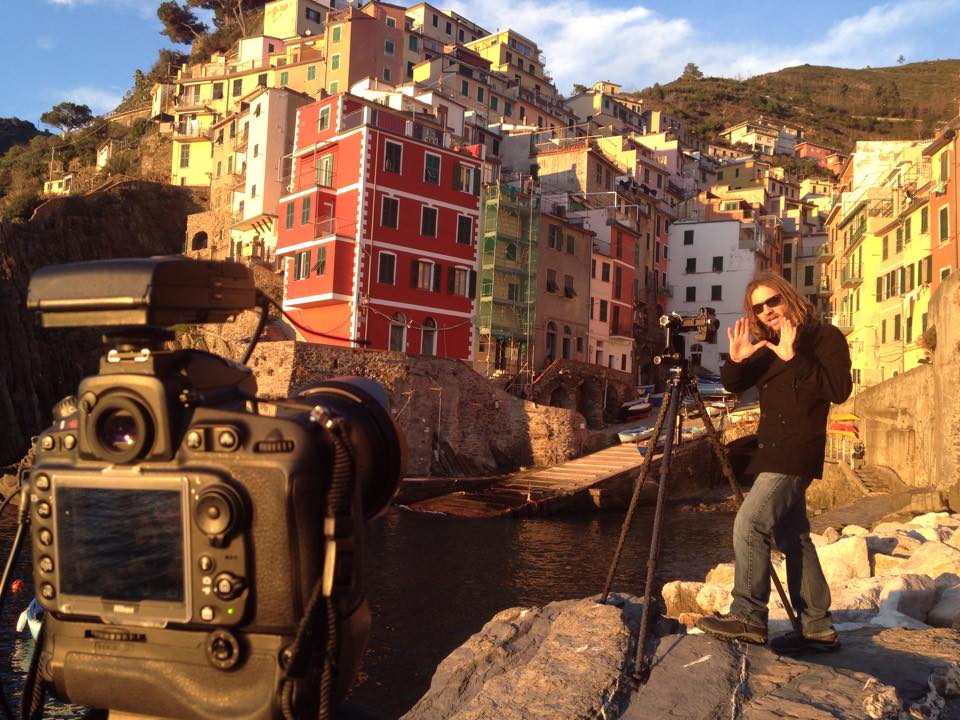 In Cinque Terre, we had the place almost nearly to ourselves. Our first time visiting during the off season, it was interesting to see one of our favorite places so deserted. We were also on a mission to change Lee's mind about Italian food after his experience during his first visit to Italy and though we succeeded a little, he and Patrick still think the US has the better pizza and sandwiches 😉
In Rome, the Christmas celebrations were in full swing and it was so nice to see the city alight with Christmas trees and lights throughout the city.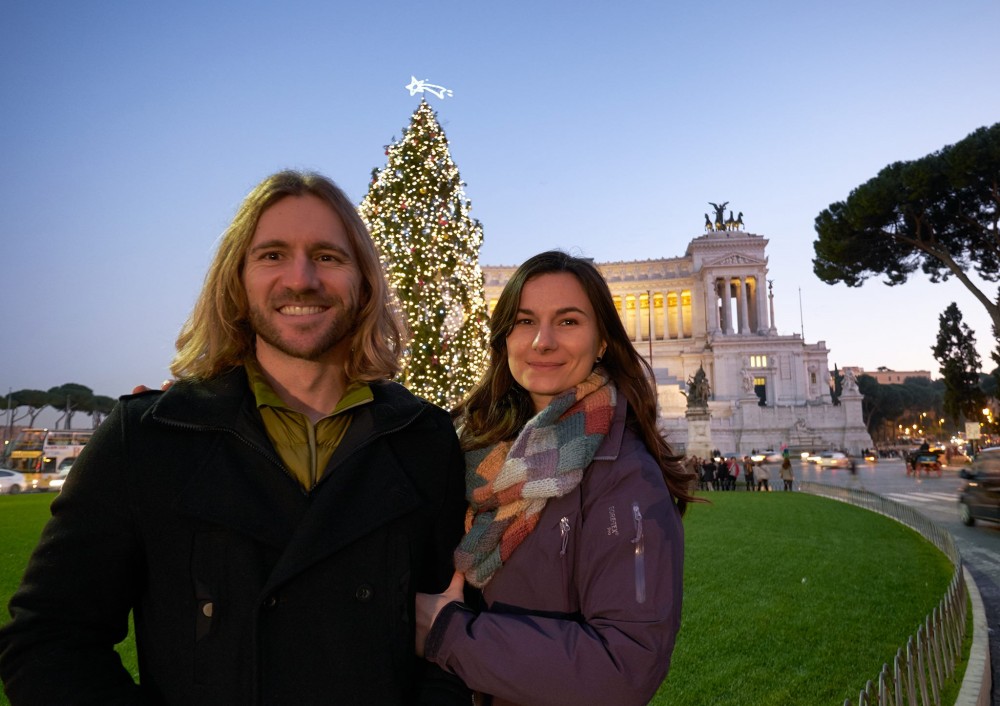 I've been shooting in Italy for years, so I'm very familiar with dozens of photography locations around the country. As a result, I was able to teach some amazing lessons in some of my all-time favorite spots.
---
Singapore
Faced with the challenge of teaching cityscape photography, Singapore was my first choice since it has some of the most unique architecture in the world, all centered around a small downtown area.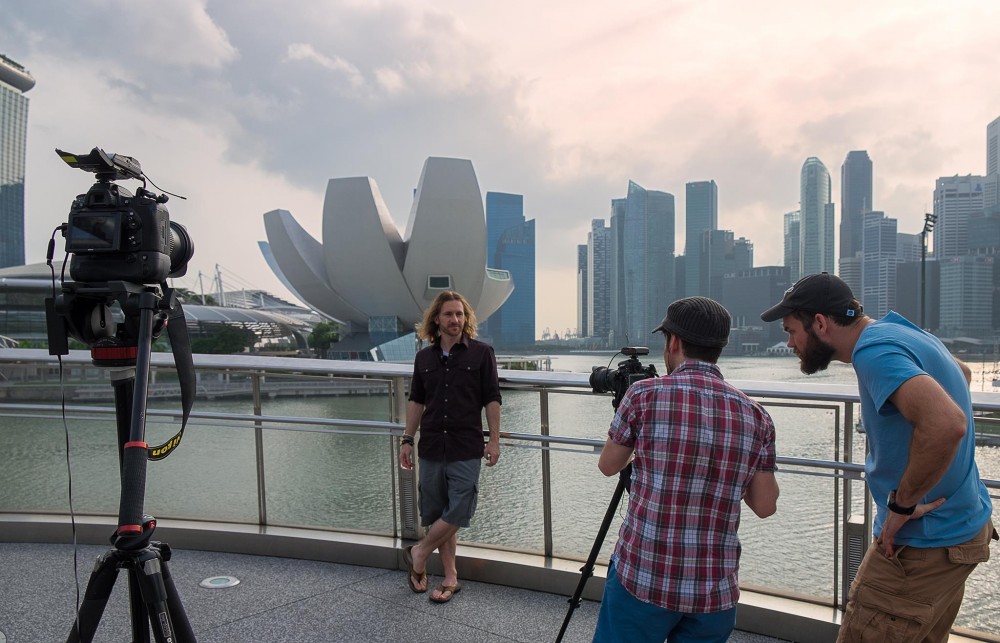 Singapore is also another one of those places that feels like coming home when I travel there. Visiting since 2012, I've made a lot friends and the photography community has welcomed me into the fold like no other place I've visited. It turns out that Lee and Patrick also have quite the fan club in Singapore too, so we held a get together and meetup so we could mix and mingle a bit with many local photographers, as well as, many of my old friends.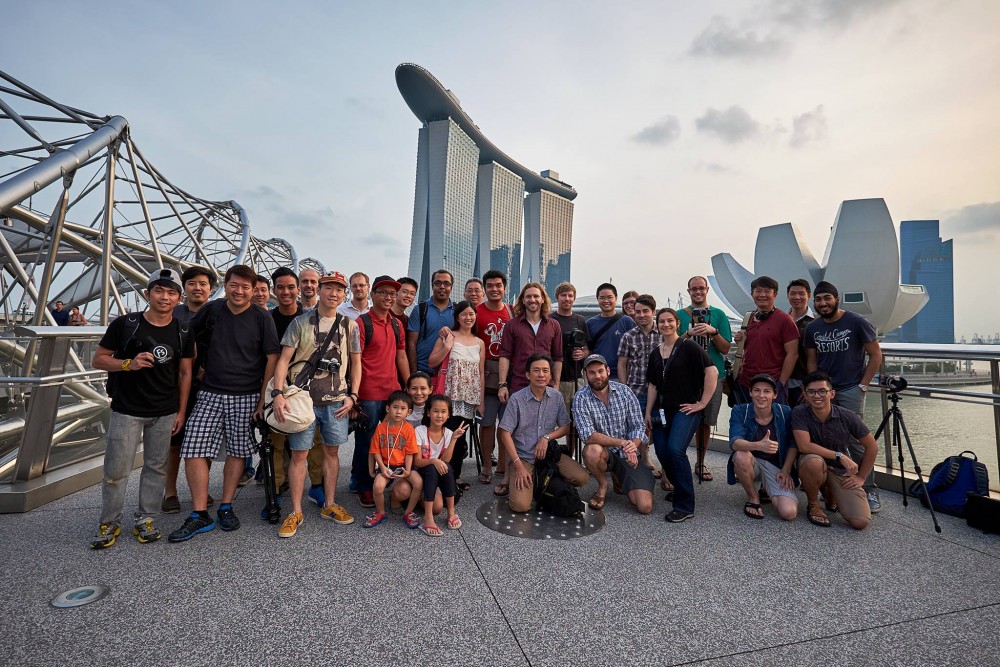 After the meetup, Lee and Patrick insisted they get to teach us to play their favorite game at the Casino. It took a little while to grasp the rules of Craps, but after a bit of observation we had a lot of fun and quite a good first try at the table!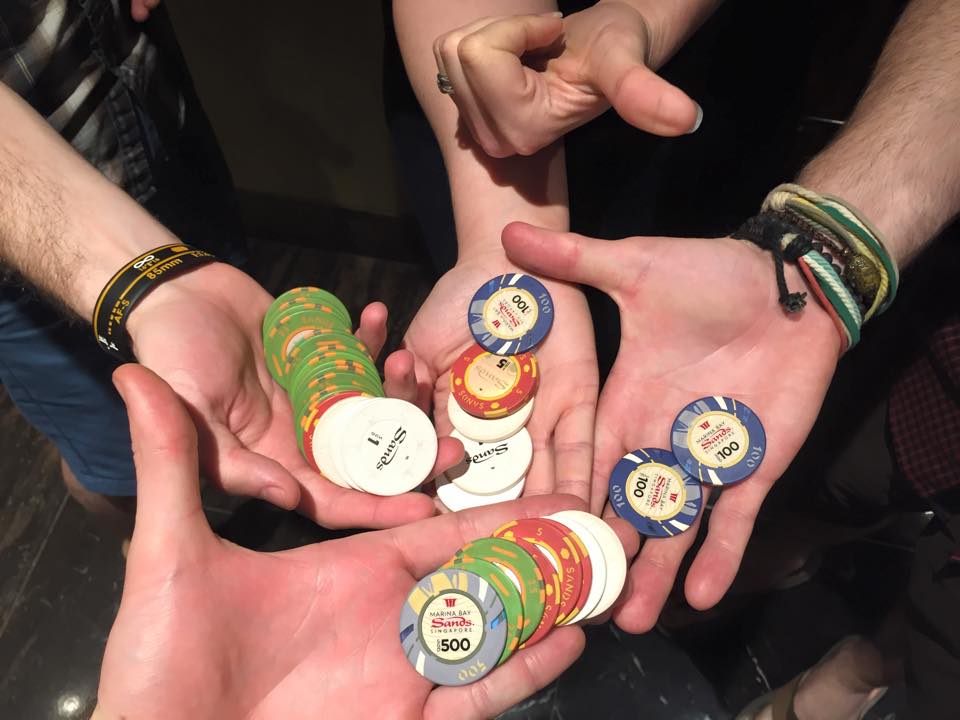 ---
Hong Kong
Shooting cityscapes in Asia wouldn't be complete without a trip to Hong Kong,  so we decided to spend an entire week exploring and shooting in this incredible metropolis. It was a bit hazy but we still managed to grab some awesome shots while teaching some great techniques.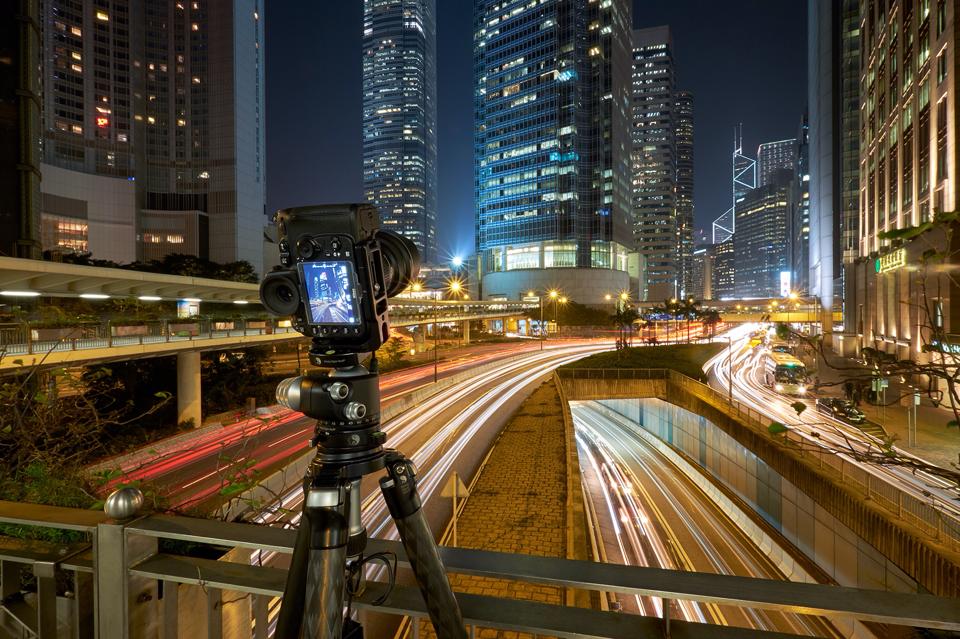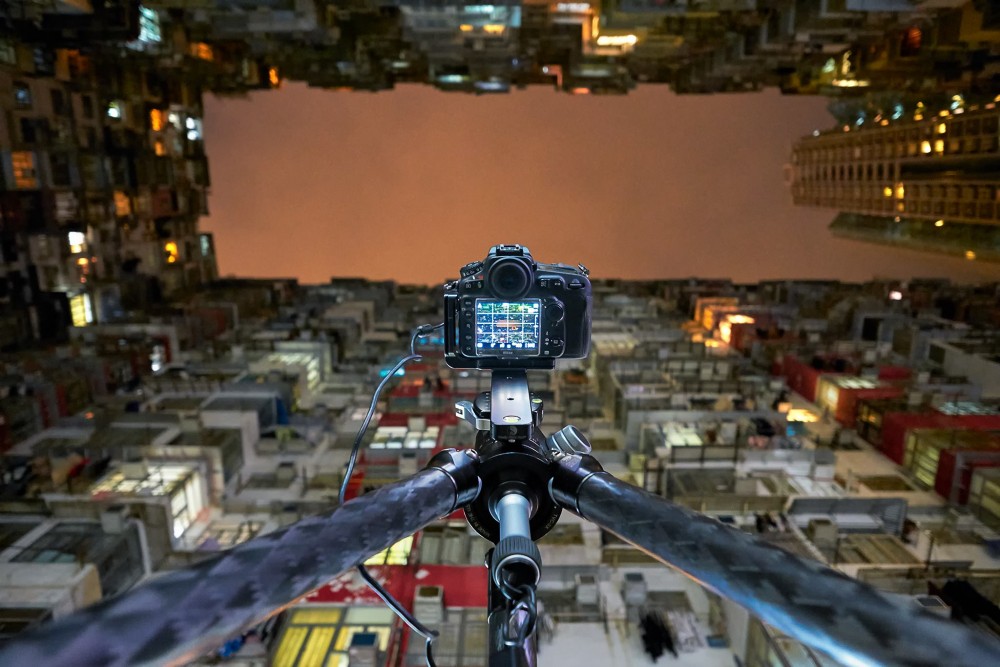 "All work and no play makes Jack a dull boy," so we had a bit of fun walking the streets of Hong Kong in our highly fashionable sombreros after enjoying a couple of margaritas. 😉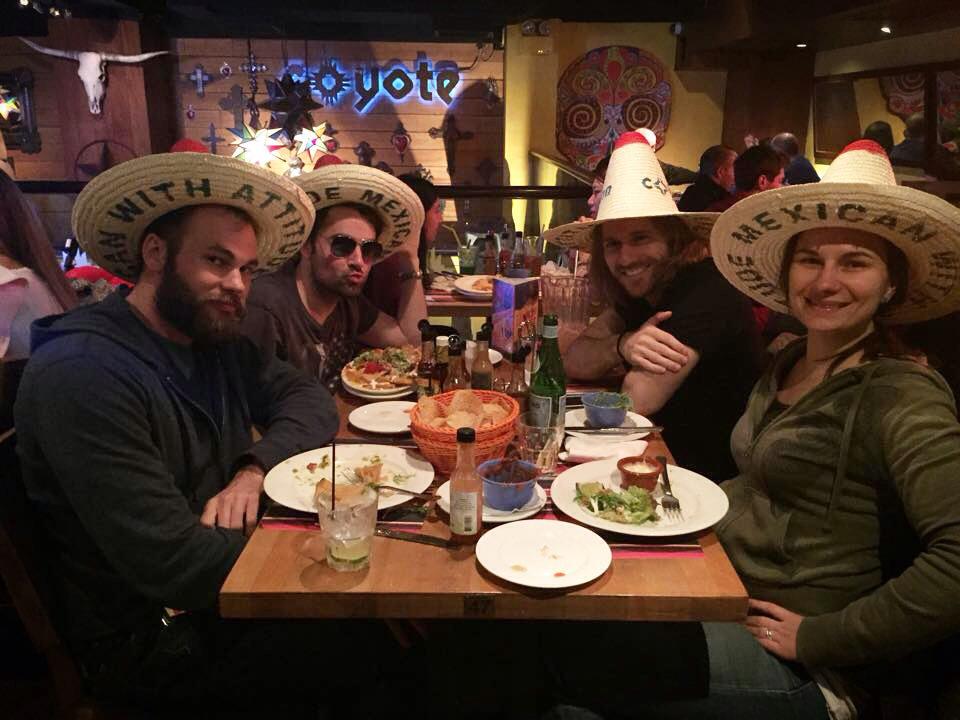 We spent several (way too early) mornings shooting sunrises from Victoria Peak, hit up some iconic architecture spots, and Lee and Patrick even headed over to Macau to play a bit more at the craps tables there.
---
Cambodia
It wouldn't have been right to bring Lee and Patrick to SE Asia and not show them around one of our favorite places in the world, Siem Reap in Cambodia. As if Temple hopping in Angkor Wat Complex wasn't enough fun, they headed out for some target practice and had the royal treatment with massages and even a fish pedicure.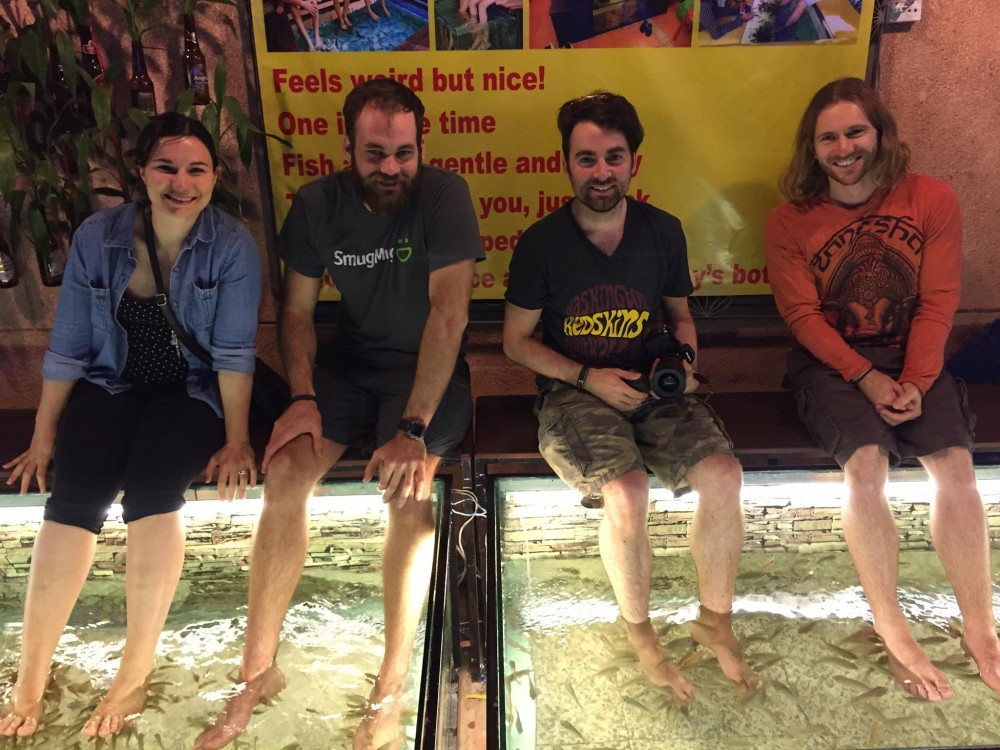 Naomi and I have never had a fish pedicure before, but they somehow convinced us to join them and it was by far one of the strangest sensations we've ever experienced. We couldn't stop laughing pretty much the entire time.
We were thrilled to see that by the end of the week long visit, they had grown to love Cambodia, and its incredible smiling people just as much as we do. They even went so far as to say that it was possibly their favorite place that we visited, after Iceland of course.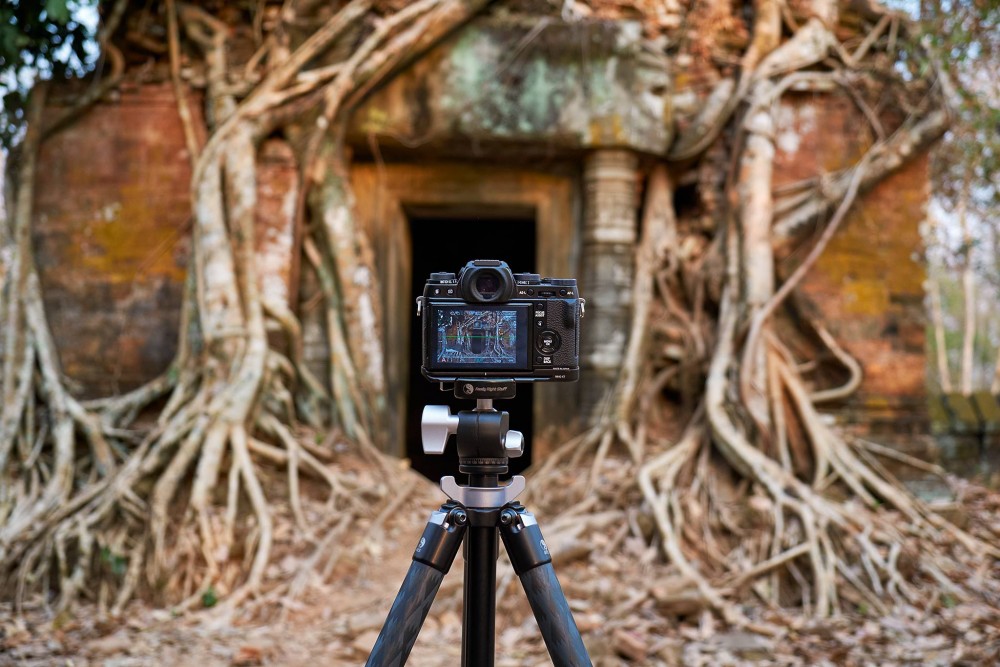 This visit to Cambodia was also extra special for Naomi and I, because we finally got to meet our friends at Journeys Within Our Community (JWOC) in person. JWOC is the Non-profit organization we're partnering with for our upcoming Philanthropic Photo Tour this December.
It was also while in Cambodia that we officially launched our new Dream Photo Tours website, along with our close friend and partner, Ken Kaminesky! Naomi had to skip quite a bit of the filming and exploring for the Fstoppers project to finish up all of the design and get the new site design launched. So, it was a bit of divide and conquer the last few months. I'm so incredibly proud of the work she and Ken put into the new site and we're all ecstatic to finally have the new company and site launched.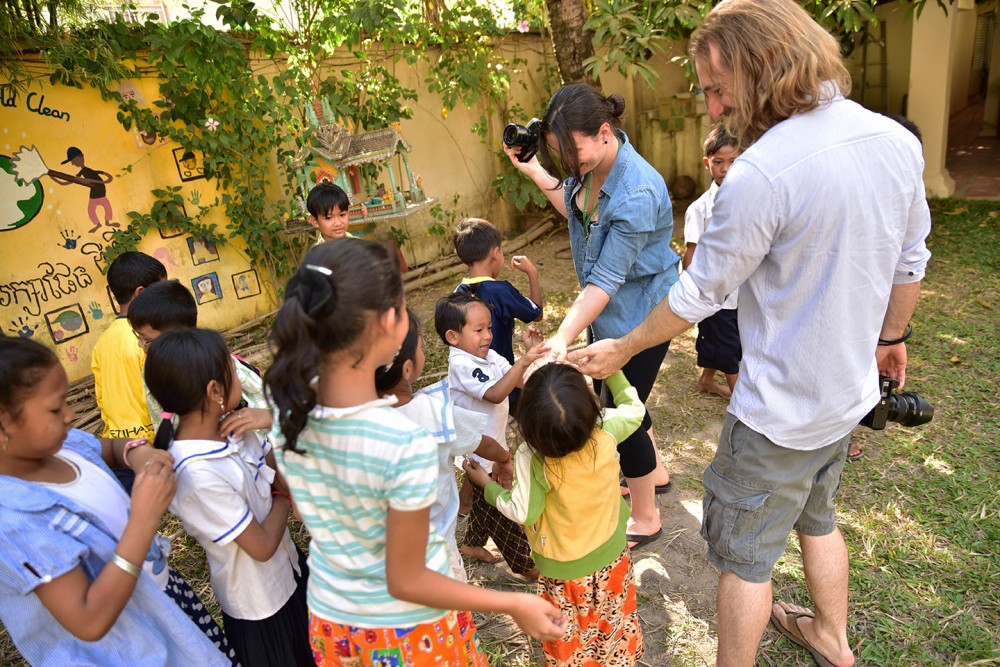 In case you missed it, we're also hosting a Giveaway to celebrate the launch and there's still time left to enter to win the grand prize of a Fujifilm X-T1 kit. To learn more or register check out the official giveaway here: bit.ly/DreamGiveaway15
We all really bonded with our Tuk Tuk driver Chom, and Lee and Patrick even had the chance to visit his home for a traditional lunch with his family. In other news, I almost got attacked by a monkey, which Lee and Patrick caught on video, so watch for that in the Behind the Scenes we release. Oh the irony if I had been killed by a Monkey, then we really would have to Blame The Monkey 😉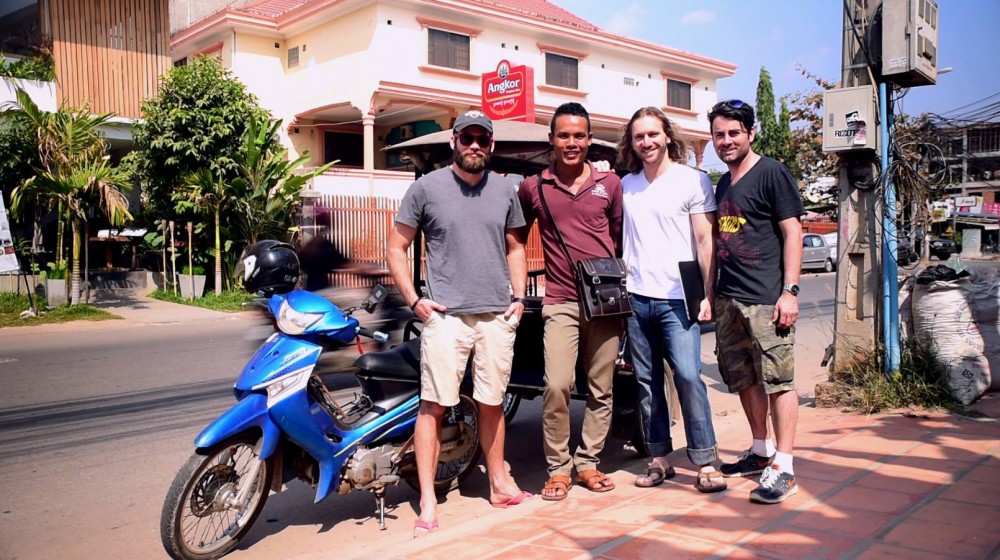 All in all, I have to admit it was one of my favorite visits to Cambodia yet. We're looking forward to being back there along with Ken in December to work with the kids at JWOC.
---
New Zealand
We've literally traveled around the world and back again to create these educational video tutorials. So we couldn't really leave out New Zealand when teaching people landscape photography. And what better place to teach people how to capture stars and the night sky than under the protection of a dark sky reserve and one of the clearest atmospheres in the world.
As far as life experiences go, New Zealand is one of those places that I feel like people should really just see for themselves. It's difficult to capture just how massive and vast the mountains and landscapes are here. I'm blown away each time I visit.
During our visit to Wanaka we had the chance to meet up in real life with our online friend, the talented Liz Carlson of @YoungAdventuress. To say she's even nicer in person is quite the understatement! She put together for us all of the camping gear, sleeping bags and mats we needed to be comfortable under the stars while shooting at Mt. Cook. And a good thing too, as they protected us from some crazy high winds and a gang of wild possums 😛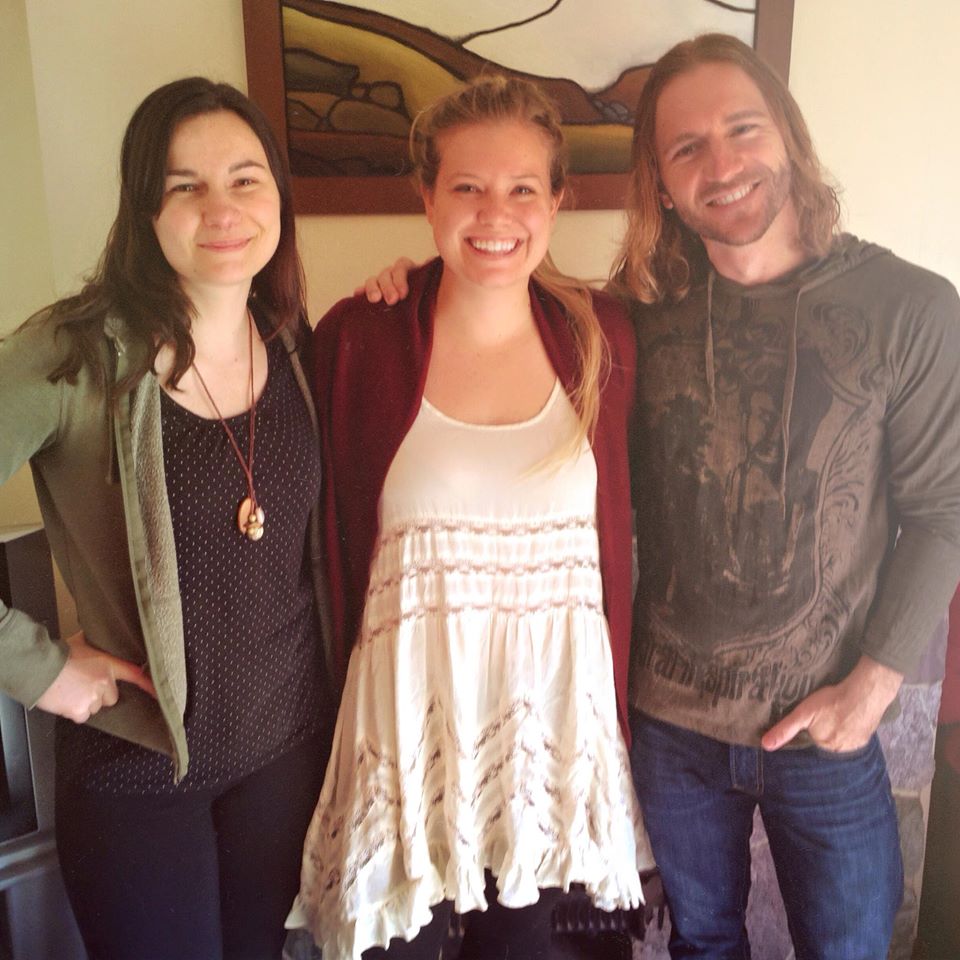 Staying to the middle and south of the South Island, we've spent the last 29 days exploring Middle Earth together. Home to the birthplace of a multitude of activities geared toward adrenaline junkies, Naomi, Patrick, and Lee decided to skydive, bungy jump and take a trip on the highest canyon swing in the world! They tried to convince me to do it as well but I told them that while I do enjoy flying in airplanes, I'm not too keen on jumping out of them. In all honesty, I do regret not doing it with them a little bit since they got some really epic behind the scenes shots.
---
From start to finish, the making of these video tutorials has been an incredible experience and I'm happy to have made some new life-long friends in the process. Lee and Patrick are a pleasure to be around and honestly, two of the coolest people I've ever met. Getting to spend the last few month together has really made this entire journey all the more memorable and I can definitely tell that this is only the beginning of a long working relationship and friendship.
Thanks as well to everyone who followed along with our adventure online and on social media. It was really fun to share these behind the scenes moments with you all and it has been a pleasure having you along for the  adventure. 🙂
If you're want to be informed when the tutorial is released, and get early access and a discount, visit www.fstoppers.com/elialocardi or sign up for the newsletter below.
Right now, our expected release date for Video 1, is late June.