I'm very excited to say that today, the Fujifilm X-T2 has officially been announced!
I'm proud to be one of the few photographers in the world that has had the opportunity to field test the X-T2, and over the past few months, I've traveled from Japan, to Italy, Greece, and Singapore, to put this camera through its paces, report my findings, and see what shots I could capture along the way.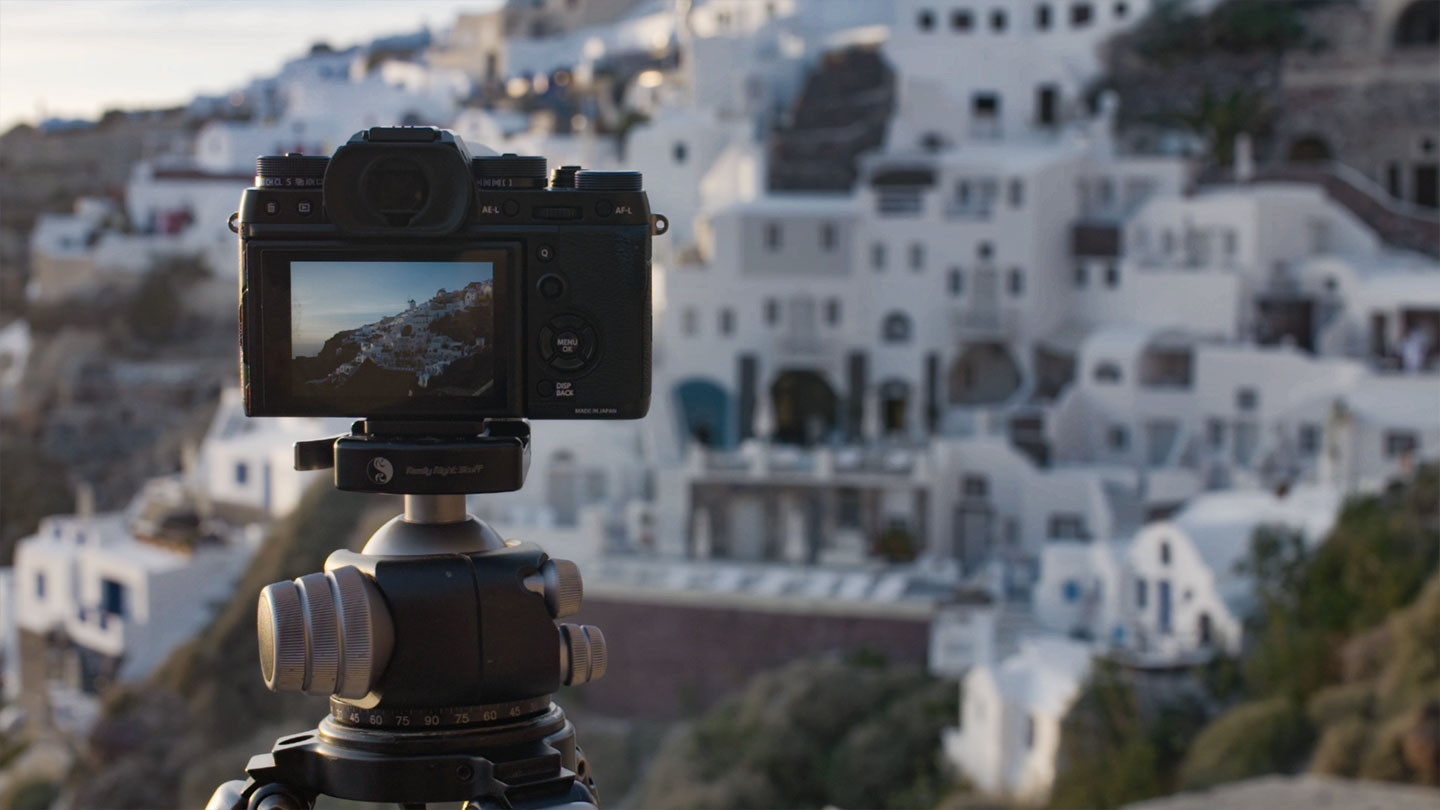 I was very excited to be chosen for this project and equally excited to be trusted with the secrecy of the Fujifilm X-T2. During the process, Fujifilm Headquarters referred to us as "Field Agents," which truth be told, made me feel like I was part of some strange espionage travel show as I traversed the Greek Islands looking for unique and interesting photography locations.
So the big question is, how do you keep one of the most highly anticipated cameras secret while shooting in some of the most popular destinations in the world? Well, allow me to reveal the very clever first rule of prototype camera secrecy…
Gaffers Tape! Yup, it turns out that almost anything can be solved with a bit of tape. 😉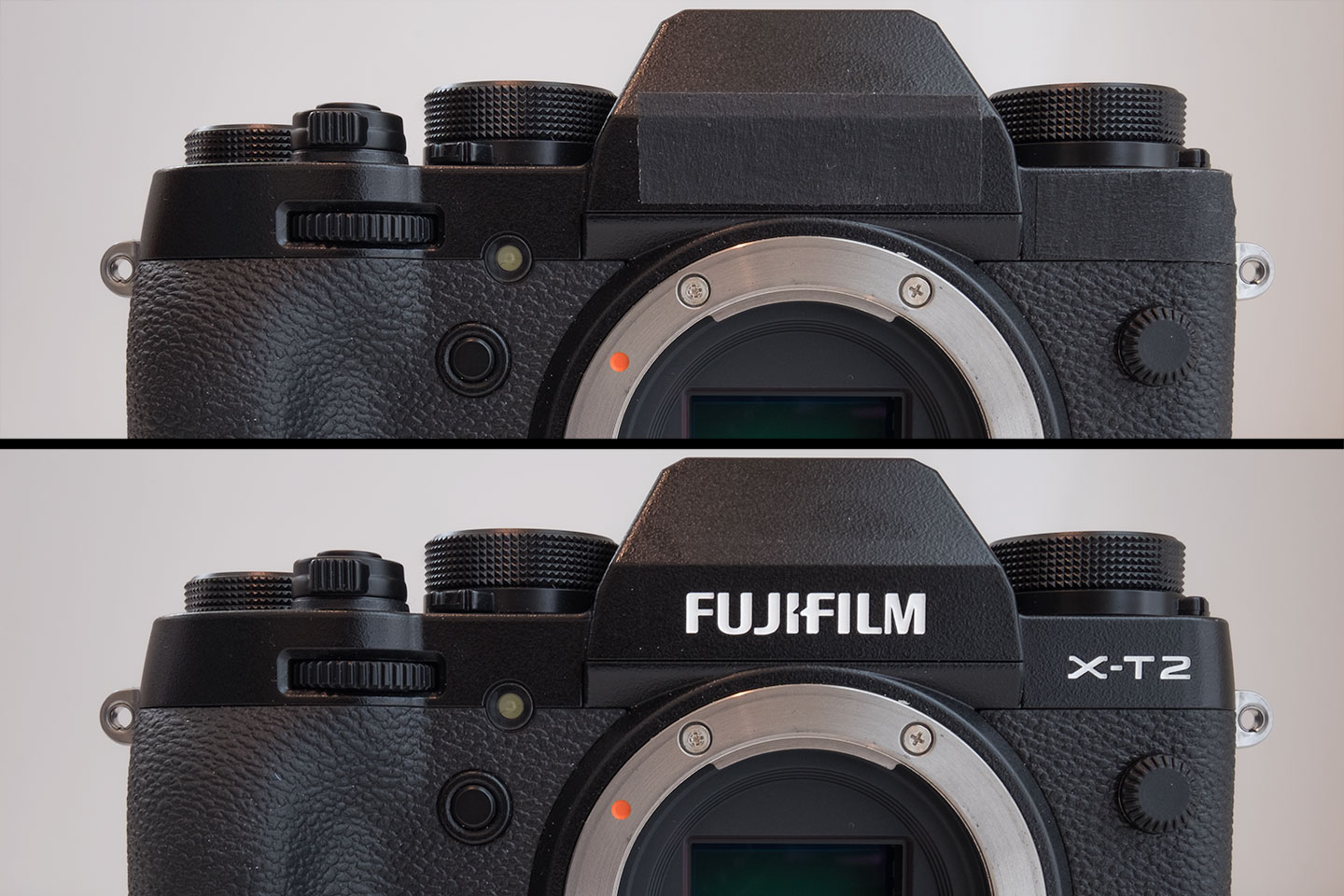 The Evolution of Fujifilm Cameras and Lenses into My Daily Workflow
Ever since May of 2013—beginning with the X-E1—I've had an awesome time working with the Fujifilm X-Series Cameras and Lenses, and throughout those 3+ years, I've managed to travel and shoot with them in well over 40 countries, spanning nearly every possible photography condition.
The X-E1, X-E2, and X-T1
Though I loved working with the X-E1 and the faster X-E2, the first camera that really clicked with me was the X-T1. From the point I first picked it up, to the point I was handed the newly updated X-T2, that camera has never left my side.
Read my Detailed Review of the X-E1, X-E2, and X-T1 Cameras and Lenses.
The X-Pro2
More recently, during Gulf Photo Plus in February, I was handed a brand new X-Pro2. Conveniently enough, with the venue being hosted in Dubai, I had the opportunity to put it to the test right away and capture a panoramic image of the city as thick fog rolled through the streets.
With the X-Pro2, Fujifilm took things to the next level with a brand new 24 megapixel sensor, faster processor, updated menu interface, and countless new features that had the photography world—and obviously myself included—extremely excited.
The news of the X-Pro2 also created huge buzz on the internet about the potential of an upcoming release of the X-T2. While many people purchased the X-Pro2 right away, many people decided to hold out for the news of when the X-T2 would be released.
When you compare the X-Pro Series to the X-T Series, while internally they may be nearly the same, in both look and feel on the exterior they are two completely different cameras. As a result, Fujifilm has effectively created two flagship camera models and each has a very strong and diverse fan base.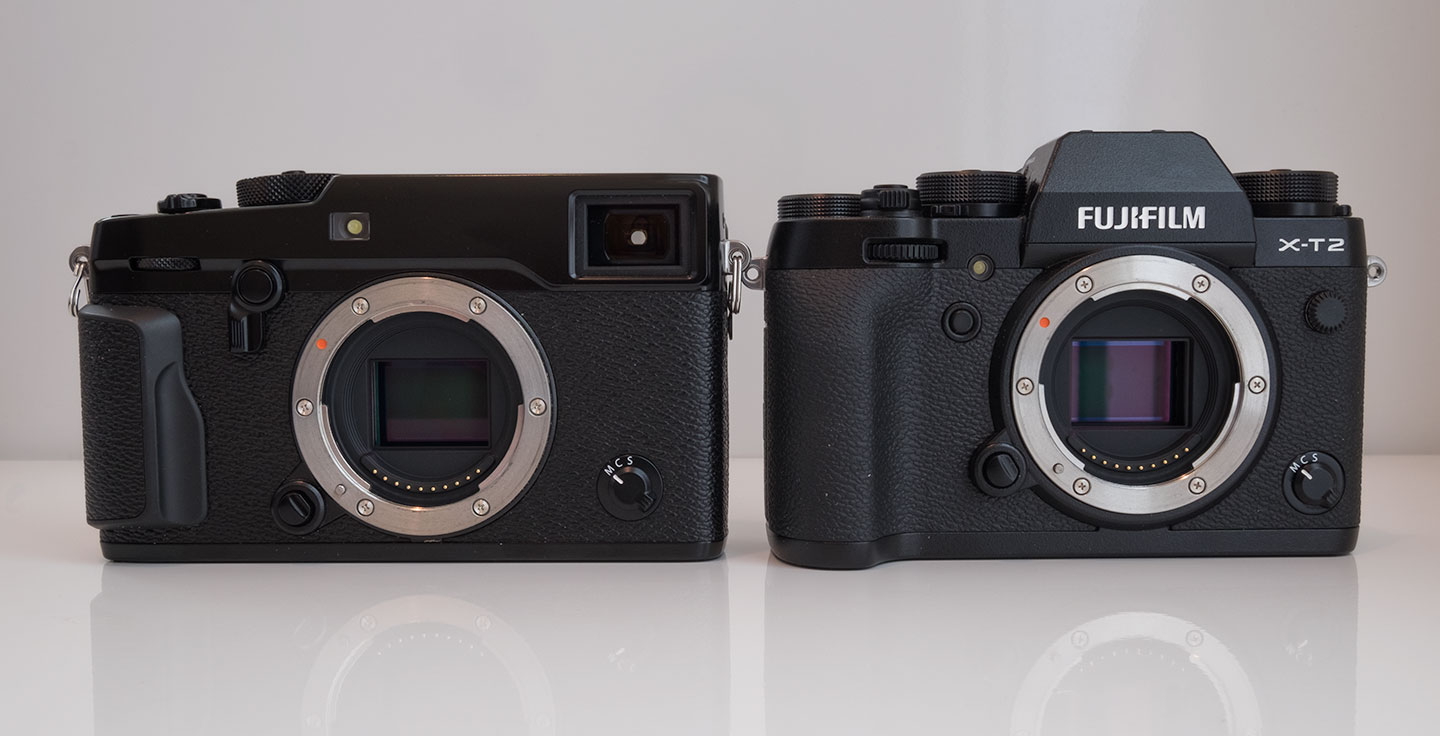 Which camp do I fall into, X-Pro or X-T?
Well, let me start by saying that I could happily shoot only with the X-Pro2 but there's just something about the feel and ergonomics of the X-T series that keeps me coming back to it again and again.
X-Pro2 fans would likely argue the same thing, so if you're on the fence about which one to purchase, my advice is to visit your local camera shop and pick them both up to get a feel for what style of camera you most prefer.
Do you like having an Optical Viewfinder with an Electronic Viewfinder toggle, and with the viewfinder on the side of the camera? If so, then the X-Pro2 is the logical choice.
Or would you rather have only an electronic viewfinder in the center of the camera, more similar to the style of a DSLR? Is shooting 4k video important to your workflow? If so, then the X-T2 is the logical choice.
Welcome to the new X-T2!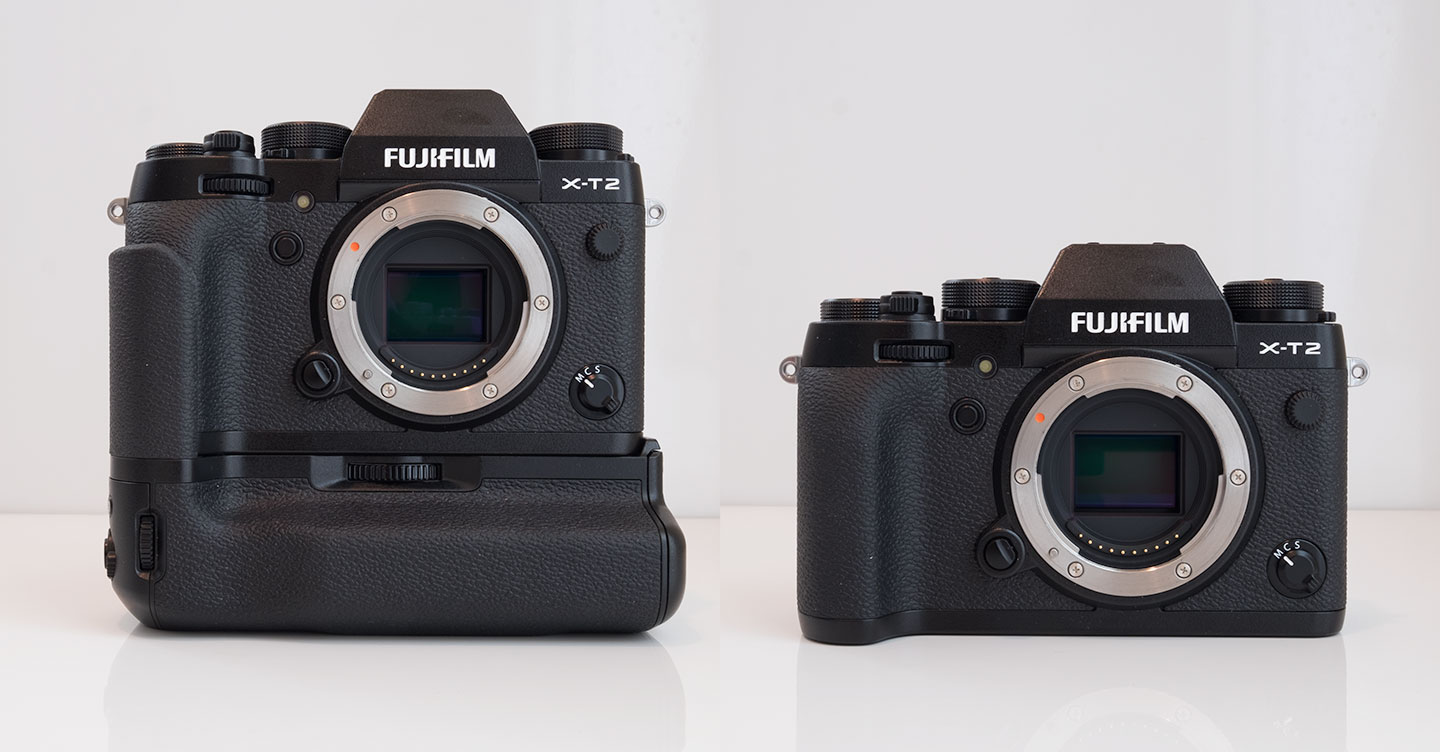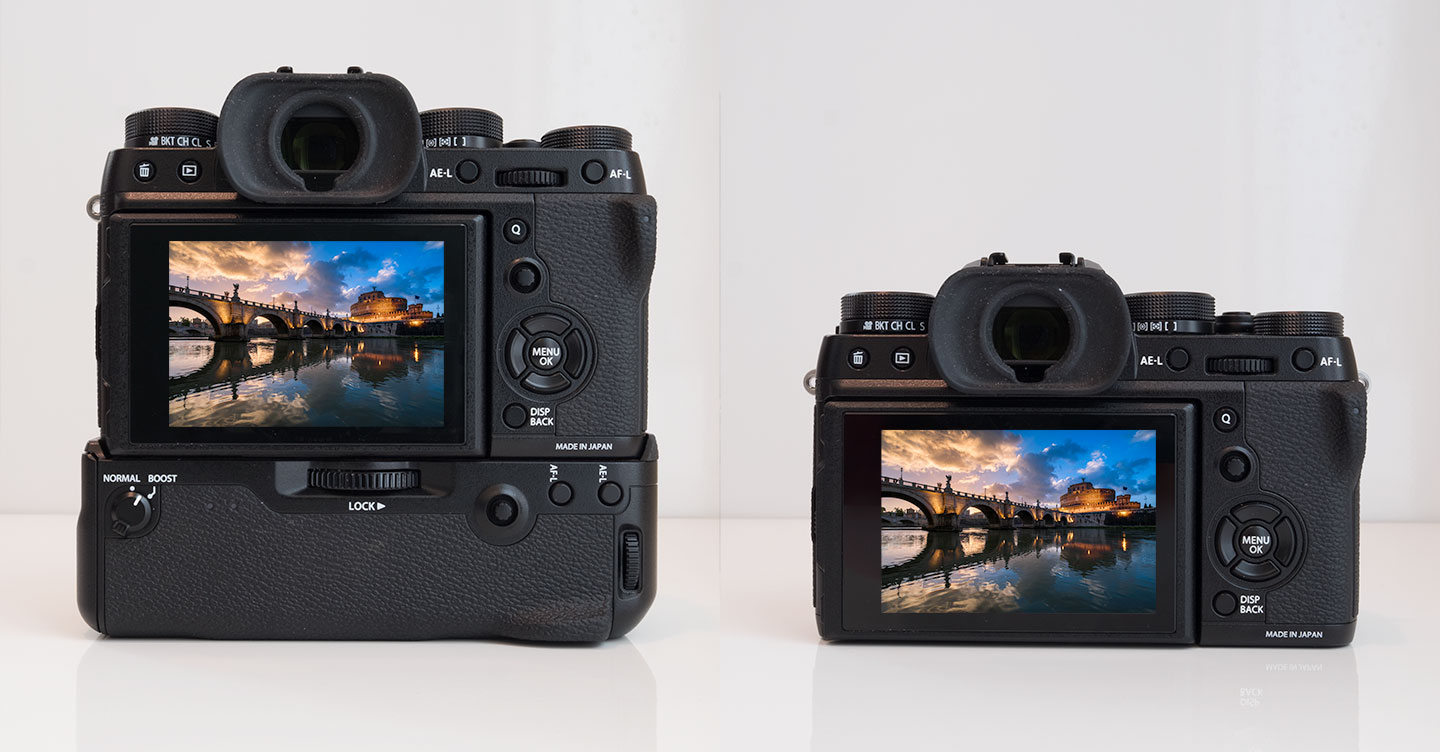 For everyone who knows me—as well as anyone who has just stumbled onto this review—it's important for me to point out that while I'm extremely detail oriented with my photography, my reviews are more about sharing actual in-the-field results rather than getting overly technical about the camera gear itself.
This article is really meant to be an overview of my experiences using the Fujifilm X-T2. So I'm not going to bore you with vignetting falloff charts, or comparisons of each f-stop with images of squirrels and trees in my backyard. This is because, first of all, squirrels are not to be trusted, and two, I'm 100% location independent so I technically don't even have a back yard. My specialty really is just capturing the most beautiful images possible of the world around me.
I should also note, that while I strive to create very technically crafted images, I consider myself more of an artist by nature. Sure, I've become very well-known for post-processing my images, but I use photo editing techniques simply as a tool to push the boundaries of what I've already captured in camera—the colors, the textures, or even something like the swirling leading lines of a cloudy sky at sunset.
Overall, I value the soul of an image and feel that it's my job as an artist, to nurture that soul and give it the power to speak for itself. In the end, I believe that it's the artist that creates an emotional response in the viewer, not the camera. Don't get me wrong, while technology and high megapixel counts are wonderful, they will never replace the eye and mind of a true artist. That talent has the power to transcend every medium and it's something that we can easily lose sight of when we focus too much on technology.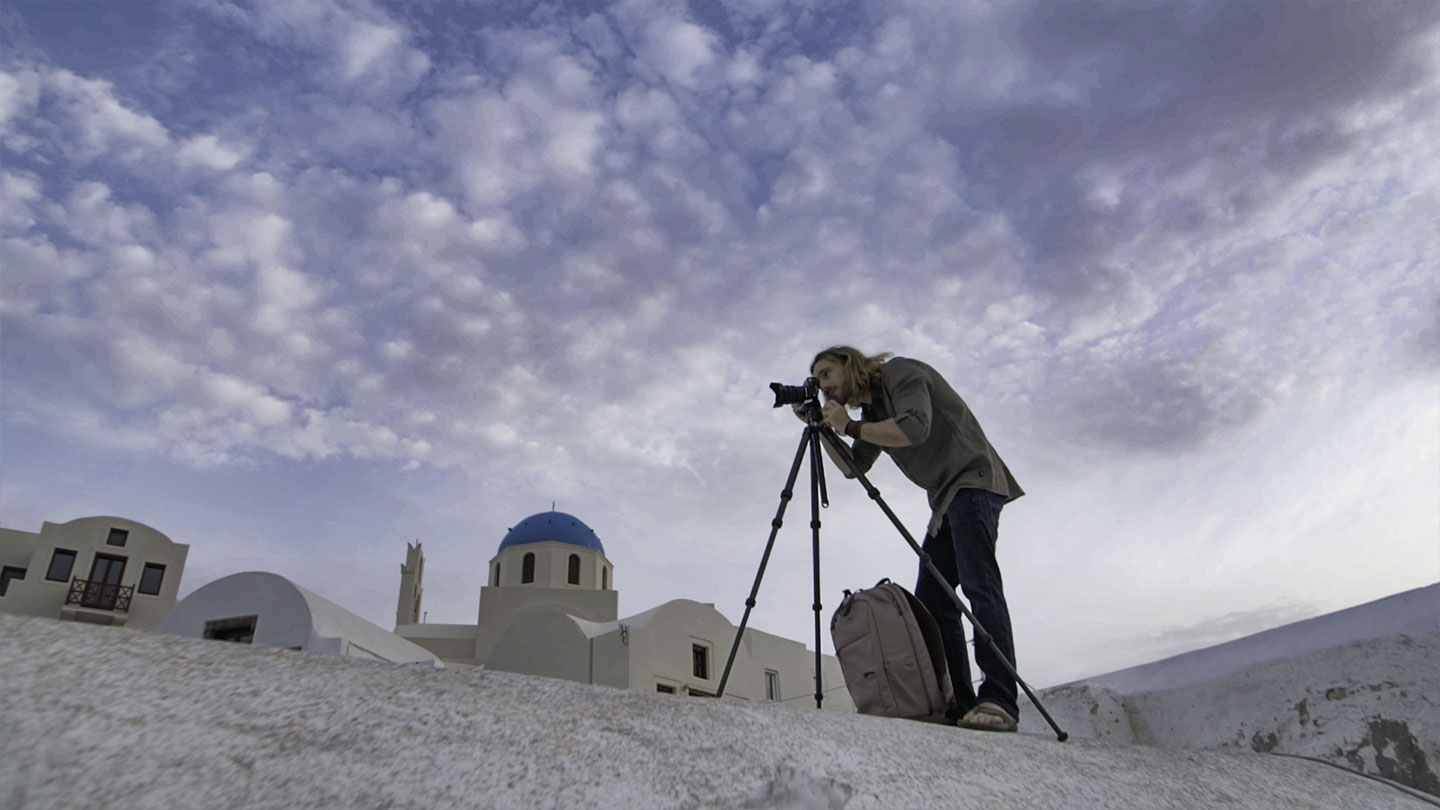 Have no doubts, now that the X-T2 cat is out of the bag, there will be countless articles and reviews about each little detail and each new feature. What I want to do is just talk about how it is to actually shoot with the X-T2 in the field and edit the RAW files in post-processing.
Before we move on to reviewing some of the photos I captured–for those of you that want to see the tech specs–here are some of the important feature specifications for the new Fujifilm X-T2:
X-T2 Camera Specification:
24.3MP X-Trans CMOS III Sensor
X-Processor Pro image processing engine
Magnesium alloy body with improved (lock and release) dials.
Dust and water sealed at 63 points
Compact and lightweight at 507g (including memory card and battery)
Ability to operate at low temperatures of -10 degrees celsius
14bit RAW lossless compression
Various video shooting options 4K (3840×2160) 30fps and Full HD / 60fps
100Mbps video bit rate at both 4k and full HD video
Clean HDMI 4K output as well as "F-Log" shooting mode
Maximum shutter speed of 1/8000 seconds. 1/32000 electronic shutter
Flash synchro speed of 1/250 seconds
Auto Focus up to 325 points
EVF is 2.36 million dots. Refresh rate up to 100fps
3-direction tilting LCD screen
Dual UHS-II SD Card Slots
Improved Standard ISO range 200-12800. Can extend to 100/25600/51200.
Wi-Fi built-in. Remote shooting correspondence. Instax Share printer support
Normal / boost mode switching
Exposure compensation +/- 5EV
256-segment metering (multi-spot average, spot, center-weighted)
Built in Interval Shooting
3.5mm microphone jack. 2.5mm remote terminal. USB3.0 terminal. Micro HDMI terminal
Support of all of Fujinon X mount lenses
X-T2 Vertical Power Booster Grip Specifications:
Dust-resistant, water-resistant and capable of operating at temperatures as low as -10°C. It fits two batteries, bringing the total number of batteries to three, including the one on the camera, to increase the maximum number of frames that can be taken per charge to approx. 1,000 (Normal mode). In the Boost mode, multiple batteries can operate at the same time to give a boost to camera performance in continuous shooting, shooting interval, shutter release time lag and blackout time, while also extending the duration of 4K video recording to approx. 30 minutes. It is an accessory that can maximize the performance of the X-T2.
The Grip features the shutter release button, focus lever, AE-L button, AF-L button, command dials, Q button and Fn button to provide the same level of excellent operability in vertical shooting as you get in horizontal operation.
The Grip also features a headphone jack to enable audio monitoring during video recording.
The Grip itself has battery-charging functionality. Using the AC adapter supplied (AC-9VS), you can fully charge two batteries at the same time in approx. 2 hours.
Hands On Impressions With The Fujifilm X-T2
The Fujifilm X-T2 has the newly updated 24 megapixel sensor, super fast processor, new menu system (similar to the X-Pro2), 3 way articulating LCD screen, improved ISO performance, and full 4k video support. There are also many little cosmetic, aesthetic, and ergonomic updates that make this a great second generation camera. However, all that being said, at the core it's still the same X-T that we've all grown to love and rely on. Anyone upgrading from the X-T1 to the X-T2 will feel instantly at home, comfortable, and pleased with the updates.
I was incredibly busy in Japan and Italy with video projects, but when I arrived in Greece in early May, I had a great time working to capture new portfolio images with the X-T2. It's also a great feeling now after all the secrecy behind this camera, to finally be able to share some of the results.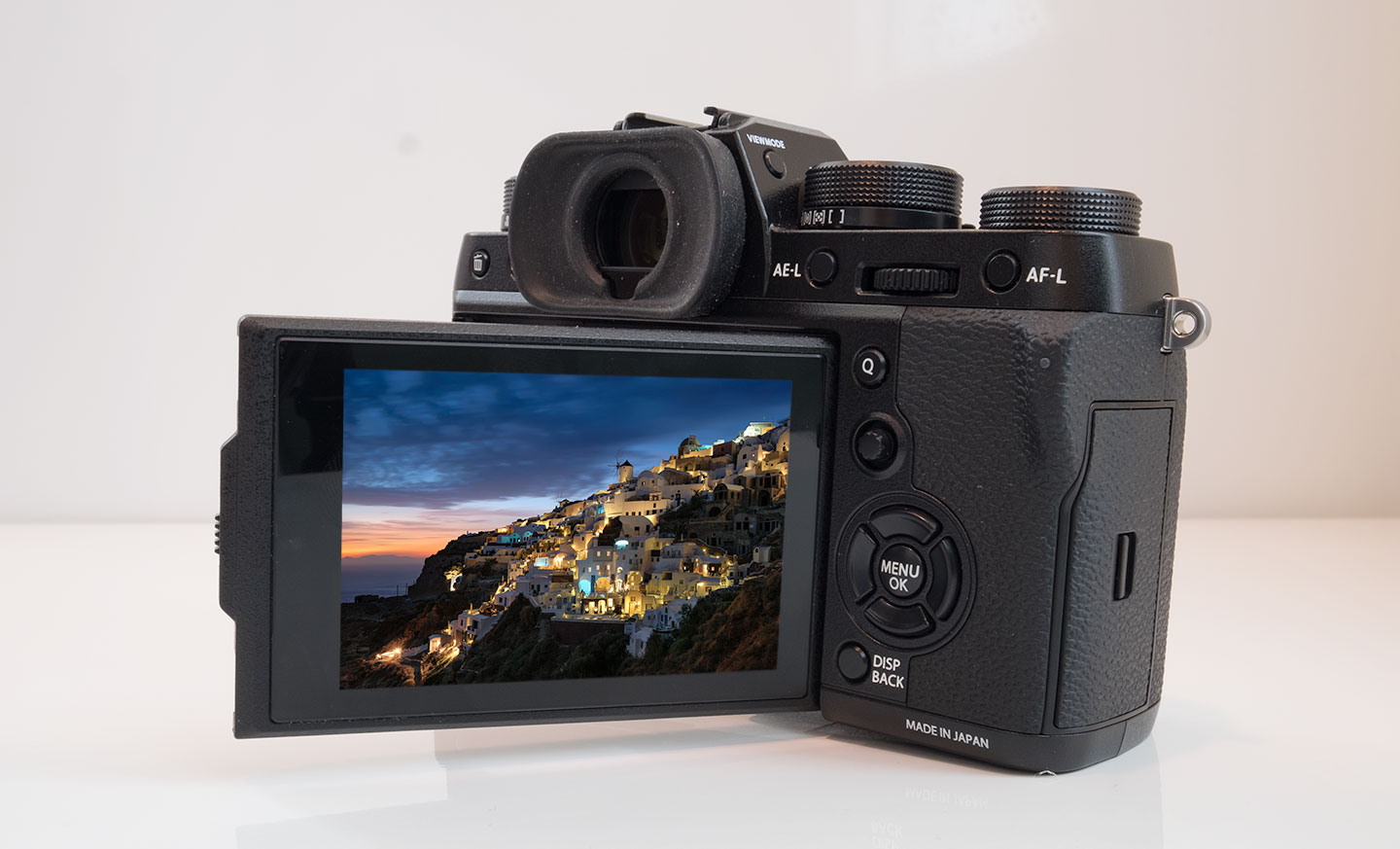 Meteora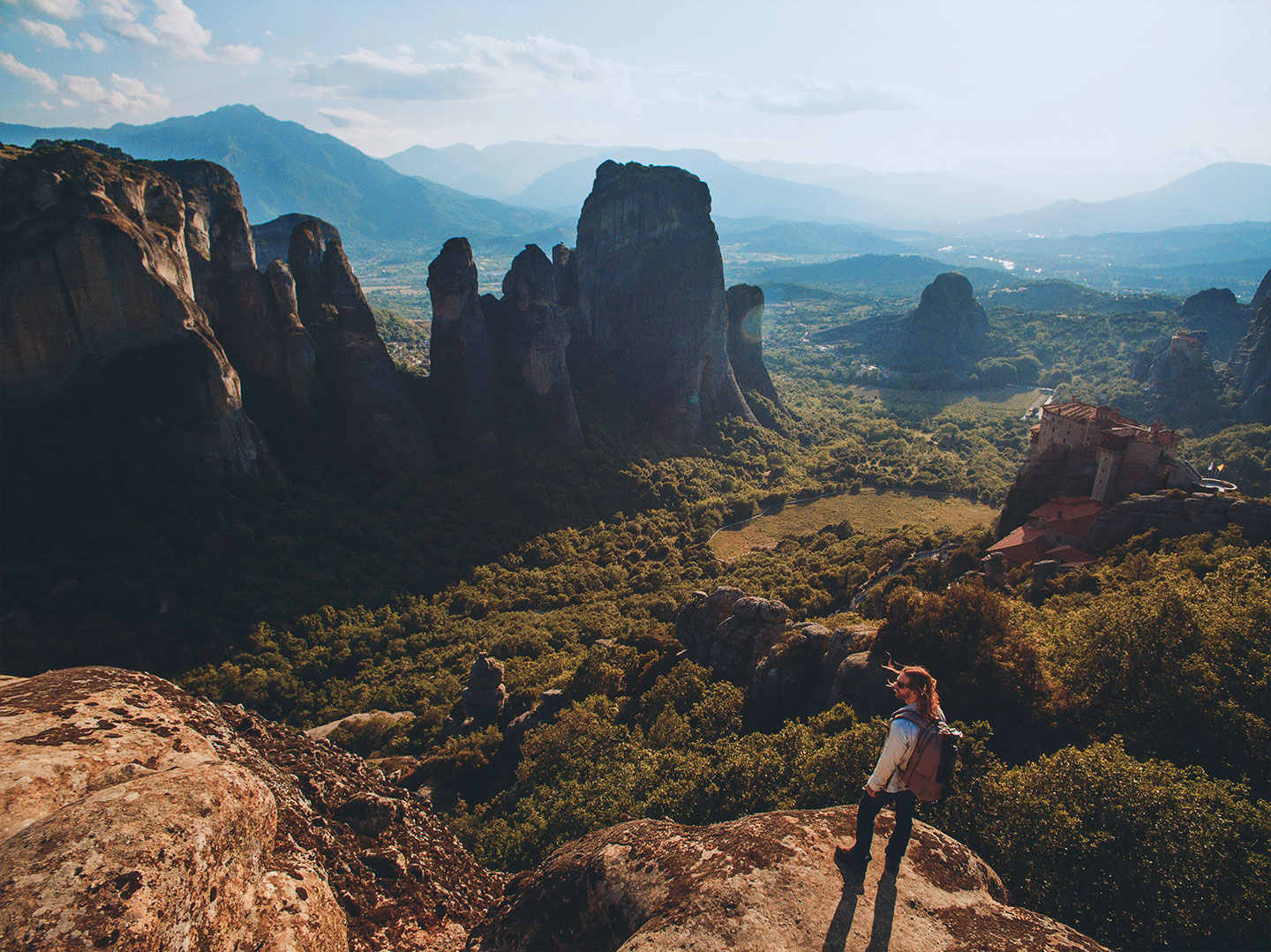 May weather in Meteora is beautiful so there is definitely high potential for epic skies. Along with that epic sunset potential, the seasonal sun position places the sunset directly in frame. Thankfully the dynamic range captured by the Fujifilm (RAW) RAF files is extraordinary, so this was a great place to test out the power of the new 24MP sensor.
If you're interested in visiting Meteora for yourself, I highly recommend getting in touch with my friends at VisitMeteora.travel. Whether you're into photography, hiking, or rock climbing, they know all the best spots and can make your visit a wonderful experience!
Post-Processing With The Fujifilm X-T2
Raw image processing is a crucial part of my post-processing workflow and just like the previous X-Trans Sensor, the new 24MP version is just as powerful. Take a look at this before and after image shooting directly into the sun. The final result was produced from a single RAW exposure, edited in Adobe Lightroom and Photoshop. As you can see, you can push a single RAF file extremely far.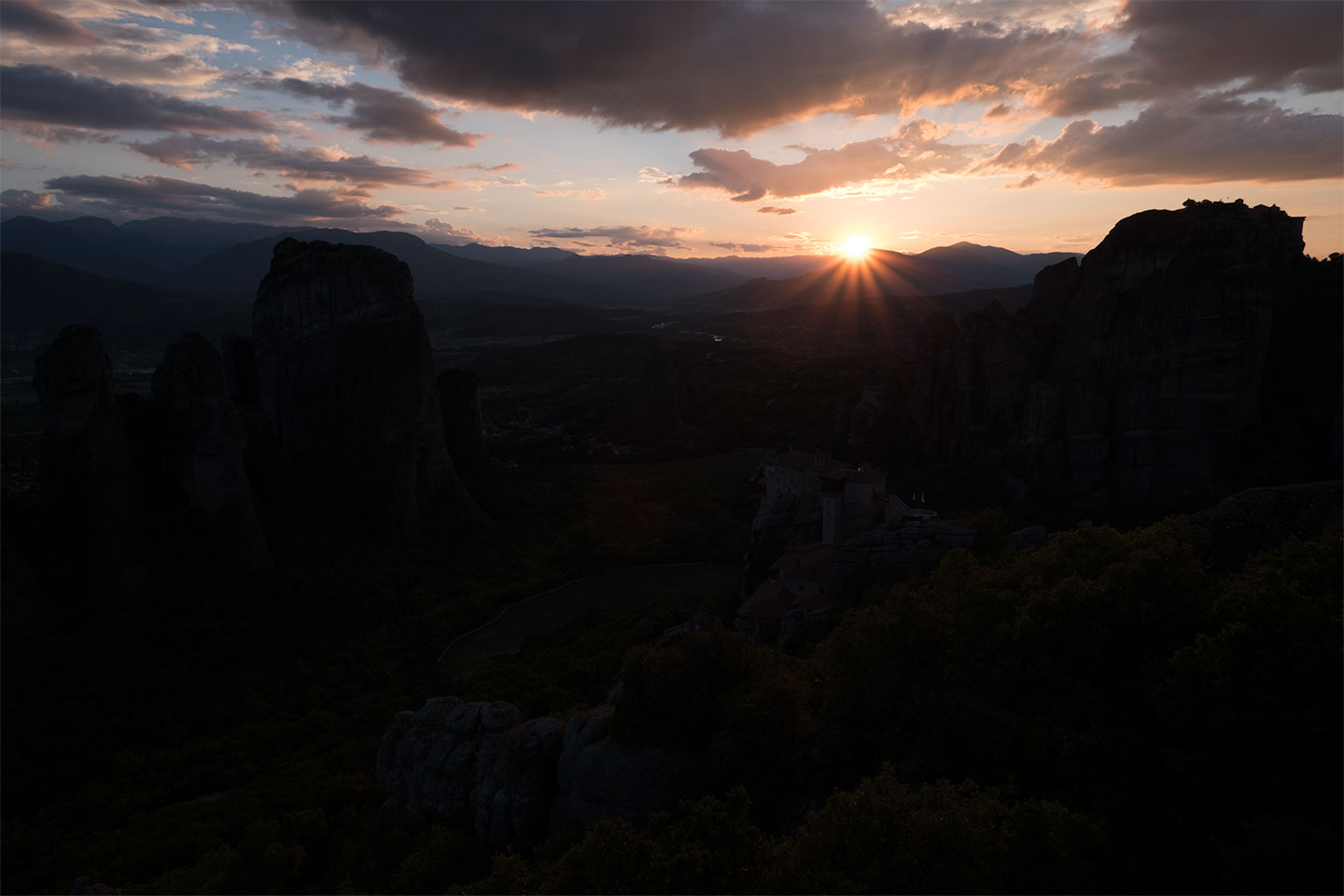 In the screen capture from Adobe Lightroom below, you can see that I've pushed this Fujifim RAF file nearly 2 full stops in the shadows while retaining nearly all details and clarity in the shadows. If getting the best out of post-processing is as important to you as it is to me, you'll understand just how awesome this is.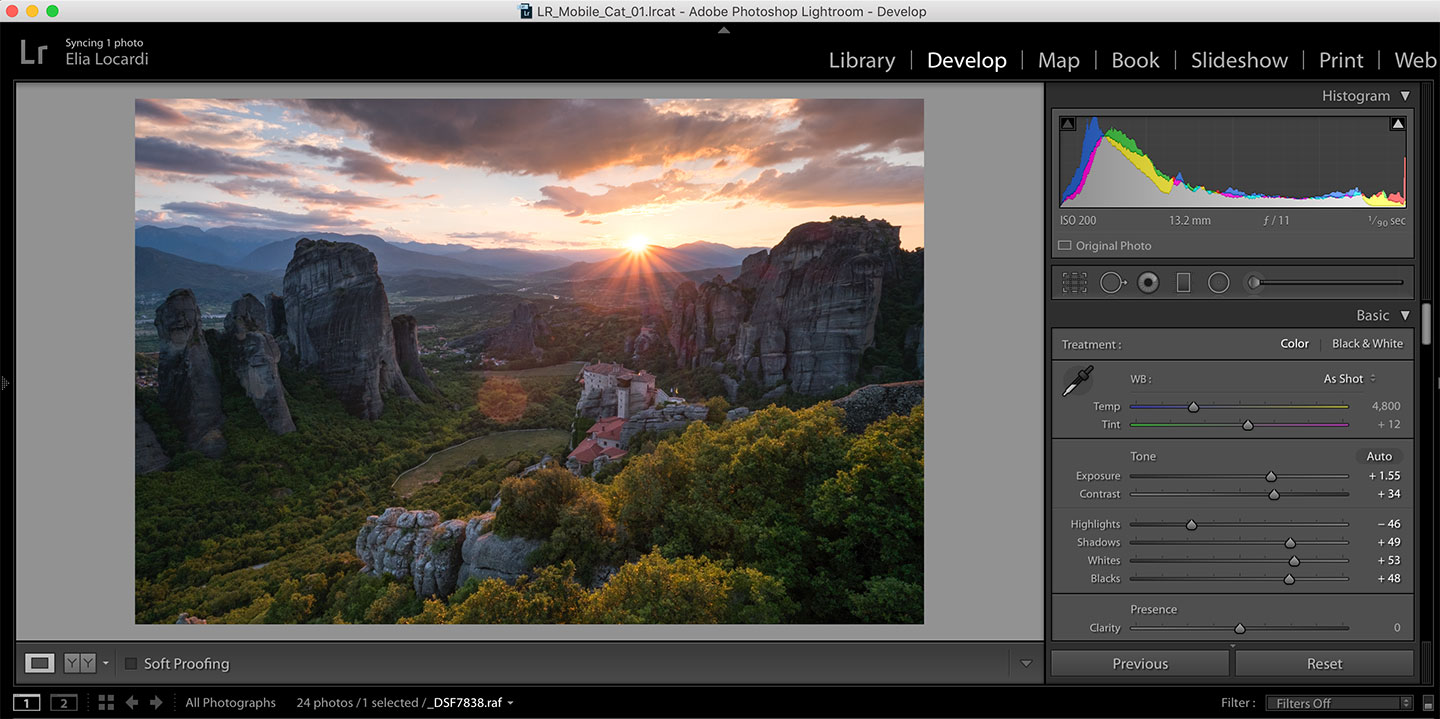 If you're interested in learning more about how I shoot and post-process my photos, you can access video tutorials that cover my entire workflow in my series Photographing The World: Landscape Photography and Post-processing.

Santorini and Ios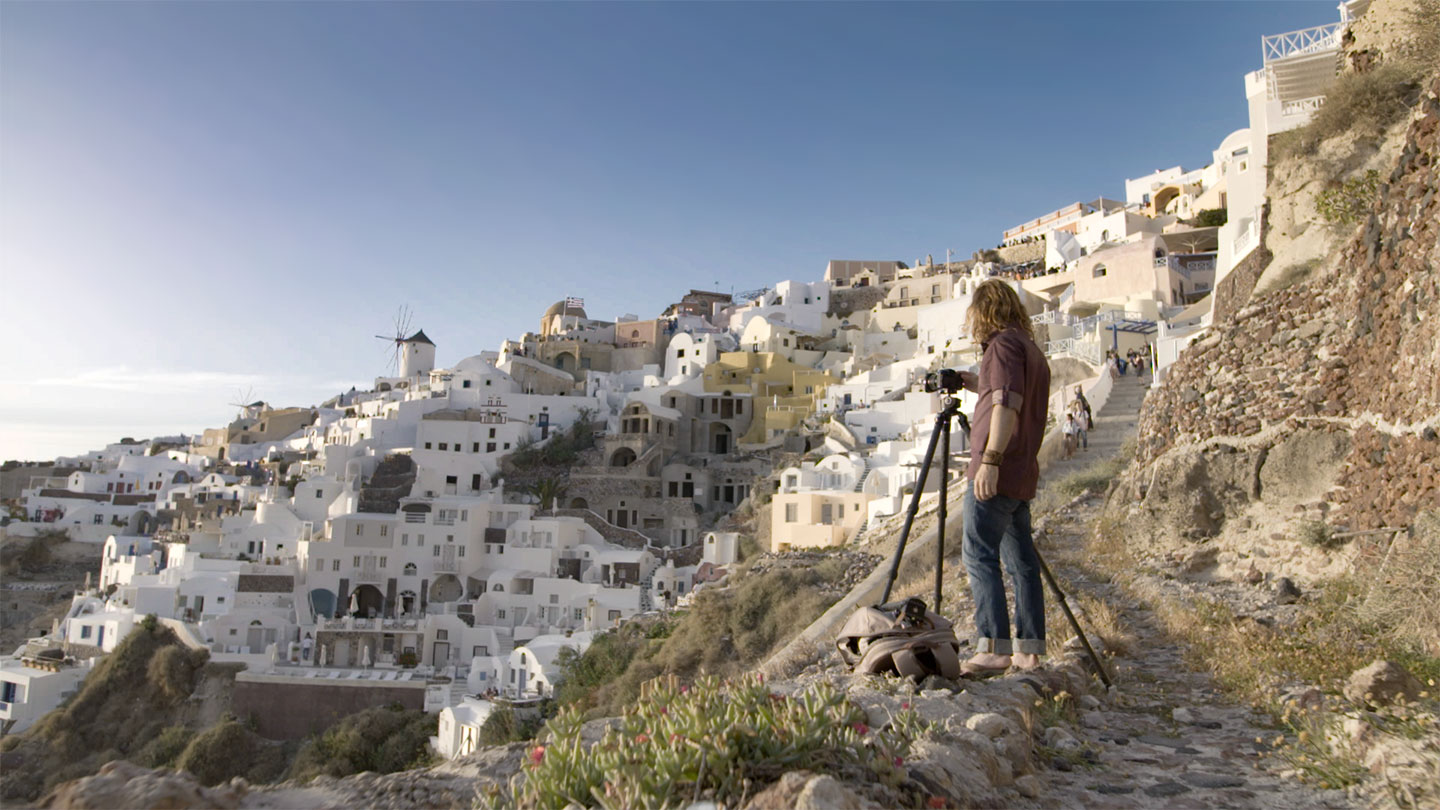 From Meteora, my wife and I drove to Athens and flew to Santorini where we'd start a month long visit (and series of projects) in the Greek Islands. This all began in the famous little village of Oia, which is a paradise for photographers.
Over just a few days in Oia, I was extremely fortunate to capture some beautiful, colorful, and dramatic skies.
In Ios—just a quick ferry ride away from Santorini—I only ended up having one cloudy day to work with so I went to my favorite vantage point.
From Ios, my wife and I traveled to 4 more islands in the Cyclades to explore and capture places we haven't experienced before. While I shot the entire time, I'm still working on my final photos so expect some additional shares from the X-T2 in the near future.
Advanced Post-Processing With The Fujifilm X-T2
As I already mentioned, the X-Trans Processor RAF (raw) files can be pushed incredibly far without any loss of quality, but what if I want to take things even further? Well, I typically push things extremely far, which includes a process where I blend different moments in time together into one seamless photograph.
Let's take a look at one of the shots from Oia again and as you view the before and after, pay close attention to the addition of the lights in the buildings. This image is actually a blend of two exposures – one for the sky and one for the city lights. Each is edited in Adobe Lightroom and then blended together using a few Adobe Photoshop masking techniques.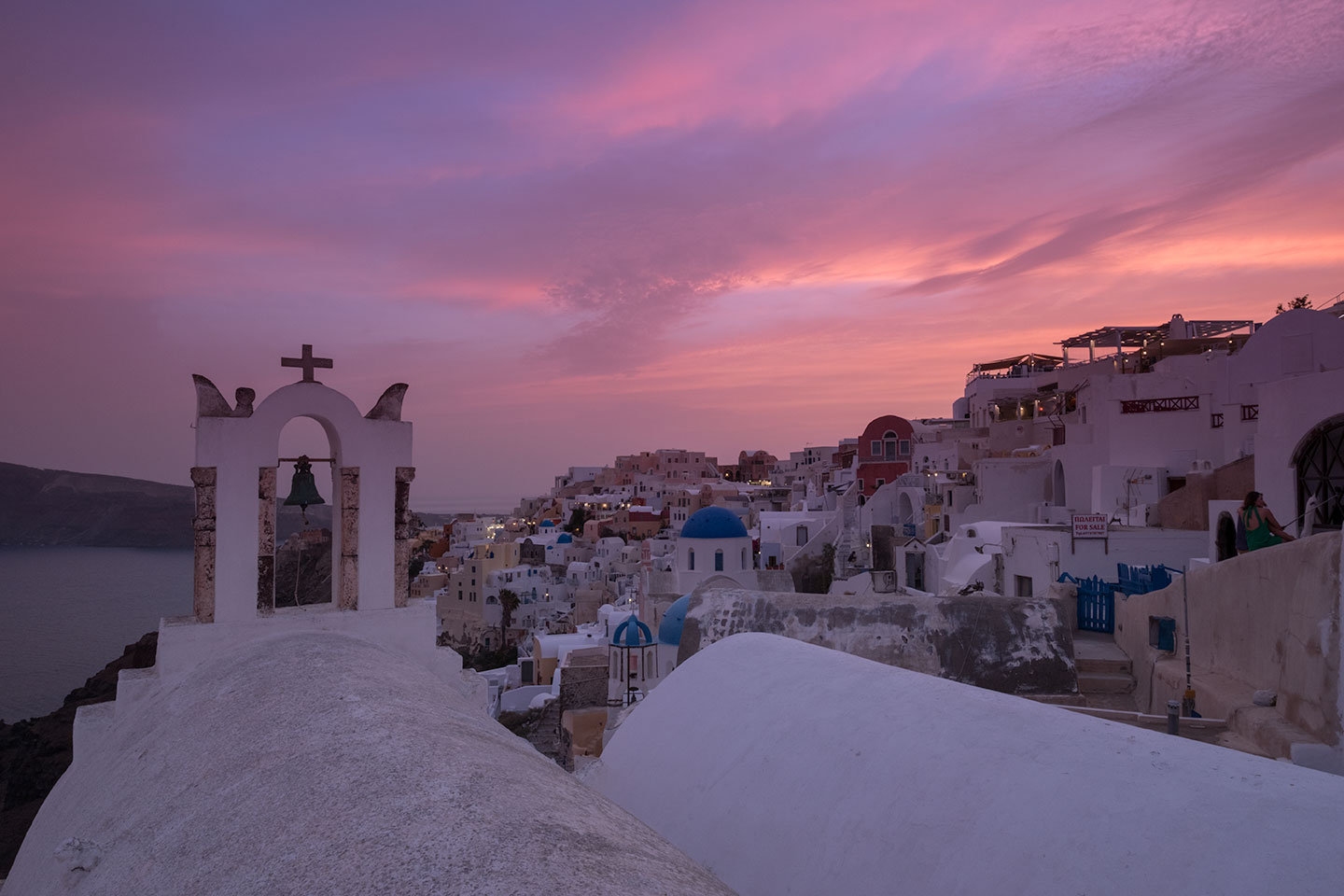 Obviously the post-processing when blending different moments in time together is a bit more complicated than working with a single RAW image. Here's a screenshot from Adobe Photoshop that shows the file and layers in action. It may seem complicated but the techniques are actually quite simple to master and I teach them often in my workshops, photo tours, and videos.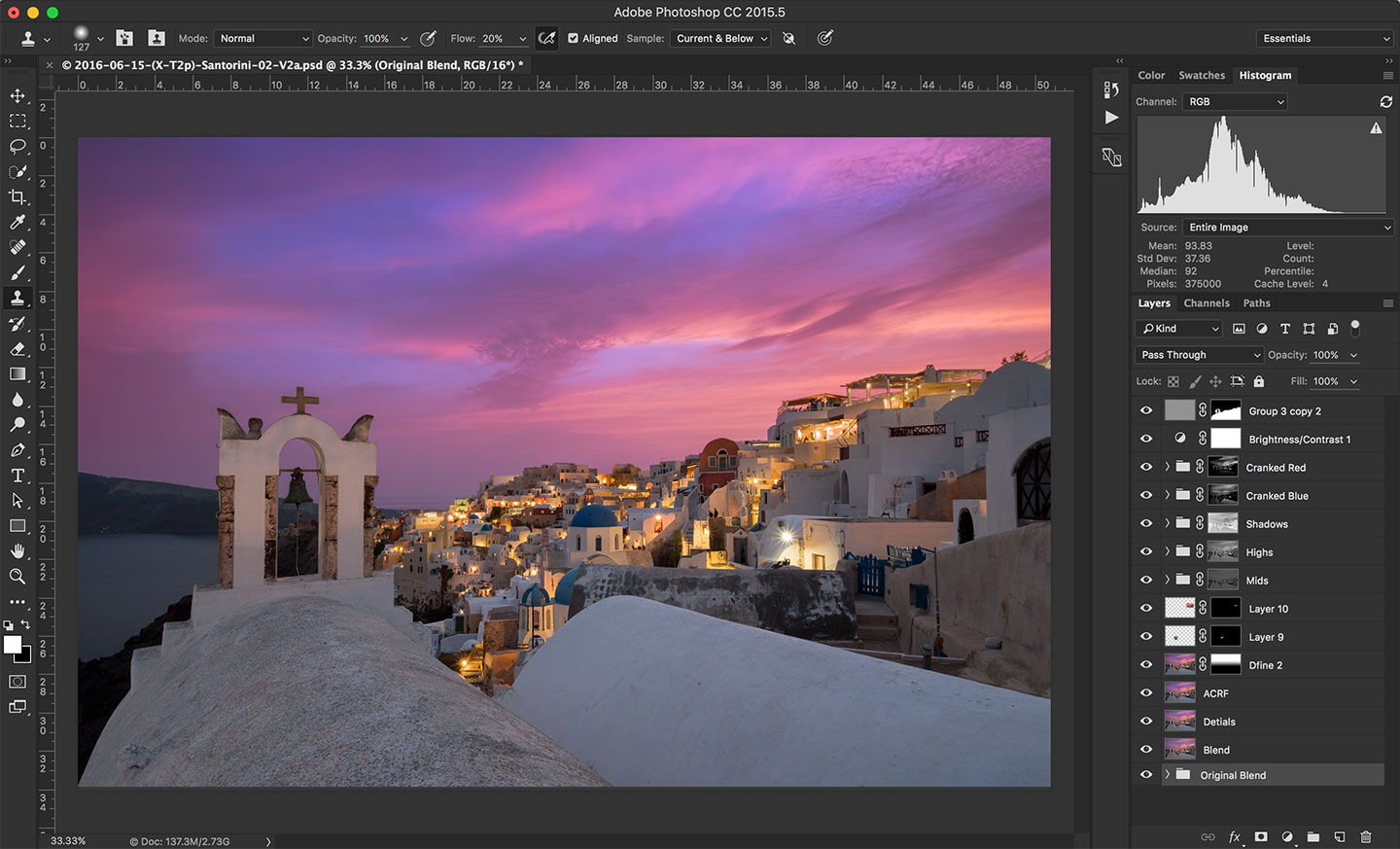 Again, if you're interested in learning how I shoot and post-process my photos, and you want to learn how I blend different moments in time together seamlessly, check out my more advanced video series Photographing The World: Cityscapes and Advanced Post-processing.

Singapore
Singapore feels like a second home to me and I've traveled there many times. Though this visit was only for a few short days, I decided to take my X-T2 to a few of my favorite shooting spots. If you're into shooting cityscapes like me, 24 megapixels is perfect for picking up the tiny little details in the background. You can notice this much more in the second image below.
A Bright Future Ahead For Fujifilm Cameras And Lenses
Having worked with the Fujifilm X-Series Cameras and Lenses full-time for more than 3 years now, I've been able to experience first-hand the incredible evolution of their compact mirrorless cameras and lenses. With each new update, I'm consistently impressed with the progression of incredible ergonomics, portability and top notch imaging and optics.
I said this 3 years ago when I first picked up the Fujifilm X-E1 and I'll say it again now. It's truly a wonderful time to be a photographer and Fujifilm has a truly bright future ahead!
If you have any questions, post them below or hit me up on social media.
And, if you're interested in getting a Fujifilm X-T2 for yourself, B&H Photo is currently accepting pre-orders and they ship worldwide.