tomorrow's today
This is my first official post from the road. In other words, I shot and edited the following photo today. Well, (technically) tomorrow for you since I'm 18 hours ahead of EST.
Either way though, it's a new experience for me. I usually post photos from previous trips from the comfort of my home. This time I'm armed with a snazzy new Macbook. The only drawback so far is using a Magic Mouse. There is absolutely nothing magic about it. Unless, you count how magically un-awesome it is, or how it magically pisses me off… Anyway, it's taking a bit of getting used to.
Windy Overlook
This is a cool little overlook of Breaker Bay in Wellington, New Zealand. It's really not a bad hike to the top here on a normal day. Today though, the wind was cranking at about 50mph with some seriously strong gusts. It was sort of that knock you down type of wind and It made for an interesting shooting day on top of these rocky hills. Come to find out, windy days are very common here, as the locals refer to it as "Wellington Wind." — Good to know.
Aside from the wind, the other tricky bit was timing the sun. The clouds were dense and ripping by so fast that I only had little windows of opportunity. It was funny sitting there, with the wind trying to knock me off the cliff, holding my camera in an iron death grip, waiting for the sun, trying to spot holes in the heavy cloud cover until a spot of sunshine would pop through.
Technical Mumbo Jumbo:
– Nikon D700 – Nikkor 14-24 f/2.8@ 18mm f/5.6 Iso: 100
– 5 (handheld) Exposure Brackets (-2,-1,0,1,2)
– HDR Photography Processing & Tone Mapping using Photomatix Pro
– Post Processing & Color Correction in Photoshop
– Enhanced detail with Nik Software Sharpener Pro
– Did a rain dance. It got windy.
Daily Banana – Windy Overlook
(move the slider to compare before and after)
[beforeafter]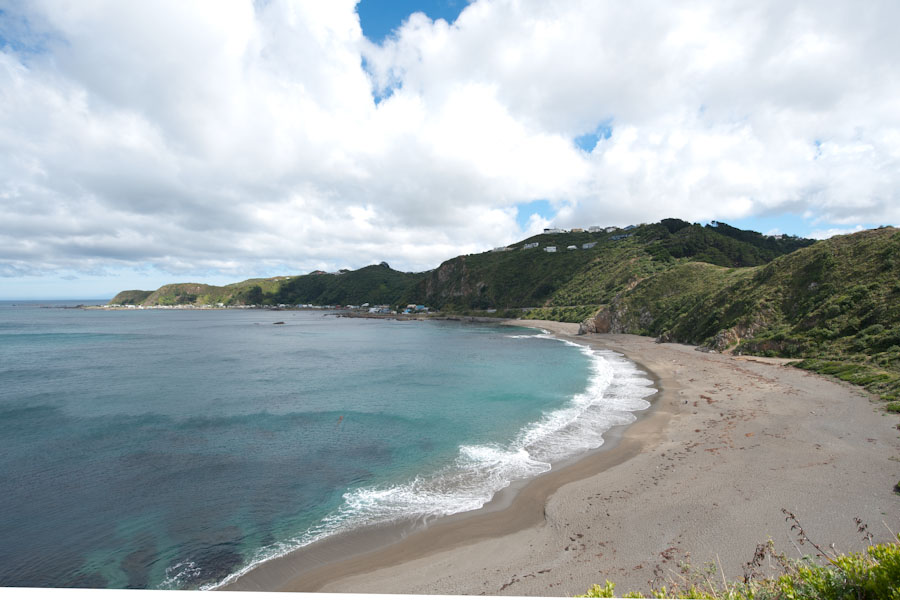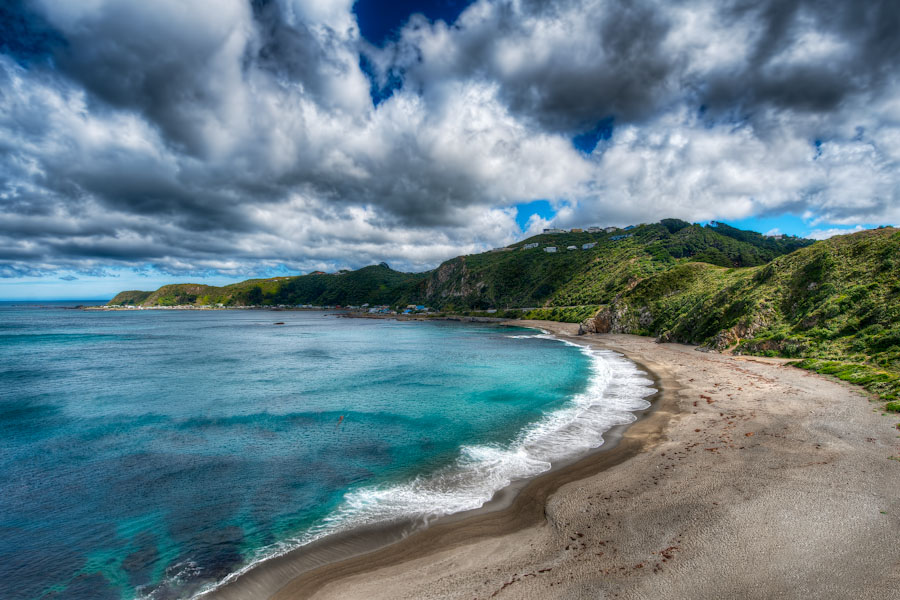 [/beforeafter]