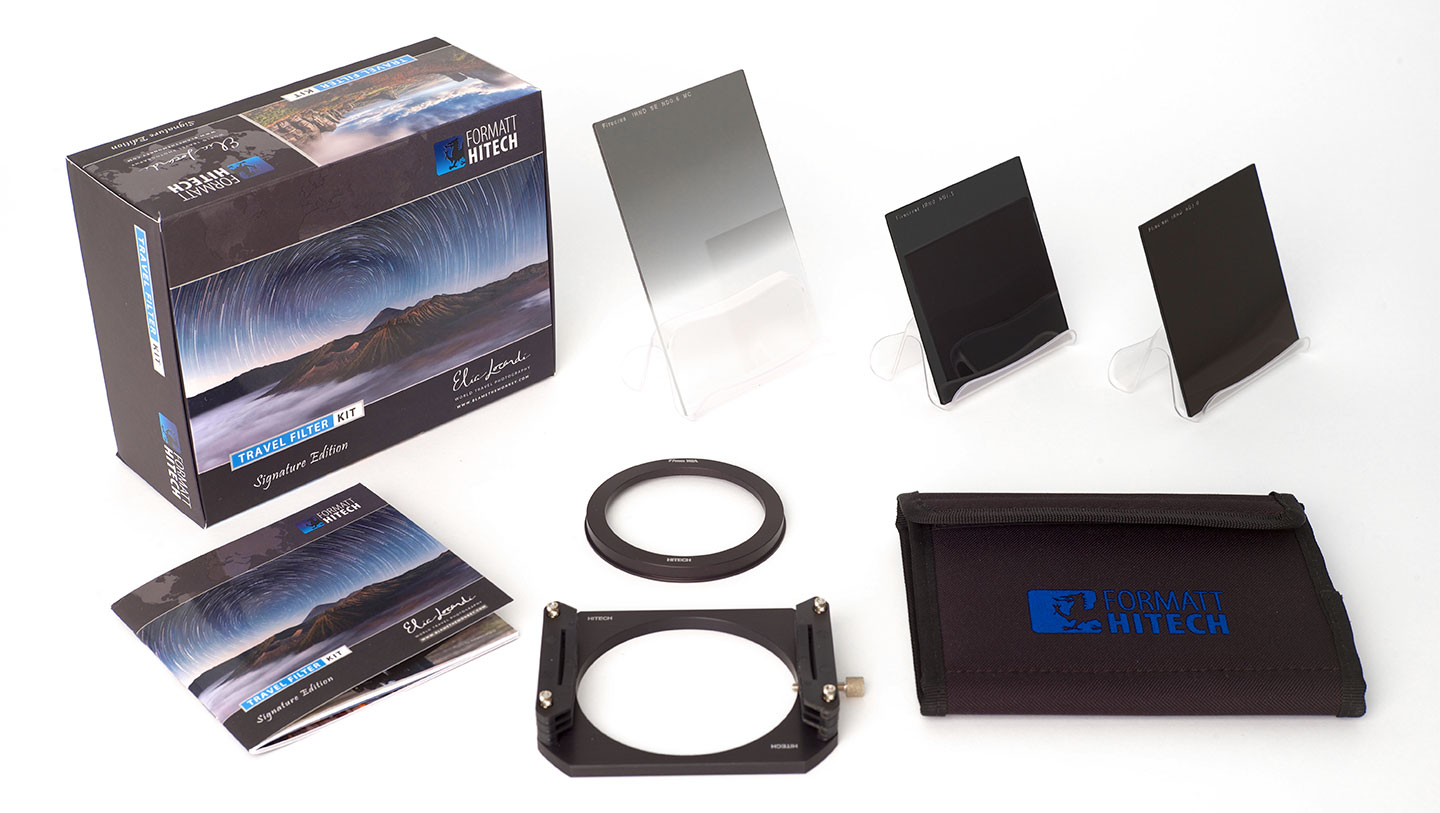 I'm proud and excited to share the news of my new Travel Filter Kit, Signature Edition from Formatt-Hitech!
The Travel Filter Kit has been a long time in the making and a great deal of thought, love and passion has gone into the production. It's an amazing feeling to be working with such a great team of people at Formatt-Hitech on this and I couldn't be happier to finally share the news.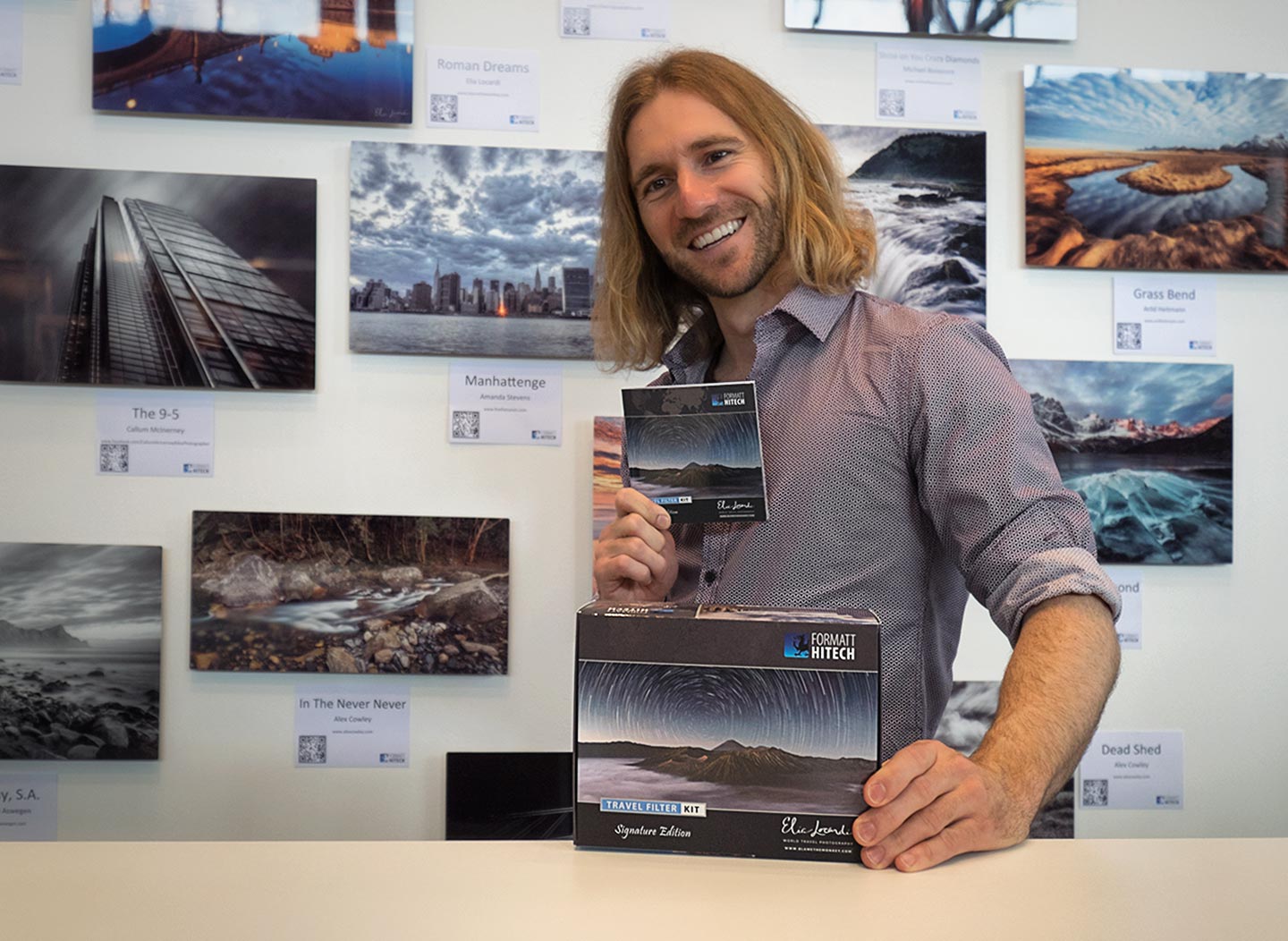 ---
What's in the Travel Filter Kit
I've designed the Travel Filter Kit to contain three of the best and most useful filters for every style of photography, in a simple yet versatile collection. These three filters are ones that I rely on regularly in my photography to help achieve many unique and beautiful in-camera long exposure effects, some of which are not possible with post-processing. This kit is also extremely lightweight and portable, making it a great addition to any travel photographer's toolkit.
10 Stop Solid ND Filter
4 Stop Solid ND Filter
3 Stop (0.9) ND Soft Edge Grad
Aluminum Filter Holder
Threaded Adapter Ring
Filter Pouches
Exclusive 40 Page Travel Photography Booklet
Available Sizes:
100mm with aluminum holder and choice of wide angle adapter
58mm | 67mm | 72mm | 77mm | 82mm
85mm with aluminum holder and choice of threaded adapter
58mm | 67mm | 72mm | 77mm
---
 What's in the Travel Filter Kit Booklet
In the 40 page booklet, I guide you through the basics of long exposure photography and introduce you to my complete photographic process, highlighting topics such as: researching locations, selecting the best times of the day to shoot, and of course, packing the right gear for the adventure.
The suggestions and guidelines included in the booklet are designed to help as you develop your own unique style of photography.  Above all, be sure to enjoy the process as you experiment with all of the different filters, tools, and techniques and remember rules are meant to be broken. At the end of the day, the best photographer out there is the one having the most fun!
I'm also very happy to say that all of the packaging was designed by my lovely and talented wife, Naomi.
---
Setting High Standards With Partnerships
Getting into full-time photography, I only wanted to use the highest quality products out there. It was also extremely important to me that I only collaborate and partner with brands who create products that I trust. Early in my career, I made a promise to myself to only support products and people that mirror my own high standards of quality.
After using the Formatt-Hitech brand of filters for more than two years now, I can say with confidence that their products meet those very high standards of quality. They are constantly innovating and working to improve their product line and exceed their own previous best, and with the release of the new Firecrest filters (shipping at the beginning of November) they have really outdone themselves. Formatt-Hitech truly makes the best filters on the market.
---
Why I've chosen each Neutral Density filter and how I use them
4 Stop Solid Neutral Density Filter
I consider the 4 Stop ND filter to be one of the most important tools in my photography kit. Four stops of neutral density is strong enough to slow shutter speeds down just a little while not being dense enough to cause potential issues with the scene. Since four stops is a very light filtering effect, it works in a variety of different lighting scenarios ranging from midday to blue hour and twilight.
My favorite example of using a 4 Stop ND filter for long exposure is when working with moving water. In these situations, you can get a nice soft water effect simply by slowing the camera's shutter speed down to 0.5 – 2.0 seconds. During daylight, a 4 stop ND is usually perfect to achieve this effect.
Here's an example of Seljalandsfoss Waterfall in Southern Iceland. I shot a base exposure at f/8, followed by a second shot at f/13 with a 4 stop ND filter attached. The filtered shot allowed me to slow the shutter speed down to 1 second and create the soft flowing water effect. In Photoshop, I blended the exposures together to create the final image.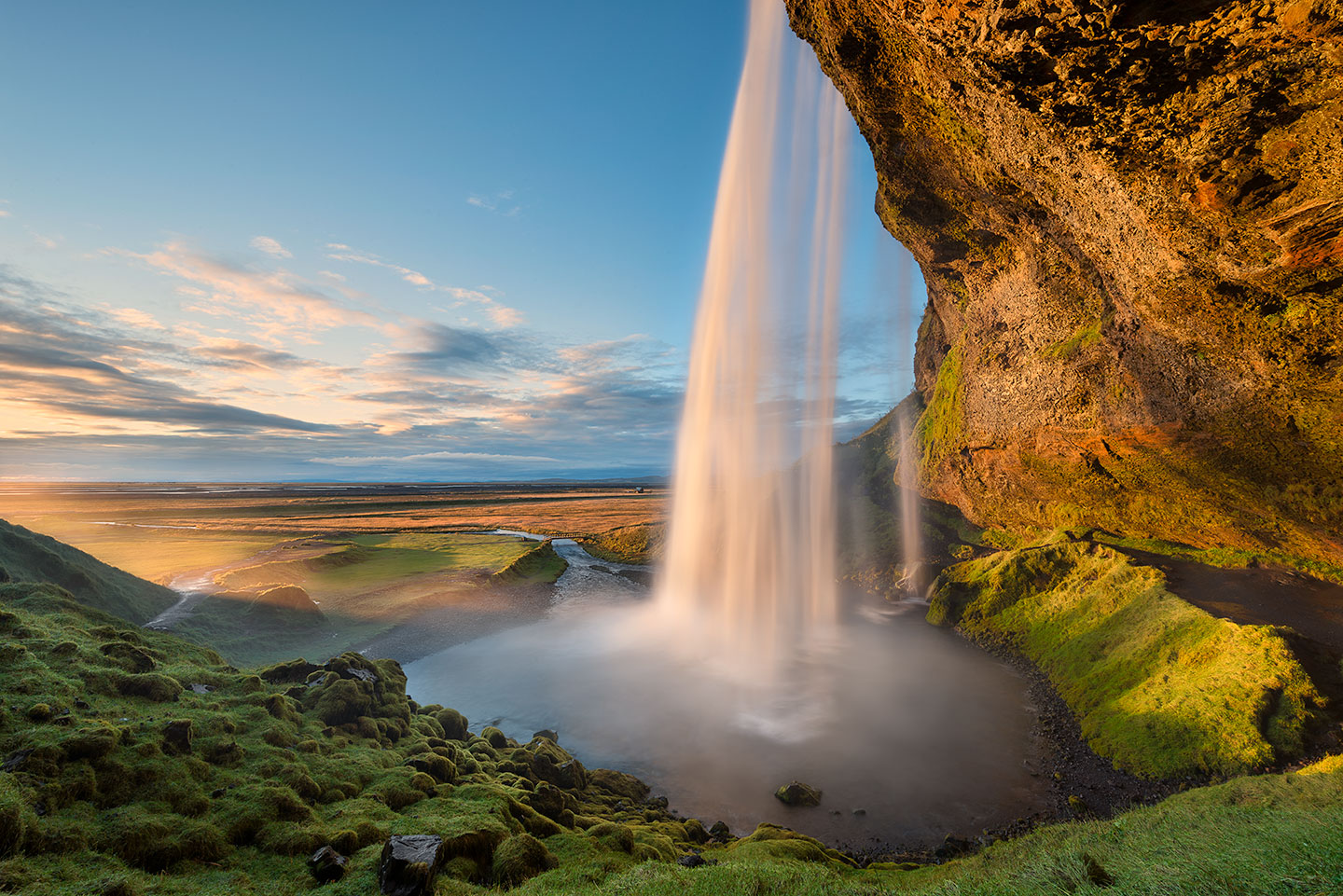 Another great example of when to use a 4 stop ND filter for longer exposures is when you want to slightly blur incoming waves and create a water wash effect. This works fantastic with beach and seascape photography.
Here's an example of a 0.5 second exposure during a beautiful sunrise on the beach in New Zealand. The 4 stop filter allowed me to capture a half second exposure that gave me the perfect amount of soft water wash.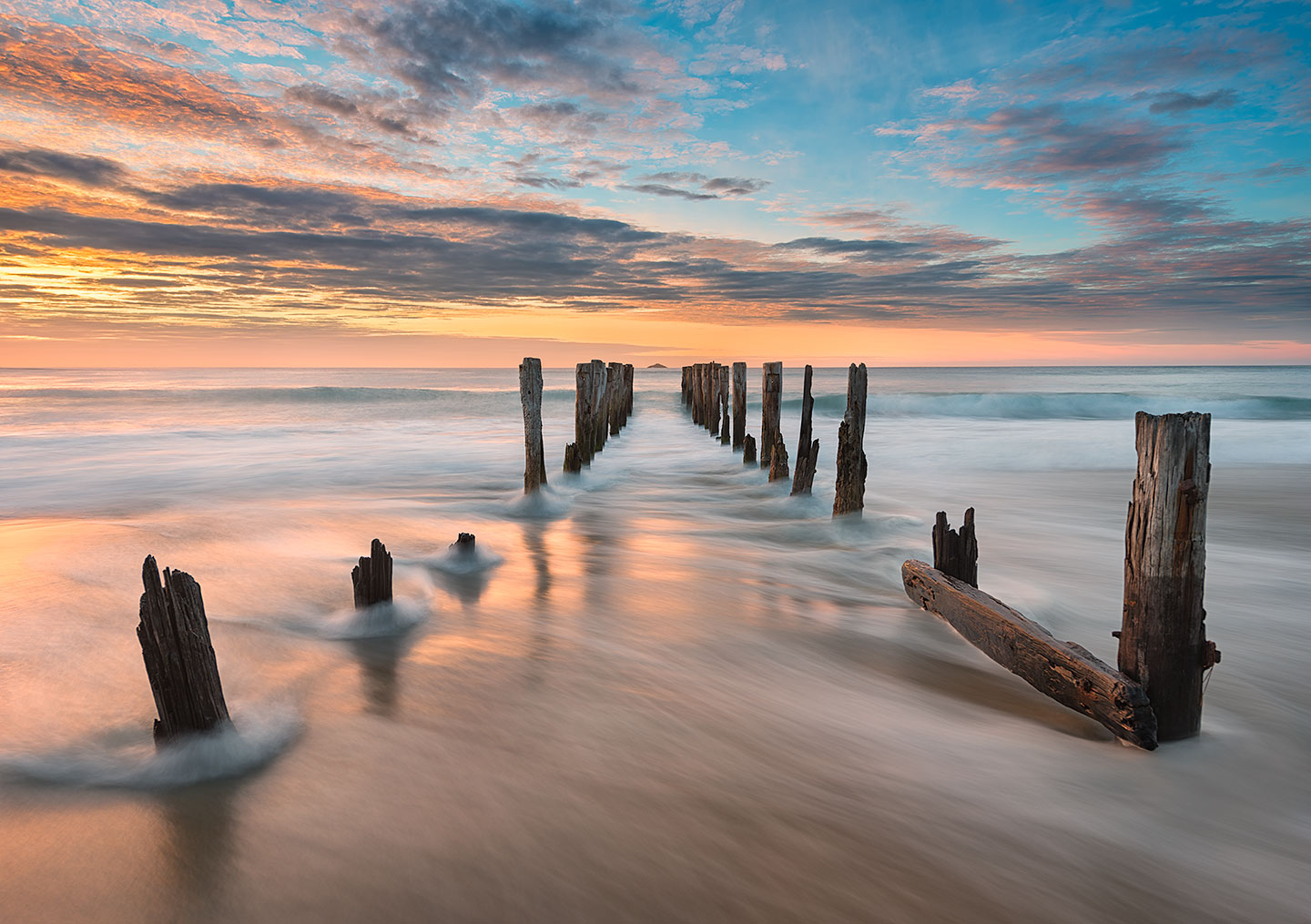 This effect works in many different seascape locations around the world, including the Black Sand Beach in Southern Iceland. Here, a half second exposure makes all the difference. This is why I never leave my 4 Stop ND filter behind.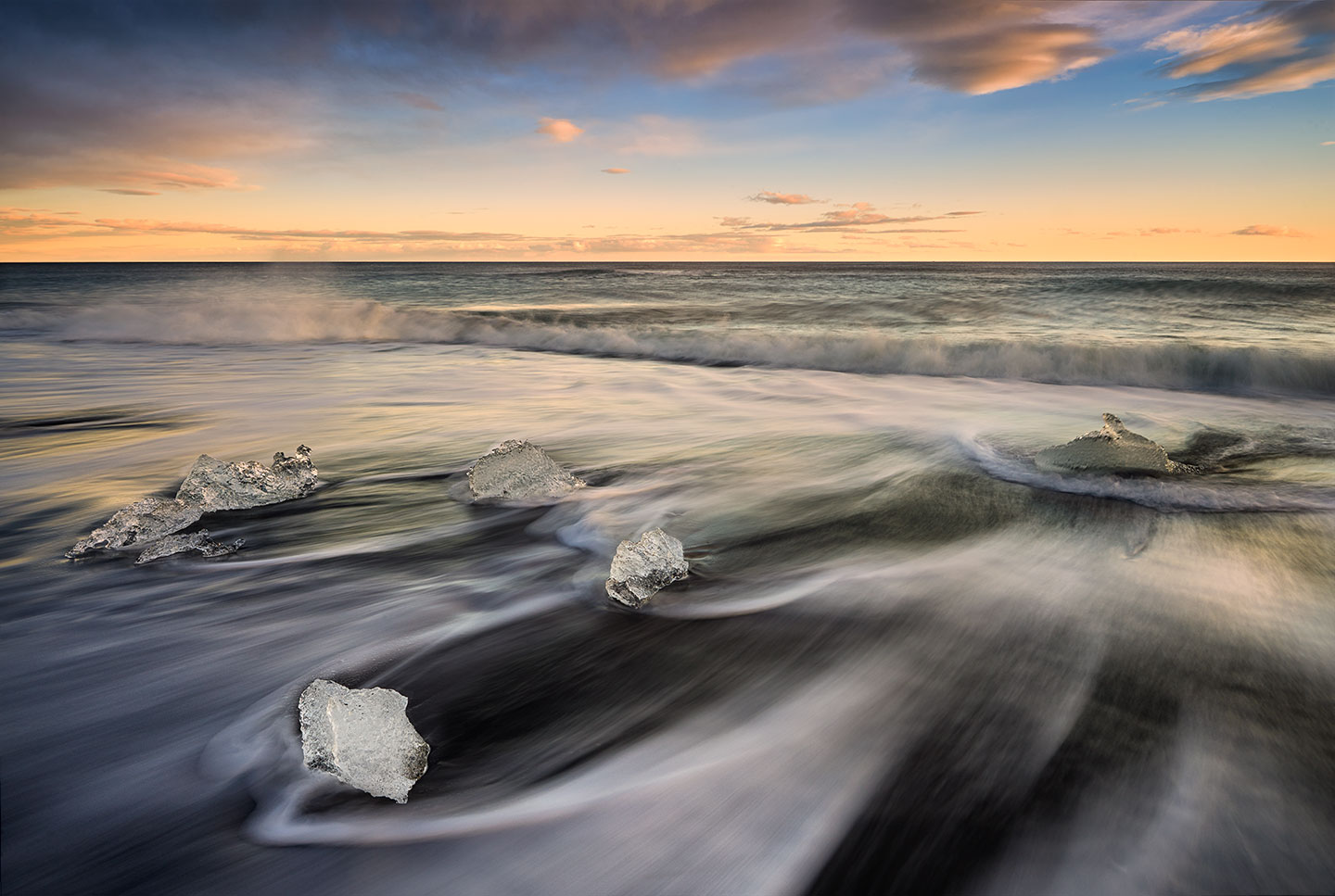 Another shooting scenario where I love to use my 4 stop ND filter is during blue hour and twilight. Since ambient light is at a minimum, it's during this time of day where a light ND filter can help drag the shutter dramatically and create perfectly soft water. The best exposure times for this soft water blue hour effect are usually somewhere between 15 – 60 seconds. My personal preference is 30 seconds because it doesn't require using the in-camera bulb mode.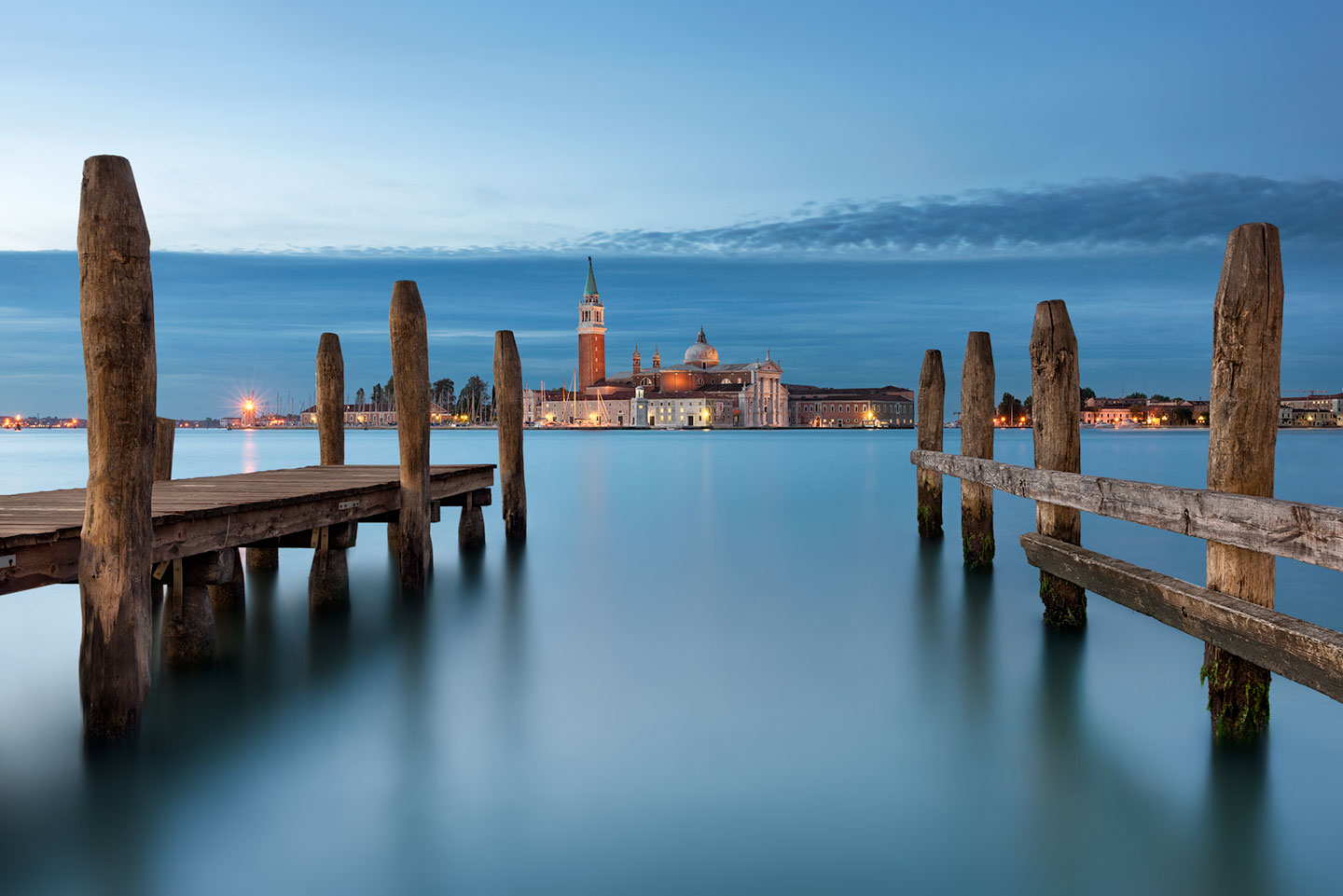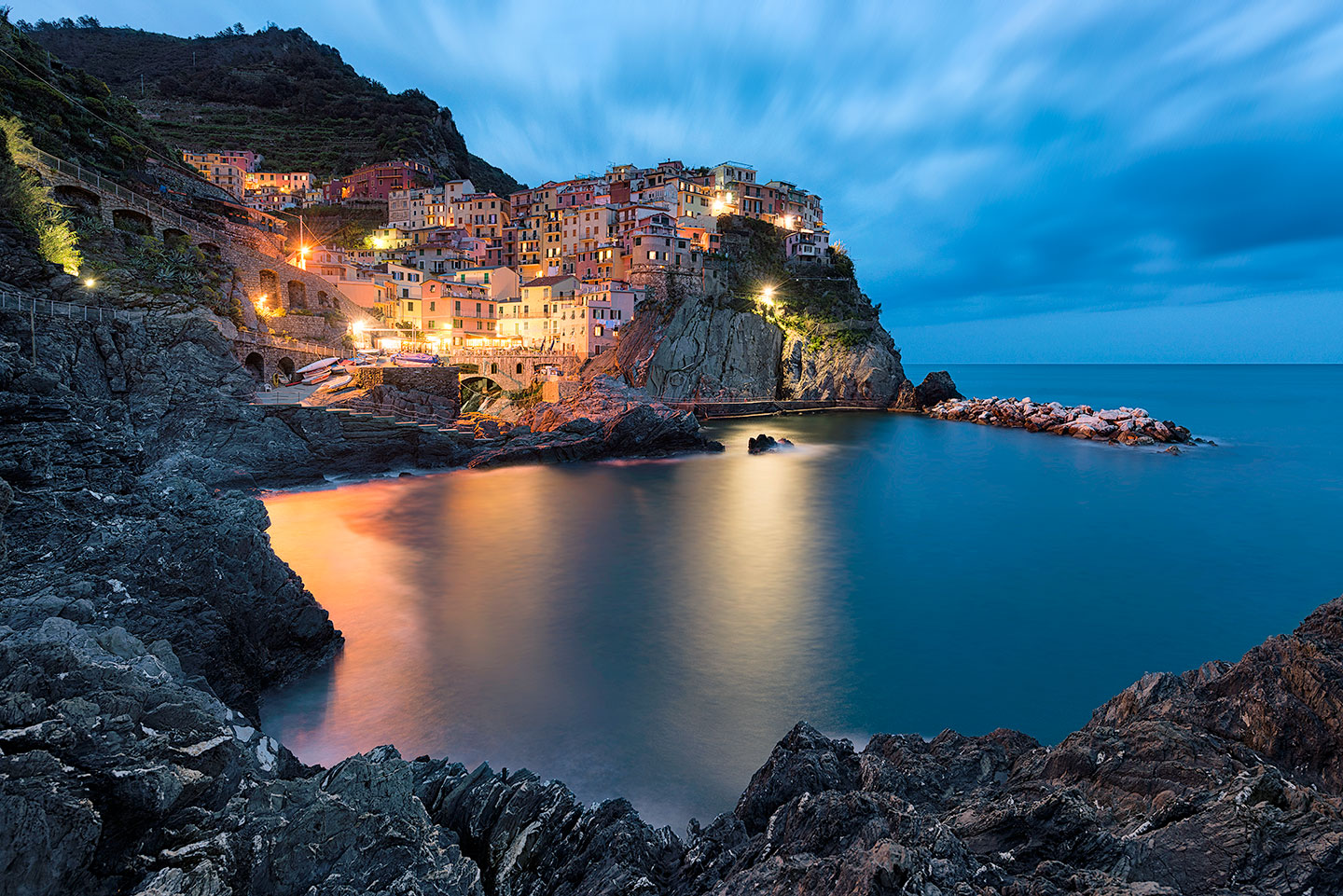 ---
10 Stop Neutral Density Filter
A 10 Stop Neutral Density Filter can be used to create a wealth of different long exposure in-camera effects. It works best during the day when there is a lot of light to filter in the scene. In certain situations, it can produce shutter speeds anywhere between 15 seconds – 4 minutes.
For exposures longer than 30 seconds, remember that you will need to work in bulb mode and use a lockable shutter release cable.
My favorite effect to create using a 10 Stop ND filter is soft and streaky clouds. I find that this works best during the first few hours after sunrise and before sunset when the sun is low in the sky. This is a special time of day that photographers call "Golden Hour" due to the soft quality of golden light. Combined with very slow shutter speeds, you can create many beautiful long exposure photography effects.
Here's an example from Tuscany during the last few hours of a summer day. The exposure time is 84 seconds at f/16. As you can see, the clouds are nice and soft.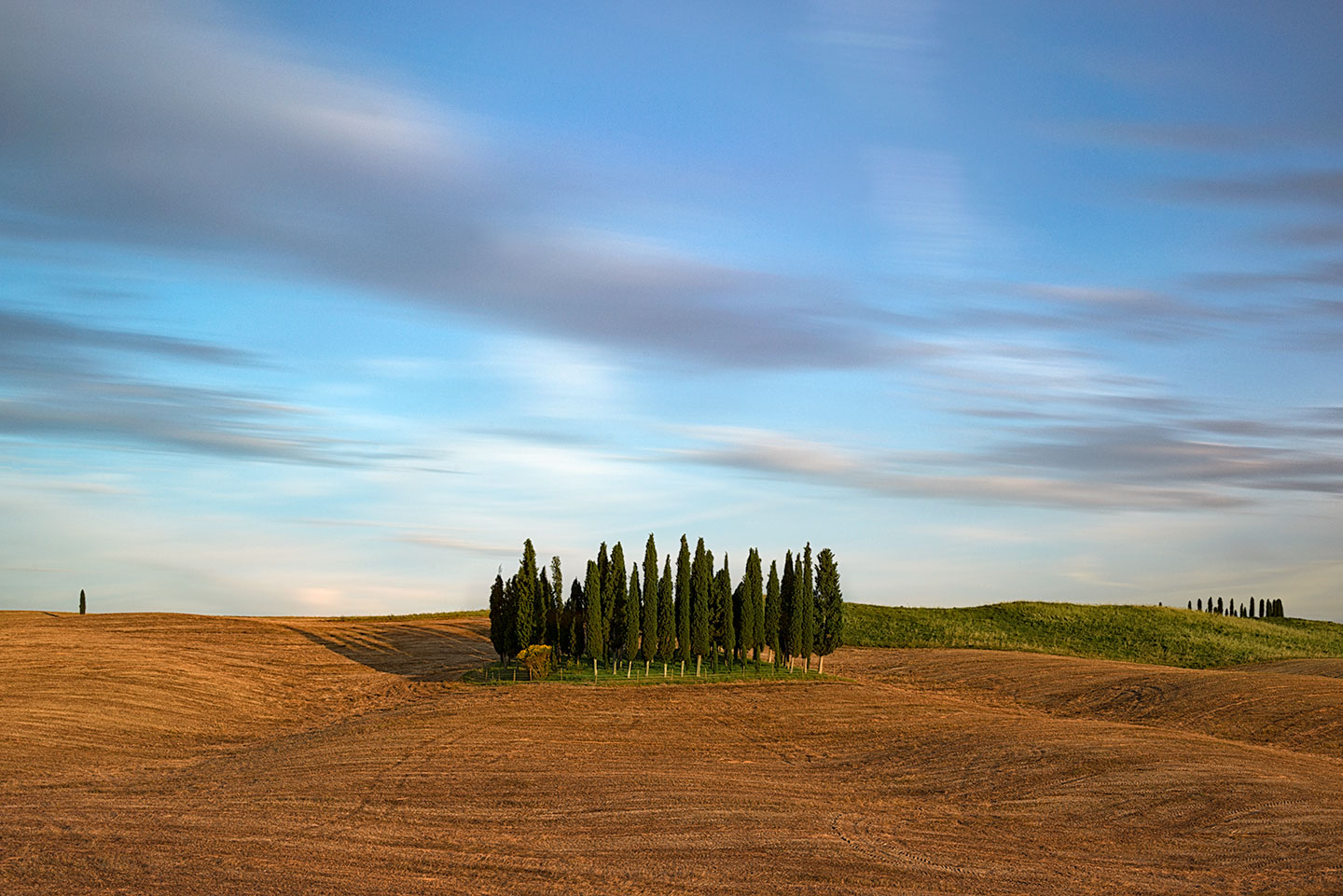 Here's an example of a morning gold hour in Hong Kong. This is a 60 second exposure at f/9.  Using a 10 stop ND filter allowed me to soften both the clouds and the water. As a side effect, the long shutter speed also allowed more ambient light to accumulate on the surfaces of the buildings. Many times—much like the result of this photo—long exposures can cause more light to pool in the shadows and give the scene a three dimensional look.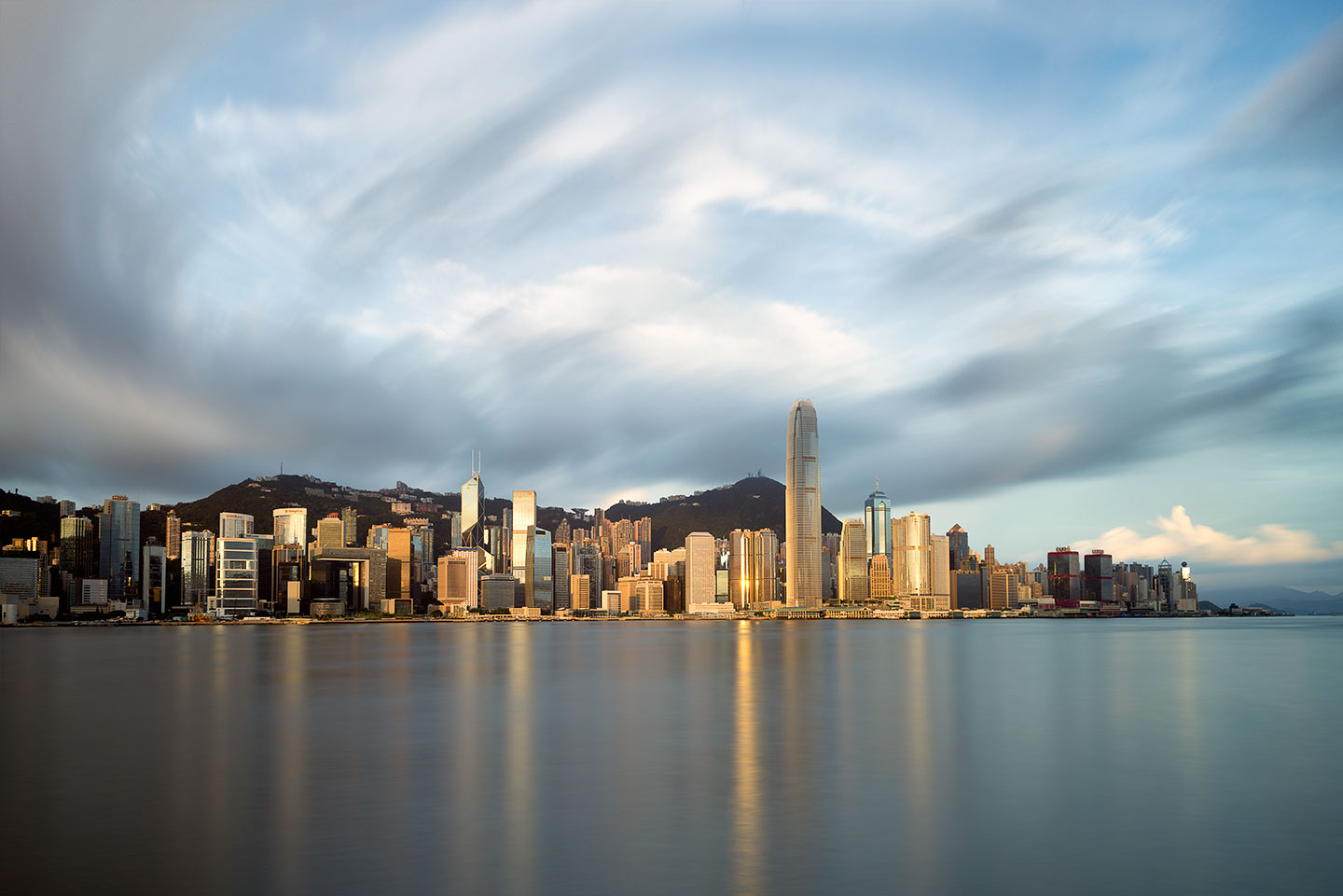 ---
3 Stop (.9) Neutral Density Soft Edge Graduated Filter
A 3 Stop ND Soft Edge Graduated Filter may be one of the most useful photography tools on the planet, especially for a landscape and travel photographer. This filter can help tame very bright skies and also help to reduce the amount of both in-camera exposure bracketing and post-processing. Since the filter has a perfectly soft transition from clear to three stops of neutral density, it never leaves an imprint on the captured scene. It can also be adjusted on the fly by sliding the filter up and down in the holder. Similarly, the angle can be changed by rotating the filter holder. Since it's a light amount of filtration, it can be used during any time of the day or night.
Here's a good example where a 3 Stop ND Soft Edge Grad can be used to slightly underexpose the sky, reduce its intensity and prevent areas from become blown out.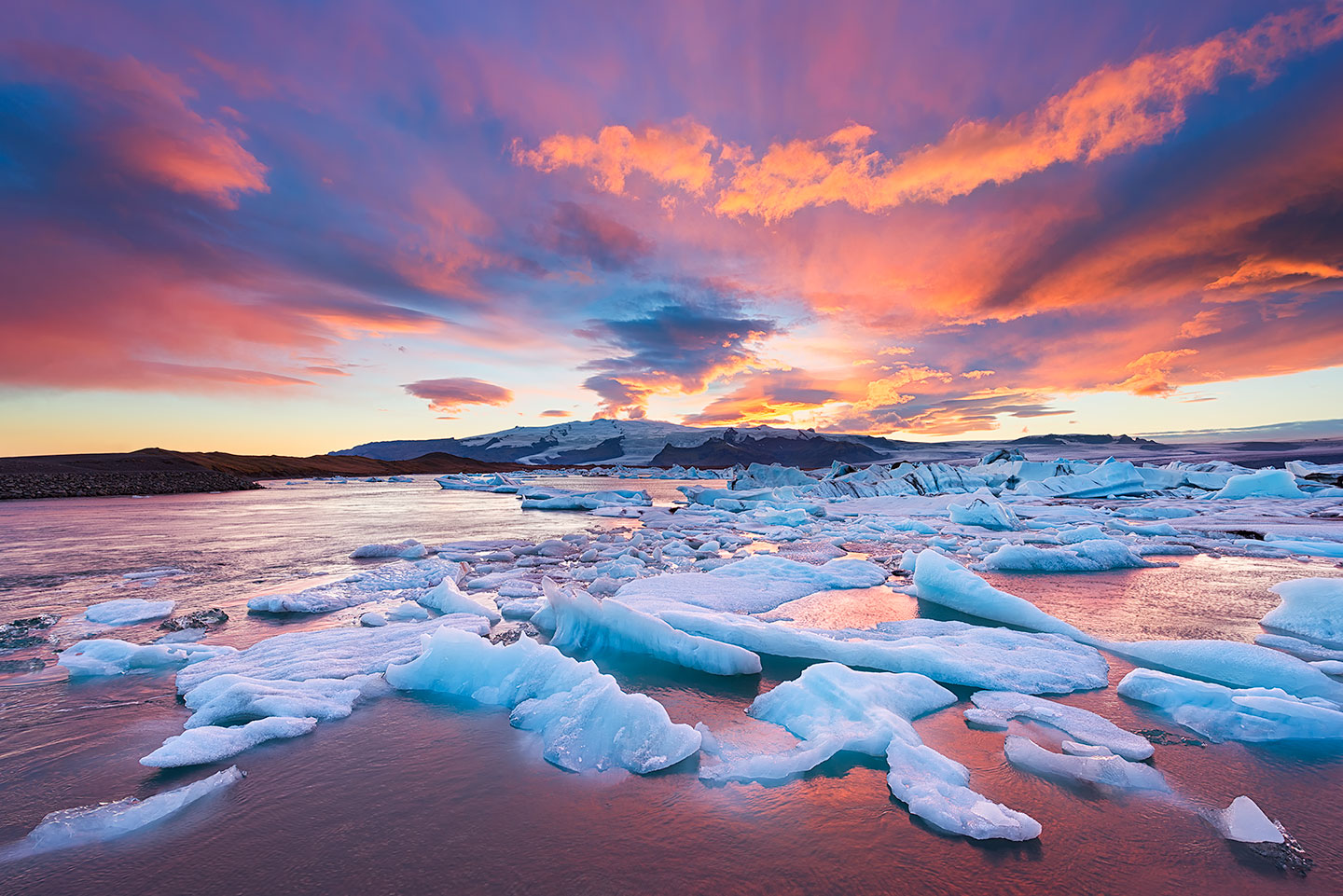 Remember that a 3 stop (.9) ND Soft Edge Graduated filter can always be combined with an additional filter, such as a solid 4 stop ND. This will help to create truly unique long exposure in-camera effects.
---
Firecrest ND Vs. ProStop IRND
The Travel Filter kit is available in either ProStop IRND or Firecrest, with the ProStop version available now, and the Firecrest version available in early November.
ProStop IRND
ProStop IRND is an advanced ND filter that reduces both visible spectrum light and infrared radiation. At higher densities (such as 10 stops) reducing infrared reduces contamination on the digital sensor that causes color shifts and digital artifacts, especially in the dark areas of the image. ProStop IRND filters are made by using special formulations of dye in resin. Resin filters are light and extremely durable, and have an index of refraction nearly equal to the finest glass materials, meaning that resin filters will achieve the same level of image fidelity as a glass filter.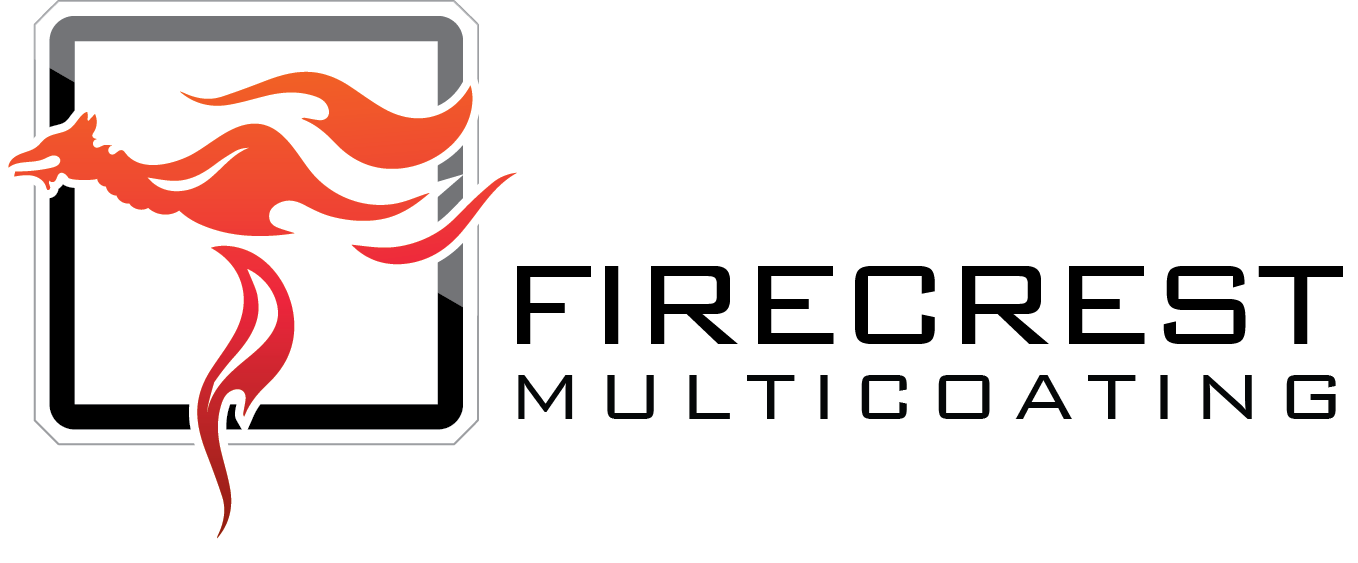 Firecrest ND
Firecrest is an carbon metallic multi-coating that is applied to glass and is far-and-away the most technologically advanced filter manufacturing process on the market. Firecrest filters remove resin and dye from the equation completely. The Firecrest process is a hard coated electrolytic process that is anti-reflective, scratch-resistant, and hydrophobic. Most importantly, Firecrest technology gives  the Formatt-Hitech chief scientist unprecedented control over modifying specific frequencies of the light spectrum. The result is hyper-neutral NDs, with tailored reductions of ultraviolet, visible spectrum light, near-infrared and infrared.
---
Over the last couple of years working with the Formatt-Hitech team, I can honestly say, that not only do they make an excellent product, they are also fantastic people. A big shout out and thanks to Rod, David, James, Katie, and Anne for the hard work on the new line of Firecrest filters and these Signature Edition Filter Kits. I'm proud to be working with you and sincerely happy to call you friends!
If anyone has questions about the filters in this kit, feel free to post in the comments below.