Sacred Path || Fushimi Inari Shrine
The Fushimi Inari Shrine with the seemingly endless path of Torii Gates was my favorite destination in all of Kyoto. Aside from the massive amount of creepy spiders, it was an incredibly soothing and spiritual feeling to walk up the mountain path. On this night there was a cool gentle breeze accompanied by the sound of thunder from an approaching storm and as the light faded, the sounds of the day were replaced with a tranquil silence that calmed me to my core.
Oddly enough, even with the enhanced D800 resolution, I didn't find a single spider in this photo. It gives me the eerie feeling that they're all hiding somewhere, waiting to ambush me. Man does that thought gives me the shivers…
Behind The Scenes || Shooting The Torii Gates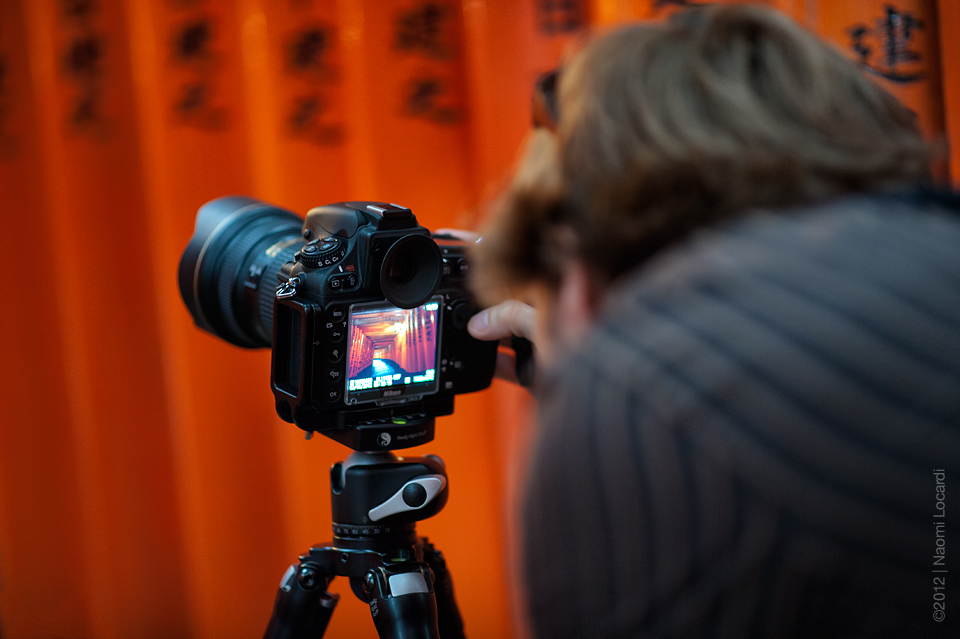 Here's a great shot by Naomi Locardi showing me as I patiently tweak my D800 settings in live view mode. The super uber camera gear geek (a.k.a. someone like me) would also notice the RRS TVC-24 Tripod and BH-40 Ballhead, which — besides the D800 — is the newest addition to my travel arsenal.