Blogging From The Great Wall!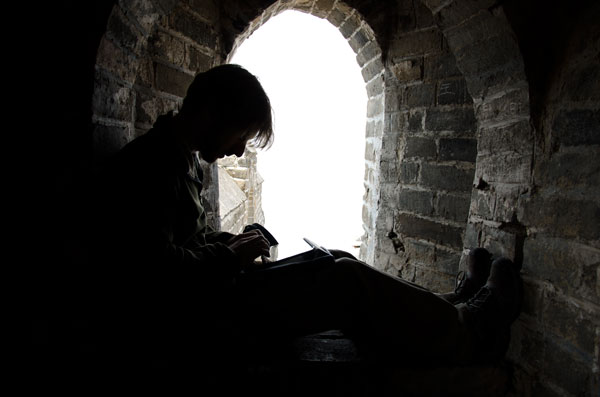 I gotta say, this is pretty cool. Today, I'm writing this post from the top of the Great Wall of China, the Mutianyu Section to be exact. I was even pleasantly surprised to find full 3G service up here. So of course I checked in on Facebook and Skyped my mom. She was thrilled. I mean, It's not every day that your son calls you from the Great Wall.
It's always been one of my dreams to visit the Great Wall so I'm very excited about it. The weather sucks for photography today but I'm honestly just happy to be here. And before you ask, of course I didn't take the sissy tram. All of myself and all the camera gear took the stairs…. Thousands of them and I'm planning on doing it a second time too, once the lighting improves. On a side note, wasn't it the Chinese who invented the Stair Master?
New Adventures In Old Beijing
We've been staying in Beijing for over a week now is this shabby little apartment right across from the north wall of the Forbidden City. Today's photo is only a few minutes walk from our front door. Even though there are giant rats living in the ceiling, huge brown slugs sliming all over everything, and pipes breaking open to spew stinky brown goo, the location couldn't be more perfect. If I was a Realtor, all I'd say is, "It has character."
What you see here is the north entrance to the Forbidden City shortly after a beautiful sunset. On my second night in Beijing, I jogged the length of the top half of the ancient wall to find some cool vantage points. When I returned here to shoot, there were dozens of little bats fluttering all around my shot. They were a cool addition to the experience and they moved too quick to impact the exposure.
Reflections Of The Past