Occasionally we are given an opportunity to do something truly meaningful…
Something that has the power to save lives.
In June I embarked on one such endeavor and the most passionate photography project of my life, to date.
I joined my longtime friend & award-winning documentary film maker, Timothy Gorski, in Chiang Mai, Thailand to help in the fight to save the SE Asian Elephant from extinction. We wanted to provide photography to support his film, How I Became an Elephant, as well as, Elephant Nature Park and the greater plight of the elephant.


I truly believe this documentary WILL help save lives…

That's why I've donated my time, my photography, my travel to Thailand & the use of these images for fundraising efforts on behalf of the film, How I Became an Elephant &Elephant Nature Park in Chiang Mai, Thailand.

Visit the film's Kickstarter page and watch the film trailer to find out what you can do to aid in the fight.
https://www.kickstarter.com/projects/timgorski/how-i-became-an-elephant
Every time you share this link, it dramatically increases our chances of saving or improving the lives of Elephants. If you can't contribute, please take just a moment to share the  link. The more we can educate people about this issue, the better chance we have to effect long-term, positive change. If you visit the Kickstarter page you'll also get access to some Free Desktop Wallpapers of the elephant images or get them as prints when you make a contribution!
I set out to use my photography to help change the world, what I didn't expect was how much the experience would change me in the process.

Life At The Park
With more than thirty rescued elephants at Elephant Nature Park, I was surprised by their human-like qualities and individuality. Some were shy, some were mischievous, some were curious, and some even tried to steal my camera. Others completely ignored me, like I wasn't even there. Sometimes, I'd be so absorbed in shooting with my 14mm lens that I would forget to look outside the camera. I'd quickly find myself trunk to face with one of these gentle monoliths. In the end, I was struck by how each elephant has a unique approach to life at the Park and a personal story to tell. I knew without a doubt that I had made the right decision in going there.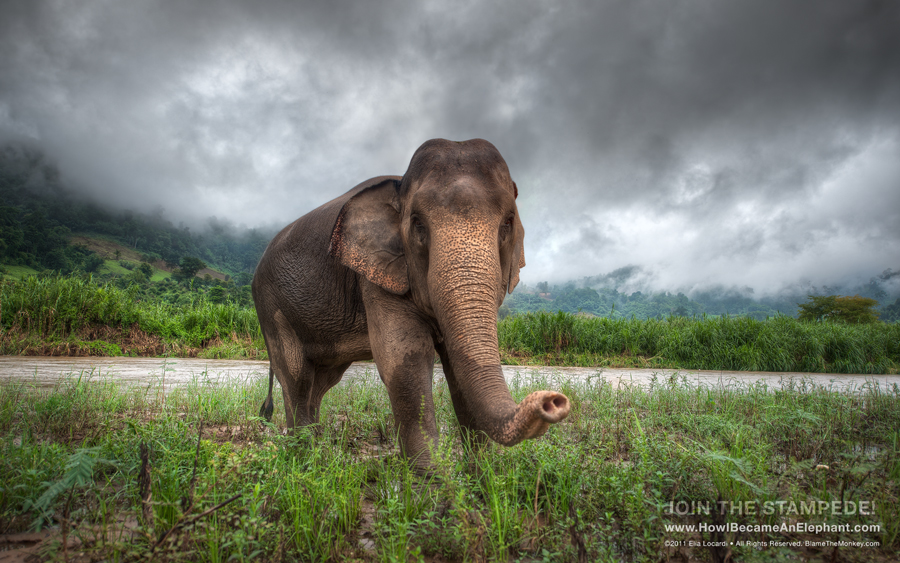 Shooting in Rainy Conditions
I spent three days shooting through mud and rivers, muddy rivers, rivers full of mud, piles of what (I would later come to find out) were things worse than mud, crossing bamboo bridges with my tripod and camera tentatively balanced over my shoulders, forming long winding run on sentences. And where were all my faithful assistants? Ok, I mean assistant. She was stuck in a bamboo shack with what I affectionately refer to as, The Thai Stomach Death Virus.
With mostly overcast skies spotted by fits of rain, we only got lucky one day with some much needed sunshine. After already spending 2 full days up to my knees in the mud it was a welcome sight. I had already soaked through my gore-tex shoes, discovering that they're just as good at keeping water in as as keeping it out. Armed, or 'footed' I should say, with my backup pair of sandals we wrapped up shooting on the 3rd day and headed back to Chiang Mai.

An unexpected surprise
When I got back to our guest house I immediately dove into the editing process. My head was literally swimming with energy about it. So much so that I started getting stabbing pains in my stomach. So much excitement in fact, that my body heated up to a temp of 104º and I started to shake uncontrollably for hours! Later I would find out that this was not indeed excitement or elation, it was that damn Thai Stomach Death Virus. 3 full days later and 10 pounds later, I was finally able to leave my room. But this story isn't about that experience. It's about trying to save a species.
Raising awareness & funds for animal rights causes can be challenging and any help getting the word out about this issue and important documentary film are greatly appreciated.

Let's help make a difference, together!
Watch the How I Became an Elephant Film Trailer