First of all, Naomi and I would like to take this opportunity to thank each and every one of you for the continued support. It has been an absolute pleasure to share these photos and experiences with all of you and please know that you've all helped make 2013 a truly wonderful (and memorable) year.
From the bottom of my heart, my sincere thanks for all of the comments, likes, plusses, tweets, and shares. A big cheers to 2013 and may 2014 bring each of you closer to your dreams.
As the Italians say, "Cin Cin!"
2013 | A year beyond all expectation
Last year, when I spoke about 2012, I had said that it was the most incredible year of my life. Looking back, it's hard to believe how much things have evolved, business has developed, and how the experiences of 2013 have caused me to grow in so many profound and positive ways. While 2012 has earned a permanent place in my memories and my heart, 2013 exceeded all of my expectations and taught me that passion, hard work, and dedication will never go unrewarded.
This post is a collection of my favorite moments, my favorite photos, and my favorite memories of 2013.
Travel Stats
Needless to say, Naomi and I travel a lot! Learning from our experiences of being location independent in 2012, we decided that we'd stay a bit longer in each location in 2013. As a result, we've flown about 15% less miles this year by staying in regions of the world and jumping around with short flights instead of long hauls. Oddly enough however, this hasn't cleared up my perpetual jet lag. After flying over 1 million miles over the last few years, I think it has set in permanently at this point. 😉
Miles Flown: 142,987
Hours on an Airplane: 292
Flights Taken: 80
Countries Visited: 22
Cities Visited: 65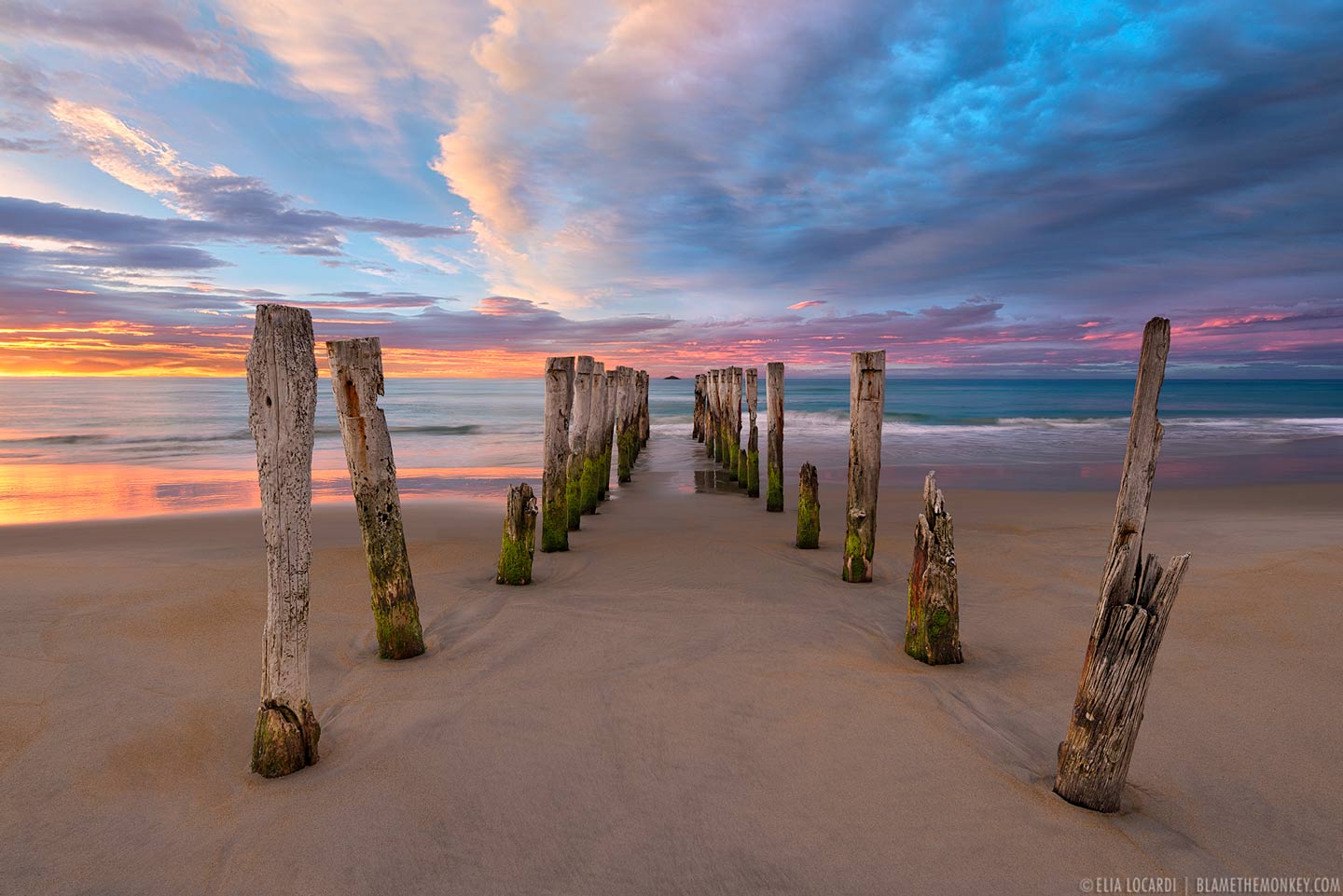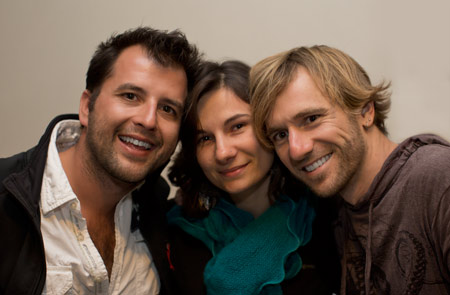 In January, we kicked off the year by driving around the South Island of New Zealand with our good friend Victor Marz. Ultimately, we ended up in Queenstown where we enjoyed breathtaking views while we sampled some of the local (and famous) Pinot Noir.
From Queenstown we drove back to Dunedin before catching a flight to Sydney Australia. It was the first time we had ever flown to Australia from somewhere other than the United States. Let's just say that the jet lag is much less severe when you fly 2000 miles instead of 9000!
I also learned that Gollum has taken over Auckland Airport!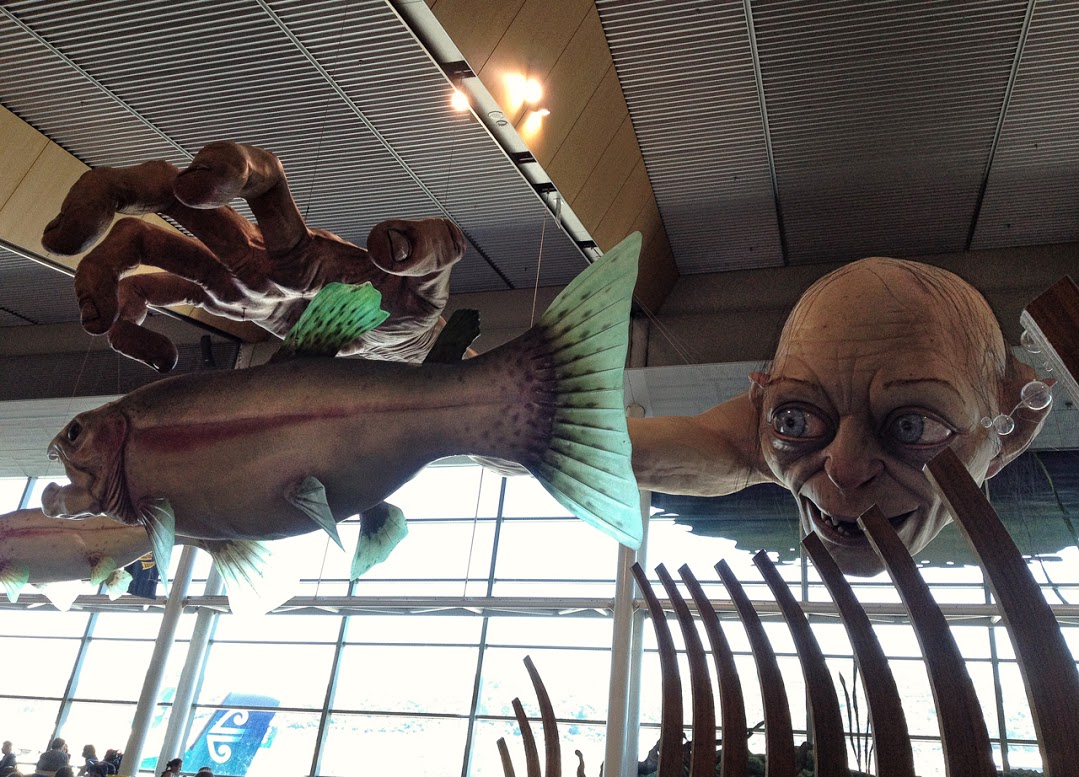 In Sydney I had the pleasure of giving a talk about "The Art of HDR Photography" at Google HQ.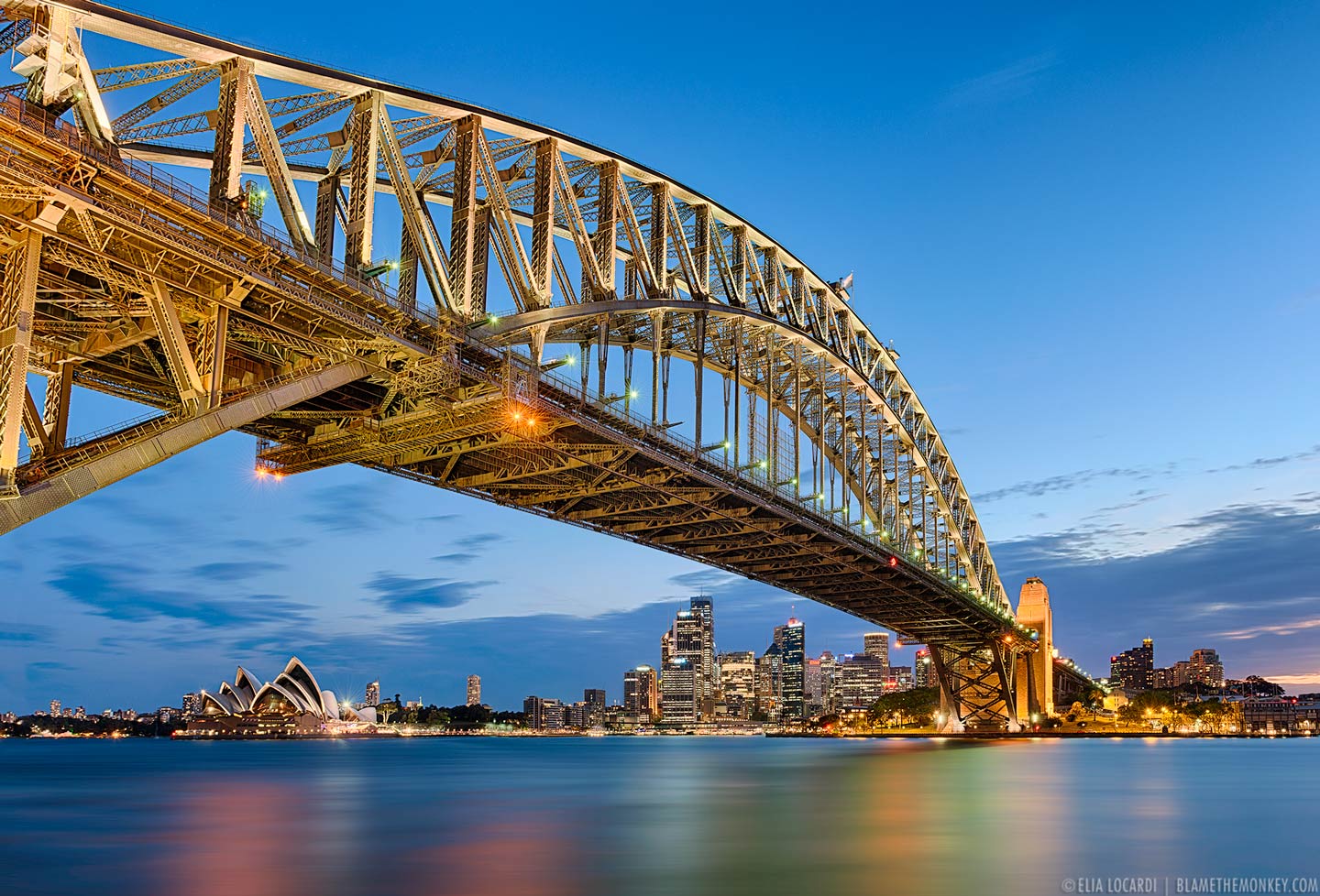 From Sydney we flew to Bangkok for a few nights to get our visas for Myanmar. While it wasn't a difficult process, it was a bit time consuming since we had to spend 2 mornings in line at the Myanmar Embassy Visa Office.
From Bangkok, we flew to Yangon to begin our first adventure in Myanmar. Over an amazing 2 weeks, we traveled from Yangon to Bagan before meeting up with our good friend, photographer and photo tour leader, Malcolm Fackender. Together, we traveled by boat from Bagan to Mandalay before flying to Heho and taking another boat to Inle Lake.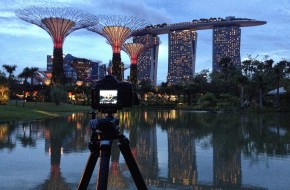 Leaving Myanmar, we flew back to Bangkok before heading to Singapore to spend a few restful days before the big scheduled events in Sydney Australia. Unfortunately, I had caught a nasty flu and spent 3 of the days in Singapore in bed. 🙁
On Sunday Feb 10th, I hosted a big post-processing workshop followed by a massive Sydney Photo Walk. Though we ended up getting rained out in the end, we still were able to give everyone some special behind the scenes access inside the Sydney Opera House.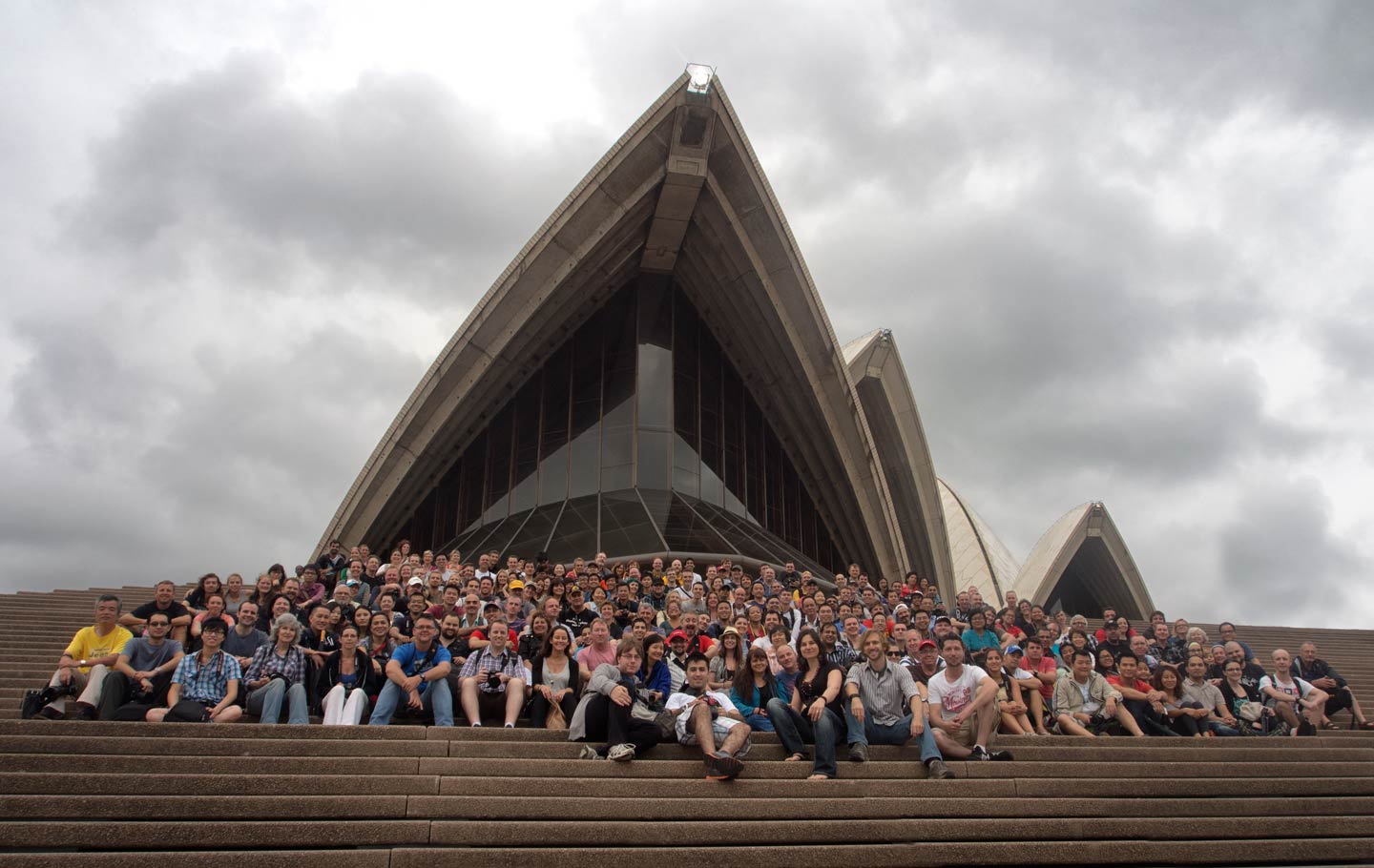 After the Photo Walk, I was also interviewed by the lovely Lexy Savvides of CNET Australia.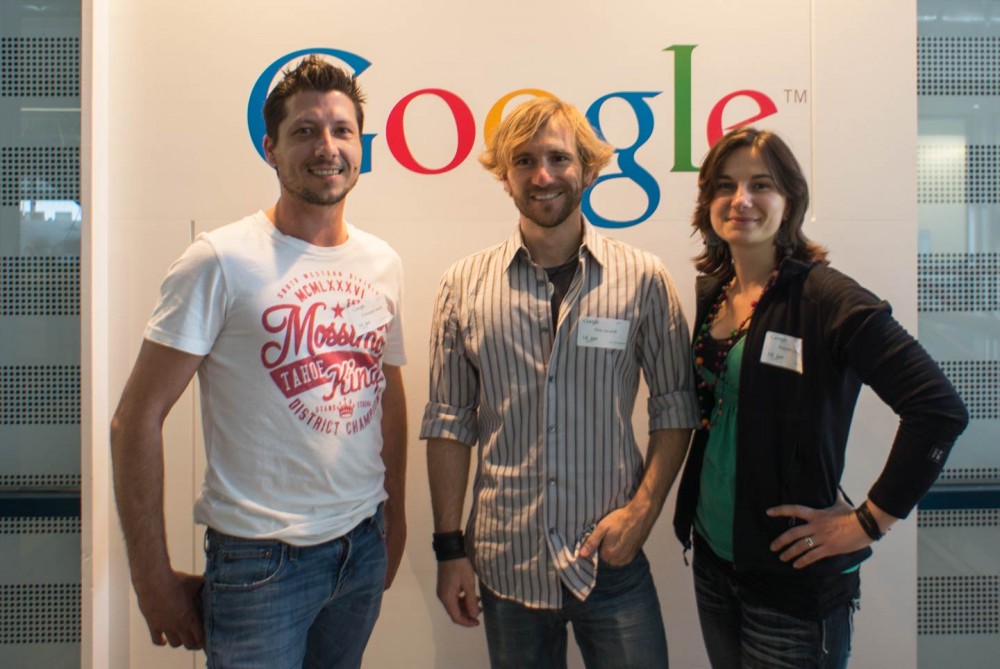 Sydney Australia in February was a whirlwind of amazing events! A huge thanks to my good friend Giuseppe Basile for helping to organize everything!
After the events in Sydney, we flew to Guilin China to spend some time exploring surrounding areas of the Karst Mountains. Unfortunately, inside nearly a three week visit, the rain only let up for a few short days, making the trip pretty unsuccessful for photography.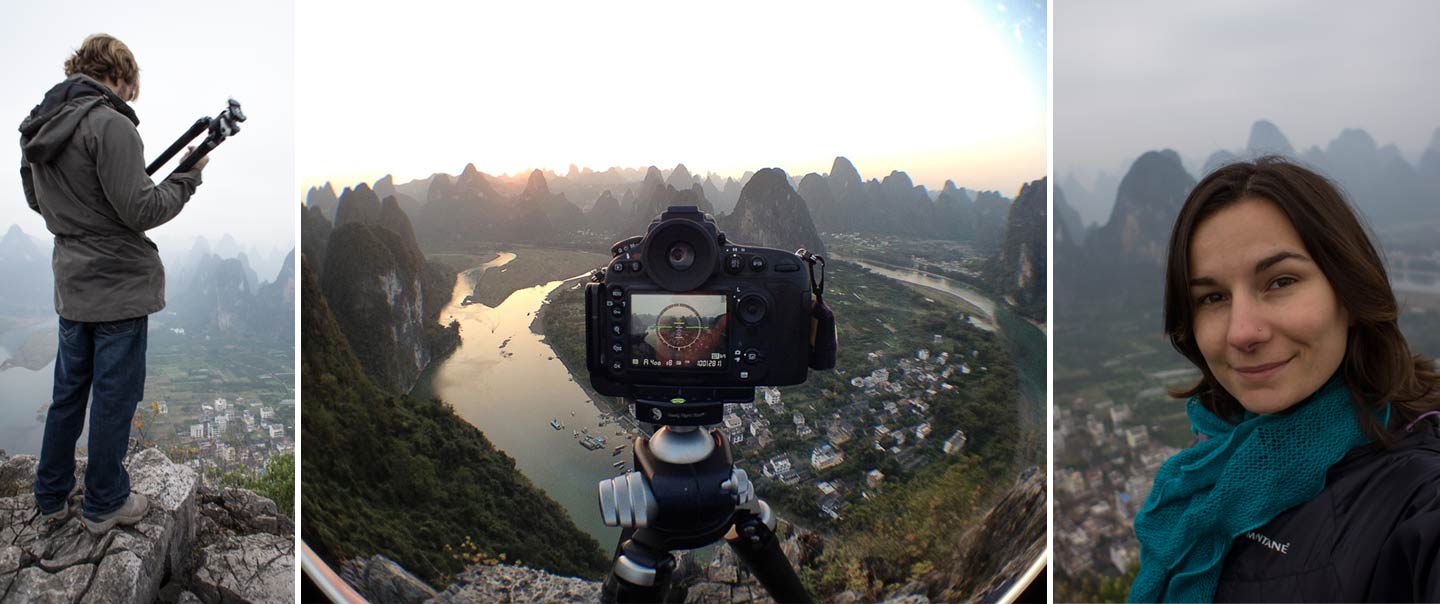 In the end it wasn't a complete wash because I learned a very valuable fact about working with bad weather in China. It turns out that it never rains in a cave! 🙂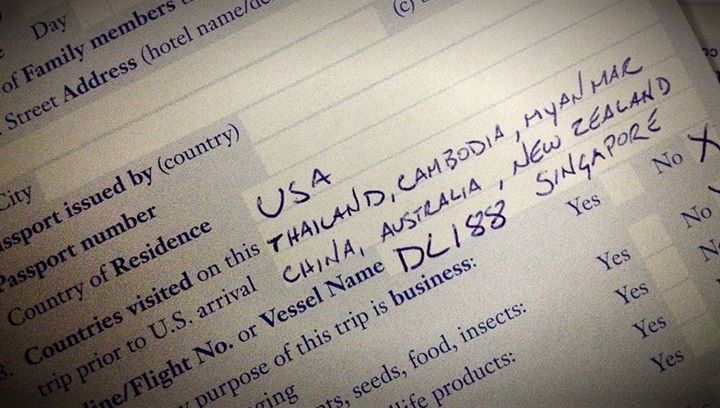 In March, we flew to Florida to attend a wedding and visit our good friends and family. Flying in, we were barely able to fit all of the countries we had visited onto our customs form. 🙂
Naomi and I also celebrated our 1 year anniversary of becoming 100% location independent. While traveling over the past year, we managed to collect all of our boarding passes, tickets, and travel documents. Here they are spread out next to our 5×5 foot air conditioned storage unit in Central Florida.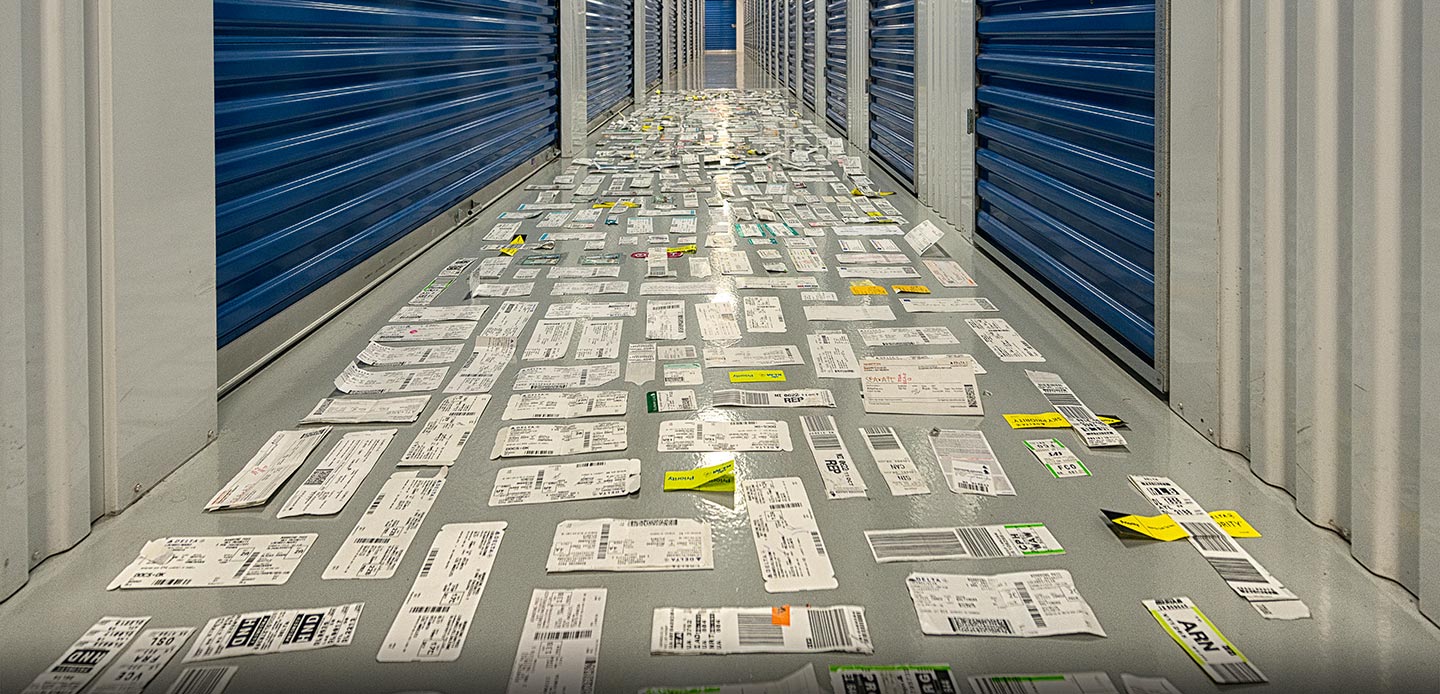 From Florida we flew to Los Angeles to visit some friends and then drove to San Diego where I hosted a post-processing workshop at UCSD. After that, we drove to San Francisco where I connected with my friends at Google, Smugmug and a few other great companies.

We also received a very warm welcome from the San Francisco Drink and Click Chapter and had a fantastic time getting to know them!
After that, it was time to get back on the road… The next stop? Japan!

As soon as we arrived in Tokyo we immediately went out to explore. During Hanami, the Japanese people enjoy picnic style gatherings under the blooming cherry blossom trees. The whole city of Tokyo seemed to be in good cheer as people enjoy the breathtaking views.
 Of course, while we were in Japan we visited some of our favorite destinations while also spending time exploring some new ones. Obviously no visit to Japan is complete without a walk through the Bamboo Forest and the rows of Torii Gates in Kyoto.
From Fukuoka Japan we flew to Rome where I spent a few days revisiting my favorite locations before we met up with Ken Kaminesky to begin scouting for our Italy Photo Tour. Rome will always be one of my favorite cities!
During our time in Rome, Naomi had the pleasure of scouting the Walks of Italy Roman Food Tour as a possible activity for our fall Italy Photo Tour. She had a wonderful time learning about the regional differences of the food, wine, olive oil, cheeses and even vegetables. The tour ended with a pizza making class for lunch!
Naomi, Ken and I also had the chance to go on the Walks of Italy Colosseum & Forum VIP tour, which was simply fantastic and highly informing!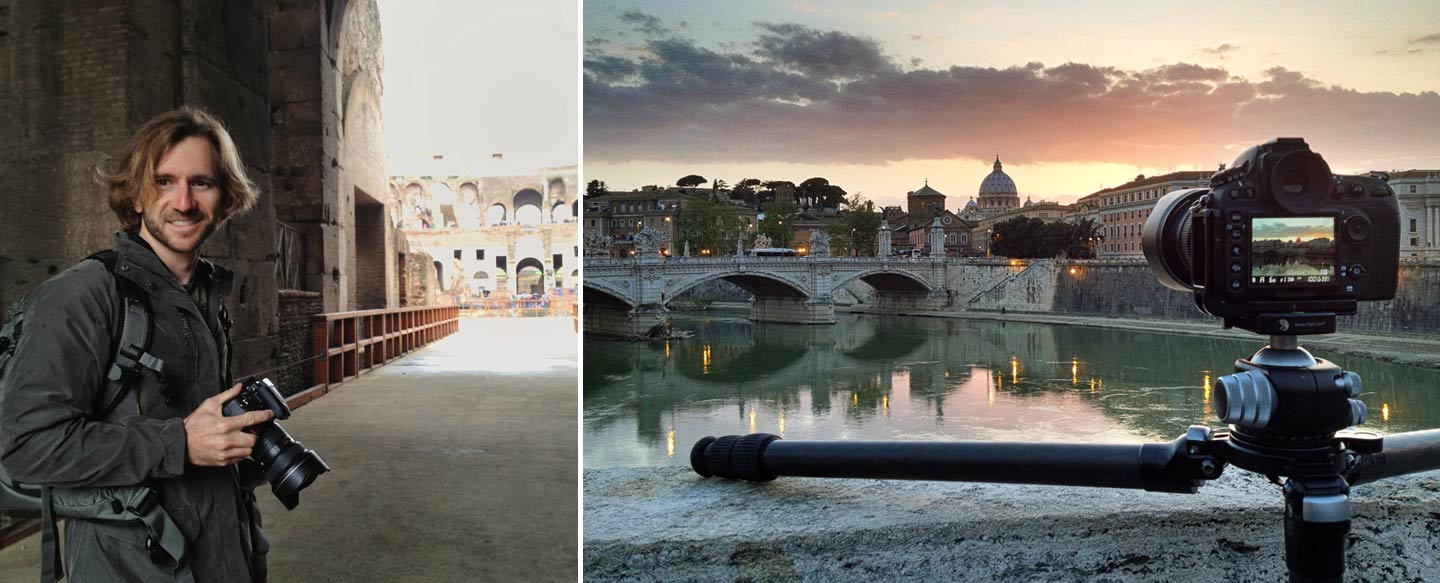 We all left Rome together and drove to beautiful Tuscany. After a few awesome days spent scouting the region of Val d'Orcia, we took a train to one of my favorite places in the world, Cinque Terre.

As if Rome, Cinque Terre, and Tuscany weren't enough, our next Italian destination together was Venice. While we were there, our good friend Athena Carey joined us to enjoy a few spectacular days of shooting, exploring, and (WAY) too much Grappa! 🙂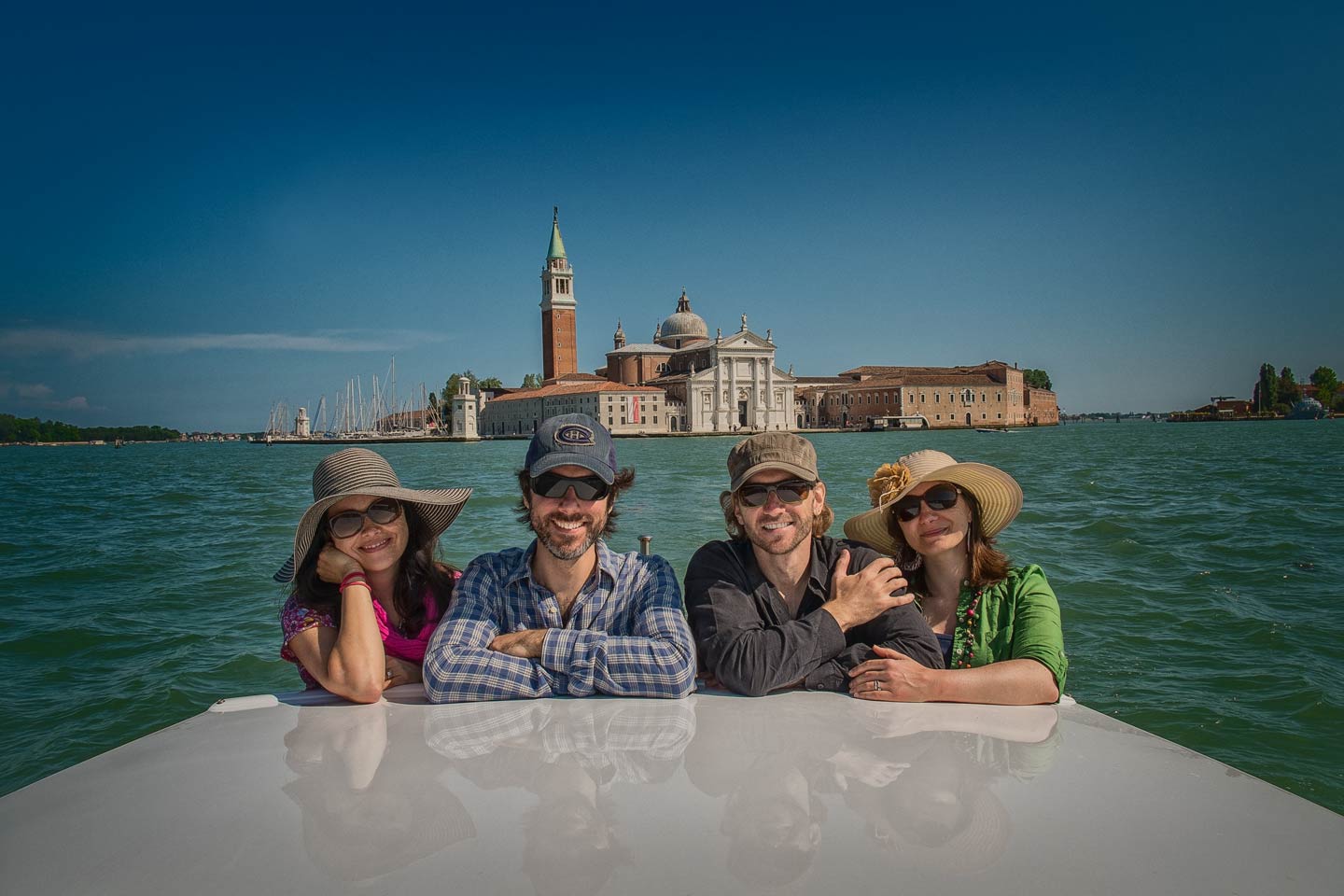 From Venice, we flew to Amman Jordan and hired a car to take us to Petra. We spent 5 days exploring and photographing the ancient archeological site and had a phenomenal time doing so.
After traveling back to Amman, we flew to Dubai to spend a few days catching up with friends and shooting from very high vantage points.


June began with our second visit to beautiful Iceland where we spent an entire week camping out in our car and driving the entire length of Ring Road. We also had to adjust our sleeping schedules to the 24 Icelandic Summer sunlight!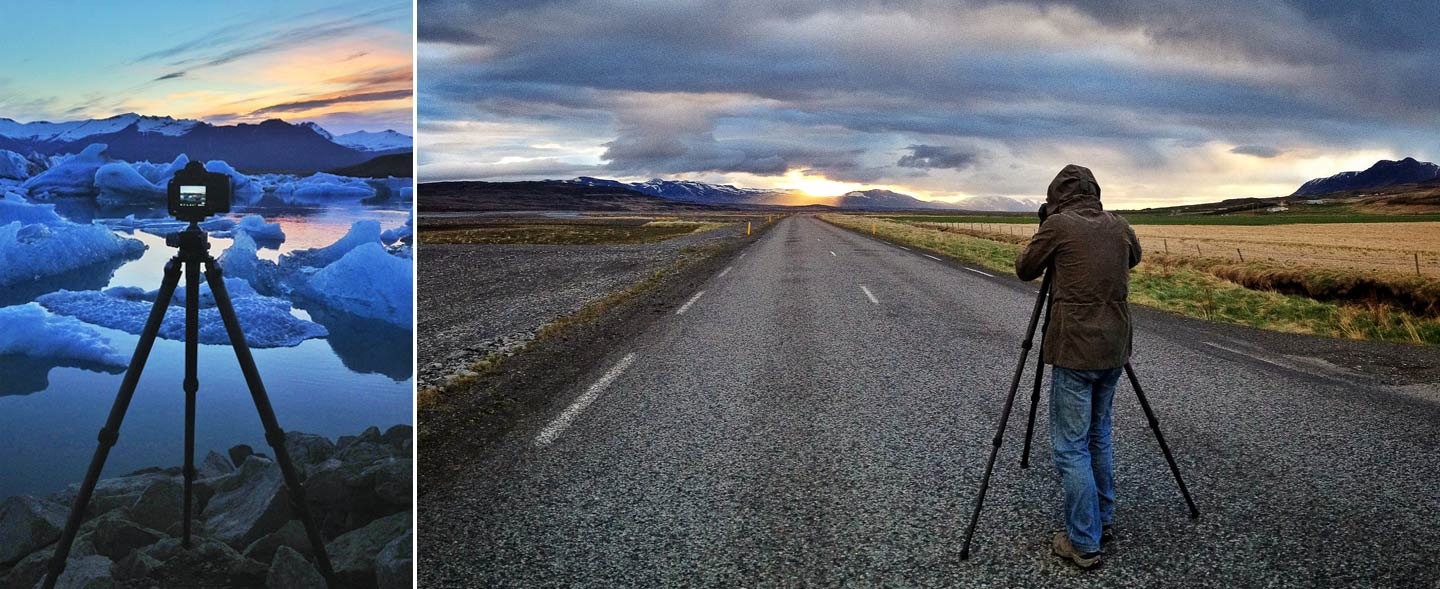 From Iceland we flew over to London to catch up on work and reset our sleeping schedules to something a bit more normal. I didn't make it out much but while I was in town, I had the pleasure of meeting up with local photographers Conor MacNeill and Michael Murphy for a fun shooting session.
In final preparation for our Italy Photo Tour in October, Naomi and I flew back to Rome, rented another car, and drove back to Tuscany to spend some more time scouting the various beautiful vantage points. While I was in Rome, I made sure to spend some more time enjoying my favorite locations and of course, my favorite wines!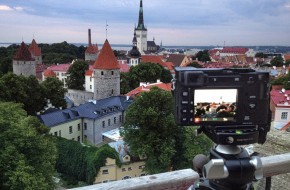 After 12 awesome days in Tuscany, we drove back to Rome, dropped off the rental car and jumped on a flight to Tallinn Estonia. It was our first time ever visiting Estonia and I we were both pleasantly surprised. Hopefully I'll have the chance to edit my photos from there in 2014. 😉
From Tallinn we returned to Venice for a short project and most importantly, to celebrate my birthday. Of course no Venetian birthday celebration is complete without a few glasses of Pinot Grigio and Cecchetti! It was definitely one of the best birthdays I've ever had.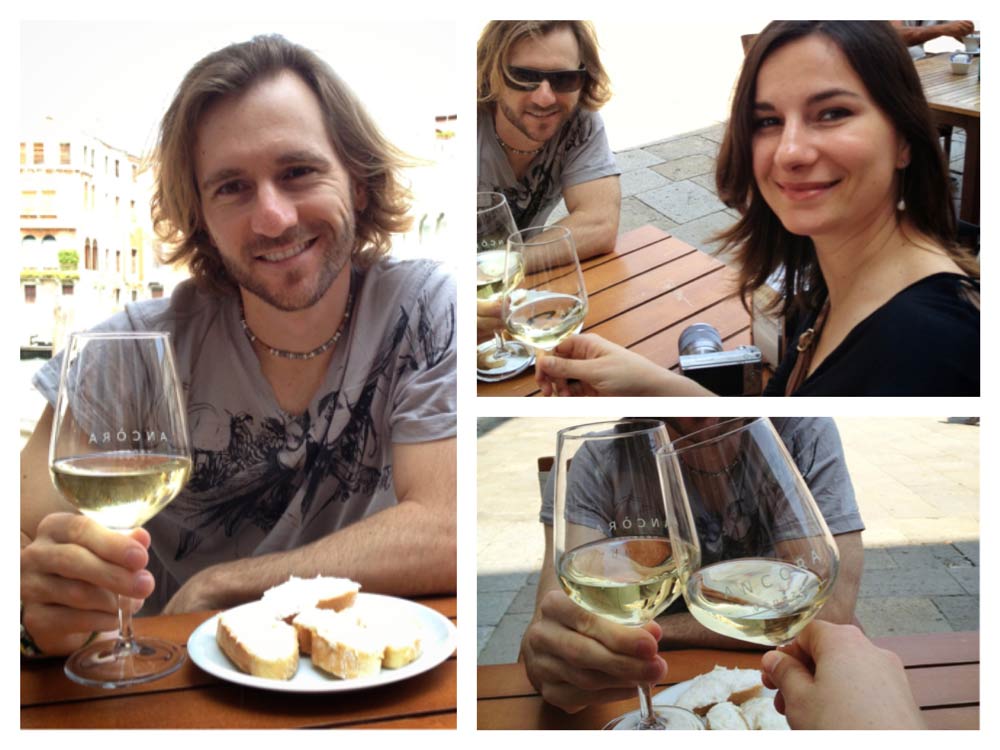 From Venice, we flew to Bali Indonesia for a few days before traveling to Borobudur Temple in Central Java. I spent 4 days there photographing the temple as well as the surrounding areas.
While we were at the temple, we were joined by our friends Franciscus Tan and Nancy Kho.
Speaking of the surrounding areas, we also discovered an old abandoned church shaped like a giant chicken. No joke!
Cluck, I mean click on the image to read the post. 🙂

From Borobudur Temple we traveled to Bromo Tengger Semeru National Park to capture some photos of Mt. Bromo in the fog. While absolutely exhausting, the whole trip turned out to be a huge success.
I spent the better part of 4 days in the area surrounding the extraordinary mountains, sleeping very little, and investing my twilight hours enjoying and photographing the beautiful stars above bromo. In that time, two of the mornings provided me the perfect recipe for crafting my vision – clear skies full of stars and epic fog below. To top it off, my last morning shooting from the highest vantage point was complemented with a beautiful cloudy sky.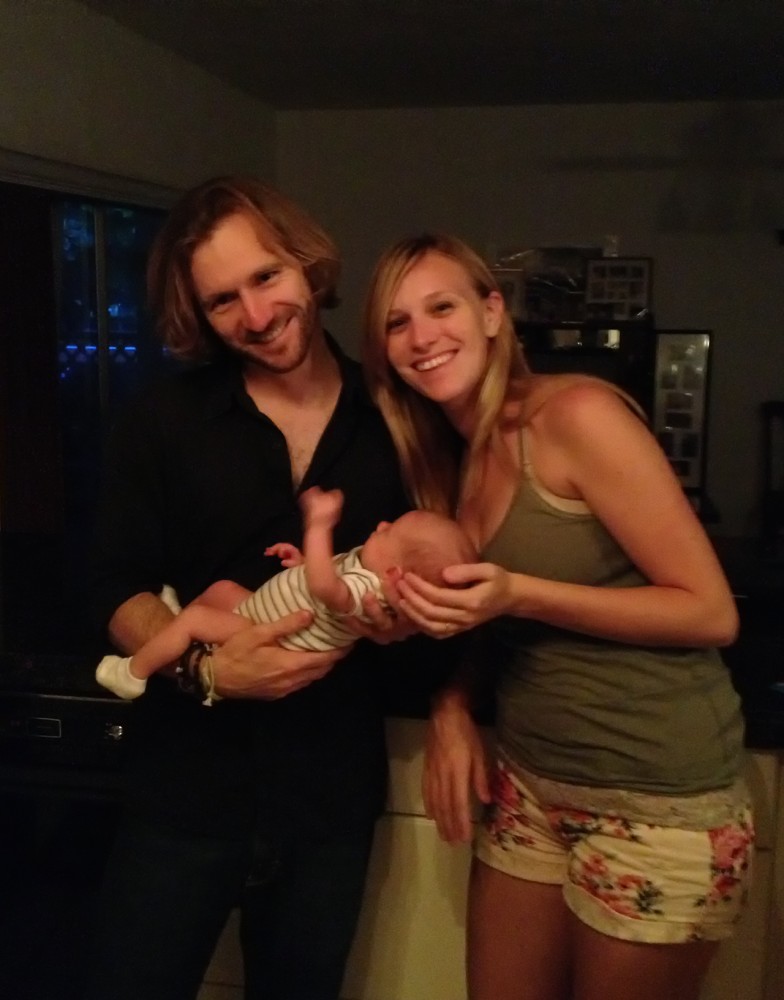 After a short stay in Surabaya, we made our way back to the United States starting with a quick visit to NYC. While I still haven't had the opportunity to process any of my photos yet, I did manage to visit some great vantage points.
After NYC, we flew to South Florida to meet the newest addition to my family, my little Niece Jordyn. Her and I share the same birthday of July 13th which is a very special bond.
In Florida, I also had the chance to pick up some new gear including a TFA-01 Tabletop Tripod and a complete Pano Gear Set from Really Right Stuff. Needless to say, I've become quite accustomed to repacking and configuring my Think Tank Roller board!
Then, on quite the jet lag adventure, we then flew from Central Florida to South Korea for a quick meeting before flying to Paris. After a few days of groggy recovery time, I set out to spend a week exploring the city of lights. Overall it was an amazing experience and to top it off, I had epic weather nearly every day!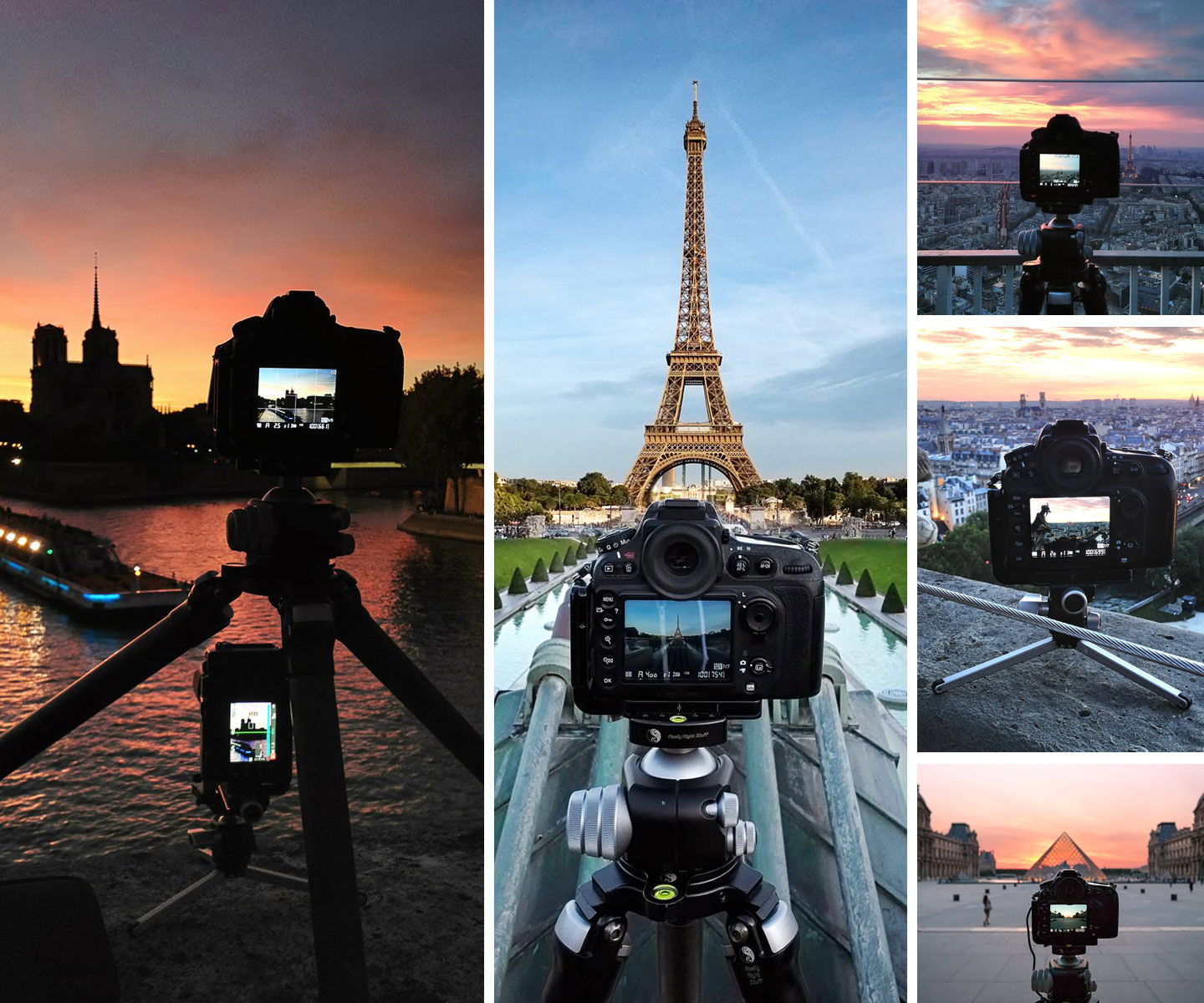 After Paris we flew to Budapest and spent a week exploring the city along with its many beautiful bridges. What a fascinating city. Thank you Reka for the behind the scenes access to Parliament!

From Budapest we flew to Barcelona for a very quick stop before heading to the island of Santorini, Greece.

Naomi and I had the pleasure of spending 10 days on Santorini with our friends, photographing the sunset each night, and enjoying the charming greek culture, wine, and cuisine. I can honestly say that it only took a few days before I completely fell in love with the beautiful city of Oia. It's truly one-of-a-kind.

When October began we were already back in Rome with Ken Kaminesky and ready to begin our Italy Photo Tour!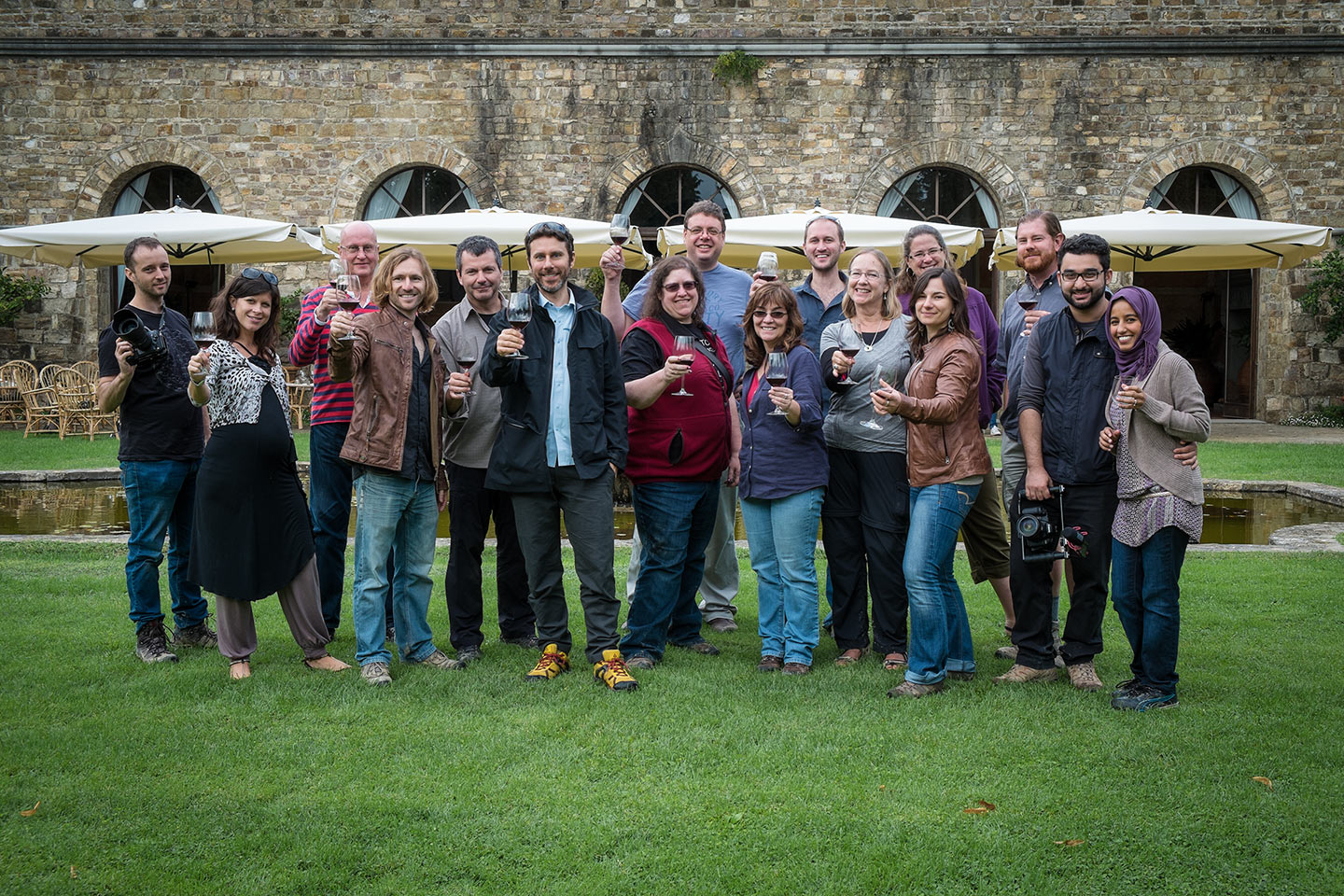 To say we had wonderful inaugural Italy Photo Tour would be more than a small understatement! At nearly every turn it was as if the weather gods were watching and waiting, the rain stopping at the perfect moment to deliver spectacular skies for us to witness and capture it.
From the Colosseum to the colorful cliffside villages of Cinque Terre, our participants left the country with a greater understanding and appreciation for Italian food, wine, culture and history. Not only did we guide them to the best and most breathtaking photography spots in Rome, Tuscany, Florence & the villages of Cinque Terre, we also took them on a journey through time during tours of Rome and Florence lead by expert guides from Walks of Italy.
Every meal was exceptional, highlighting the specialties of each region and was of course accompanied by the Italian wine produced in each location. It's truly a wonderful feeling getting to share your passion for a place with others and it's clear mine and Ken's love for Italy was imparted to each and every participant.
We will be announcing the dates for our 2014 Italy Photo Tours very soon. If you're interested, please register to receive our newsletter for announcements and information on upcoming Photo Tours.
After our Italy Photo Tour wrapped up, we traveled to Paris together and met up with our good friend Rod Clark from Formatt-Hitech. We spent the next 6 days exploring the city together while filming an inspirational film about travel photography and the tools and techniques we use to capture and share the moment. Rod—the awesome street photographer that he is—was also able to capture some sweet shots of us in Black and White!
After Paris, we all flew to NYC for some big scheduled events!
First up—having been recently signed to the Fuji X-Pro Team—I was asked to gave a series of presentations at the FujiFilm booth at Photo Plus Expo. The presentation was called "The Art of Travel Photography" and it was a huge success. In fact, I was told that I pulled the largest crowd out of any of the Fuji speakers that year!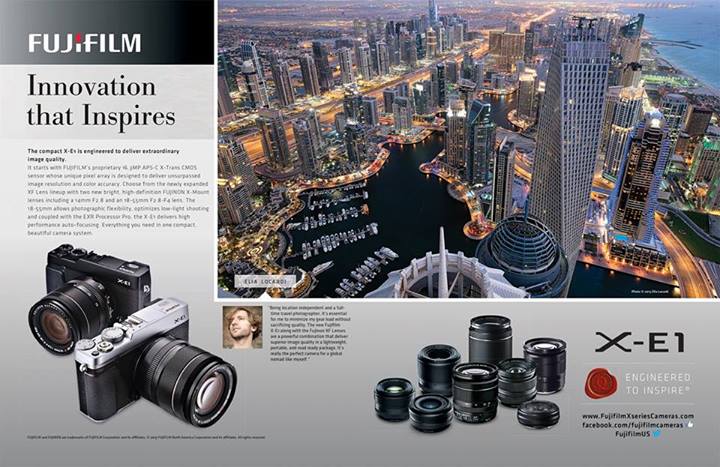 I was also stoked to see that many of my promotional shots for the Fuji X-E1 were used in major market ads in multiple publications including PDN.
After PPE, Ken Kaminesky and I hosted a huge NYC Photo Walk. Overall, we couldn't have been more happy with the turnout and it was great to finally meet so many awesome NYC photographers in person! I hope everyone had as much fun as we did!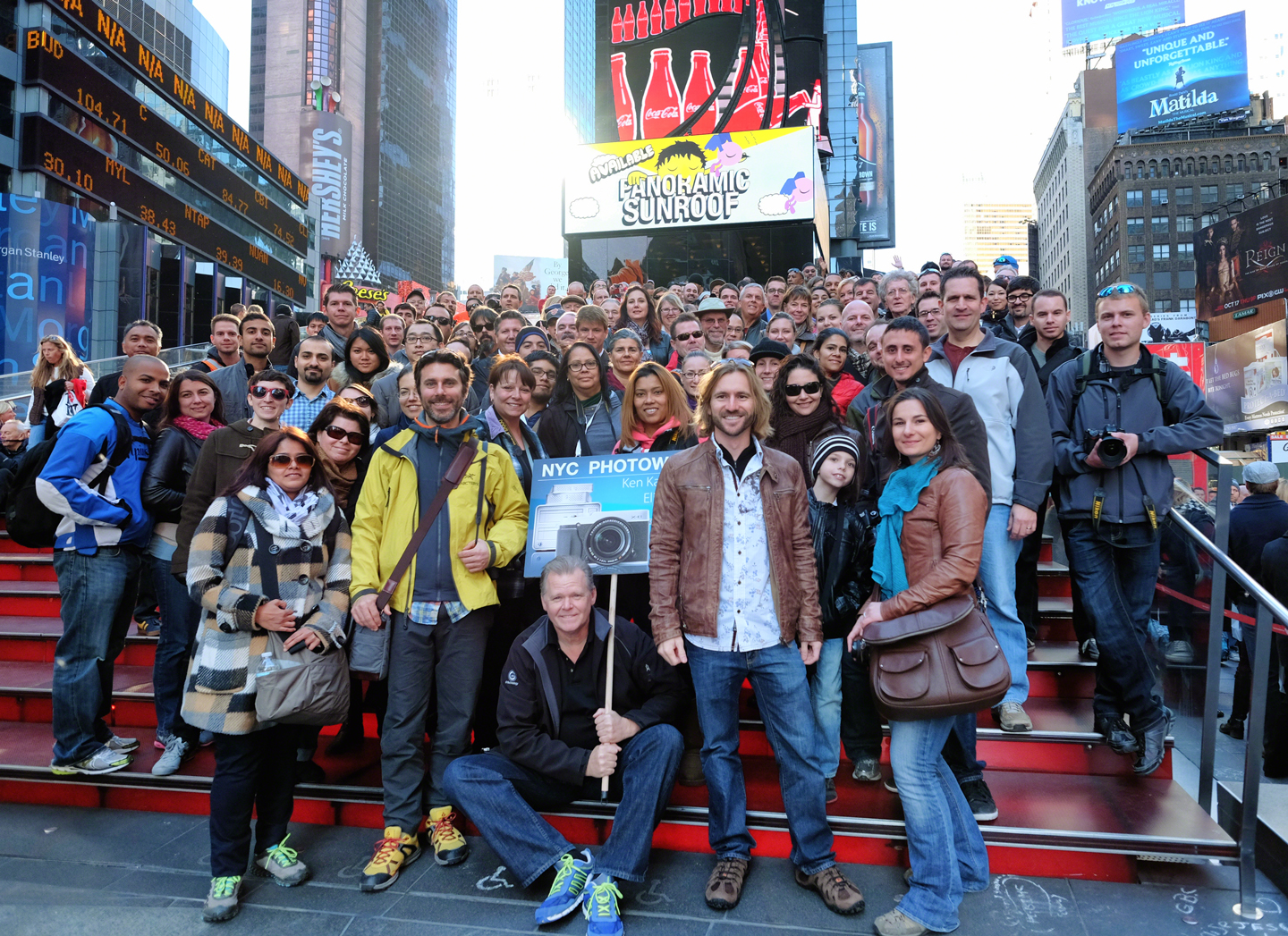 A special thanks also goes out to our sponsors G-Technology, Fujifilm, and Walks of New York for supporting us as well as giving away some awesome prizes!

A few days after our NYC Photowalk, we flew to Portland Oregon to work on a video project with my good friends at Wacom Americas. The content of the video revolved around how I use their new Cintiq Companion Series products in the field. Since the weather in Portland wasn't looking too promising, we decided to fly down to San Francisco to take advantage of the sunshine and amazing scenery. Though it was an extremely busy whirlwind trip, we all had a fantastic time!
A big thanks to Joe and Wes for the amazing experience! We need to make a habit out of it. 😉

Of course while I was at Wacom HQ, Joe and I also made time for a fun Google+ Hangout about Travel Photography.
From Portland we flew back to Sydney for a few days before driving down to Melbourne. While we were in town we enjoyed a Drink and Click Australian Style!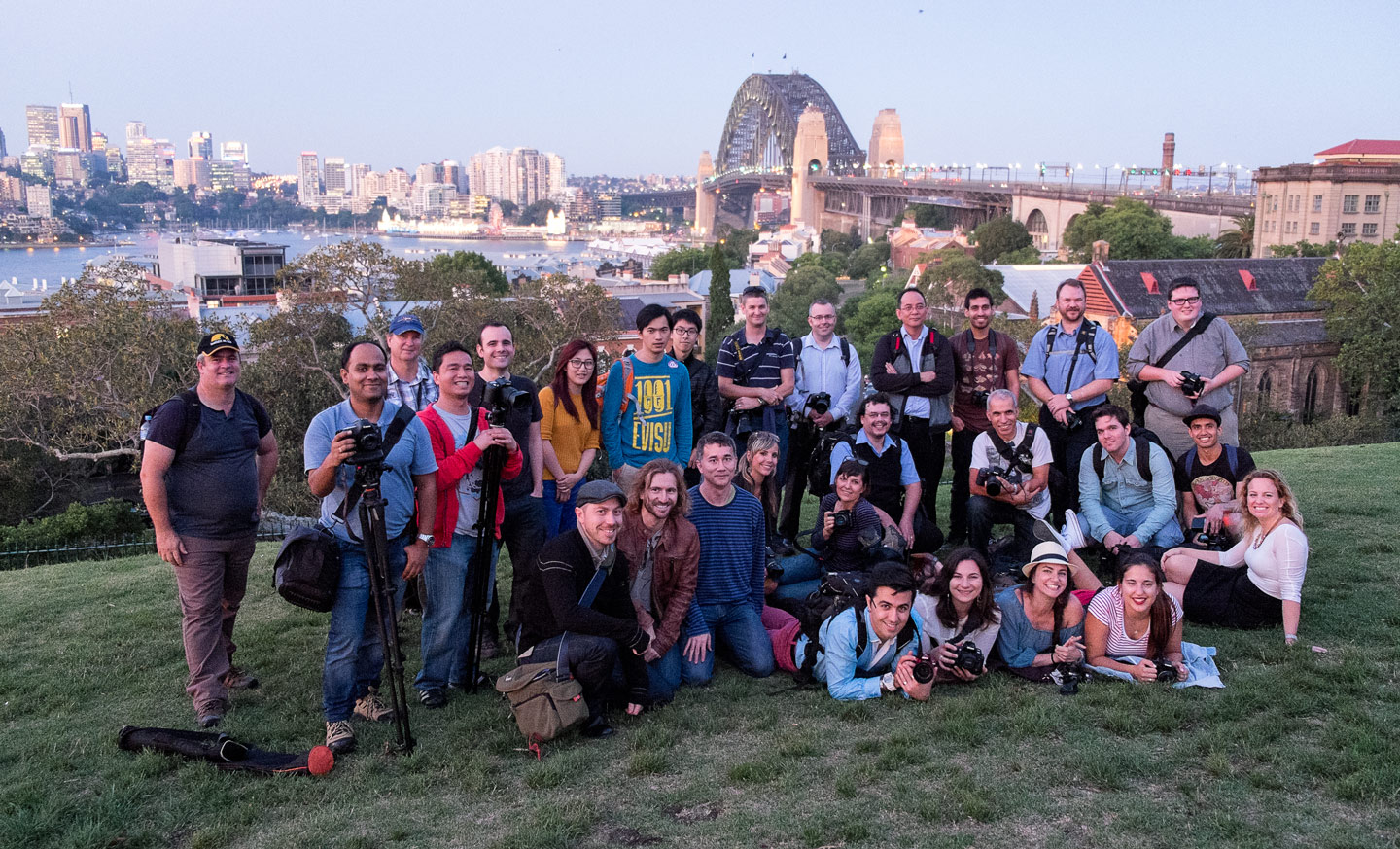 In Melbourne we used our time to catch up on projects while exploring a bit of the city. We also had the chance to catch up with our good friend (and fellow coffee addict) Simon Pollock from Think Tank Photo. How many coffees did we destroy over lunch? 3 or 4? 😉

After Melbourne we drove down to The Great Ocean Road and stayed in a little town called Port Campbell for 6 days. While it rained most of the time, I was still able to get some nice shots. Hopefully I'll have the time to process them in 2014! 🙂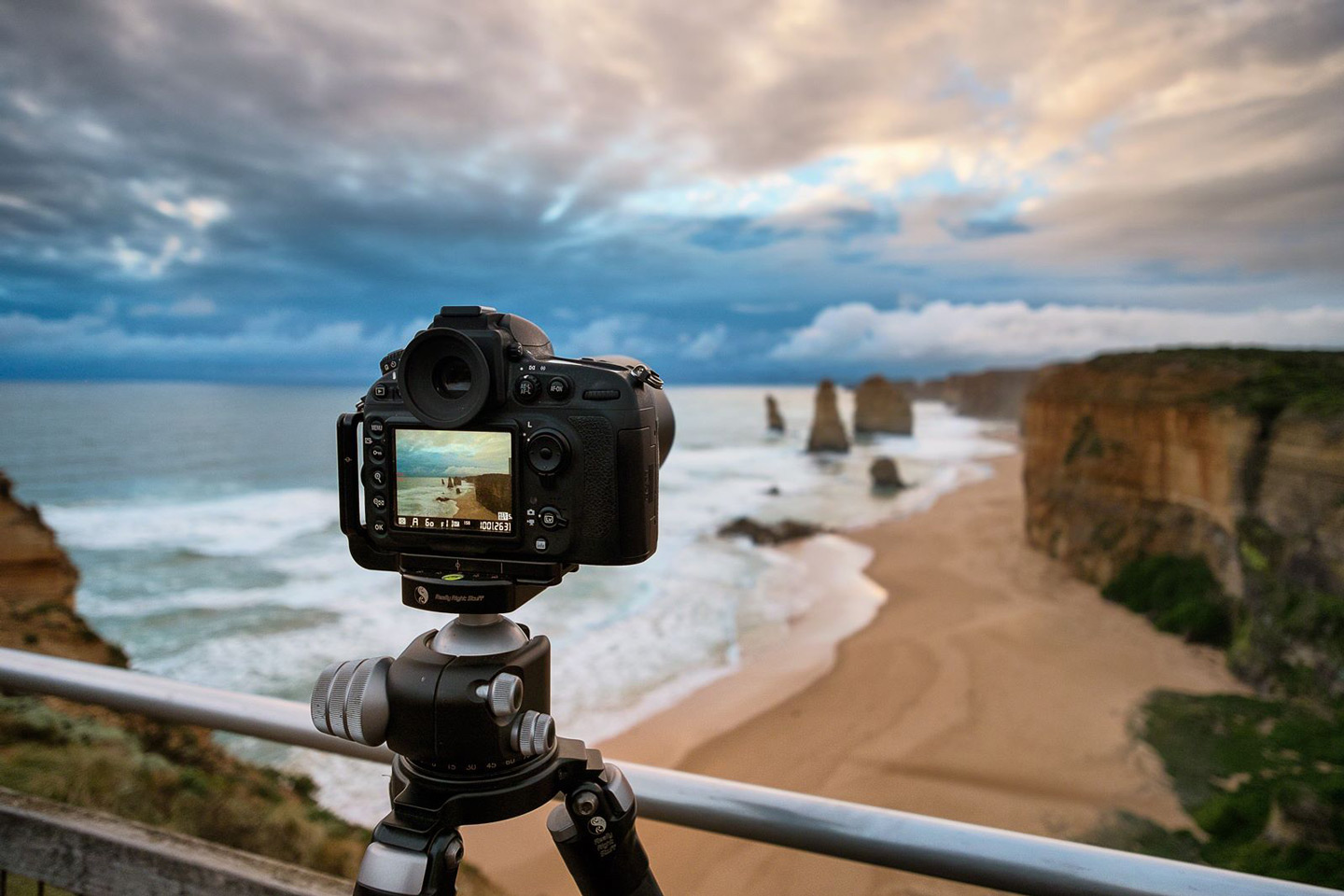 After shooting the Great Ocean Road, we drove back to Sydney, dropped off our rental car, and flew to Siem Reap.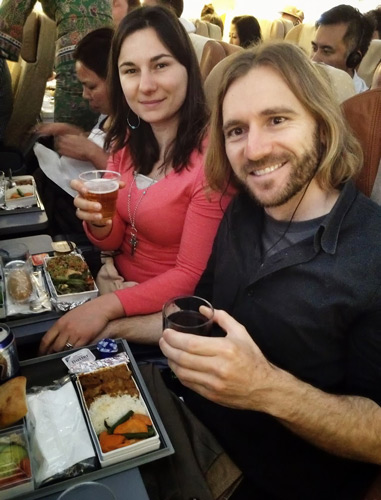 We enjoyed our Thanksgiving dinner on a Singapore Airlines flight from Sydney to Siem Reap. Even though the meal was far from epic, we still had a great time celebrating the holiday together.

December was off to an excellent start when Naomi and I hosted our 2nd Charity Photo Workshop in Siem Reap, Cambodia in partnership with The Giving Lens. An organization that shares "our love of travel, our passion for photography, and our deep desire to give back to those in need."
Over an incredible week, we had the pleasure of leading our group though the ancient temples of Angkor Wat as we worked with a local Children's Organization Anjali House House, who support street children through education, healthcare and the arts.
Cambodia, we'll see you again soon!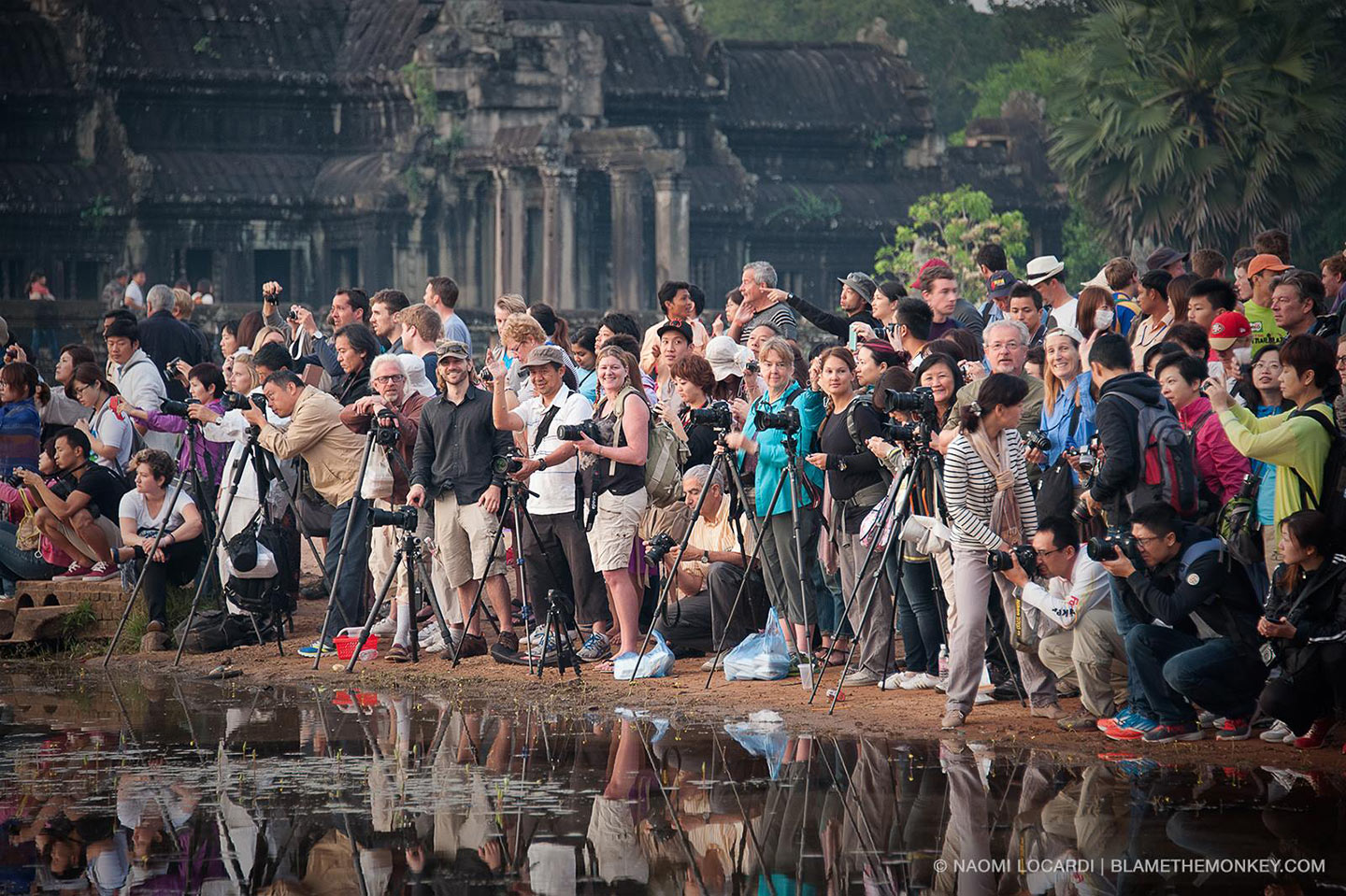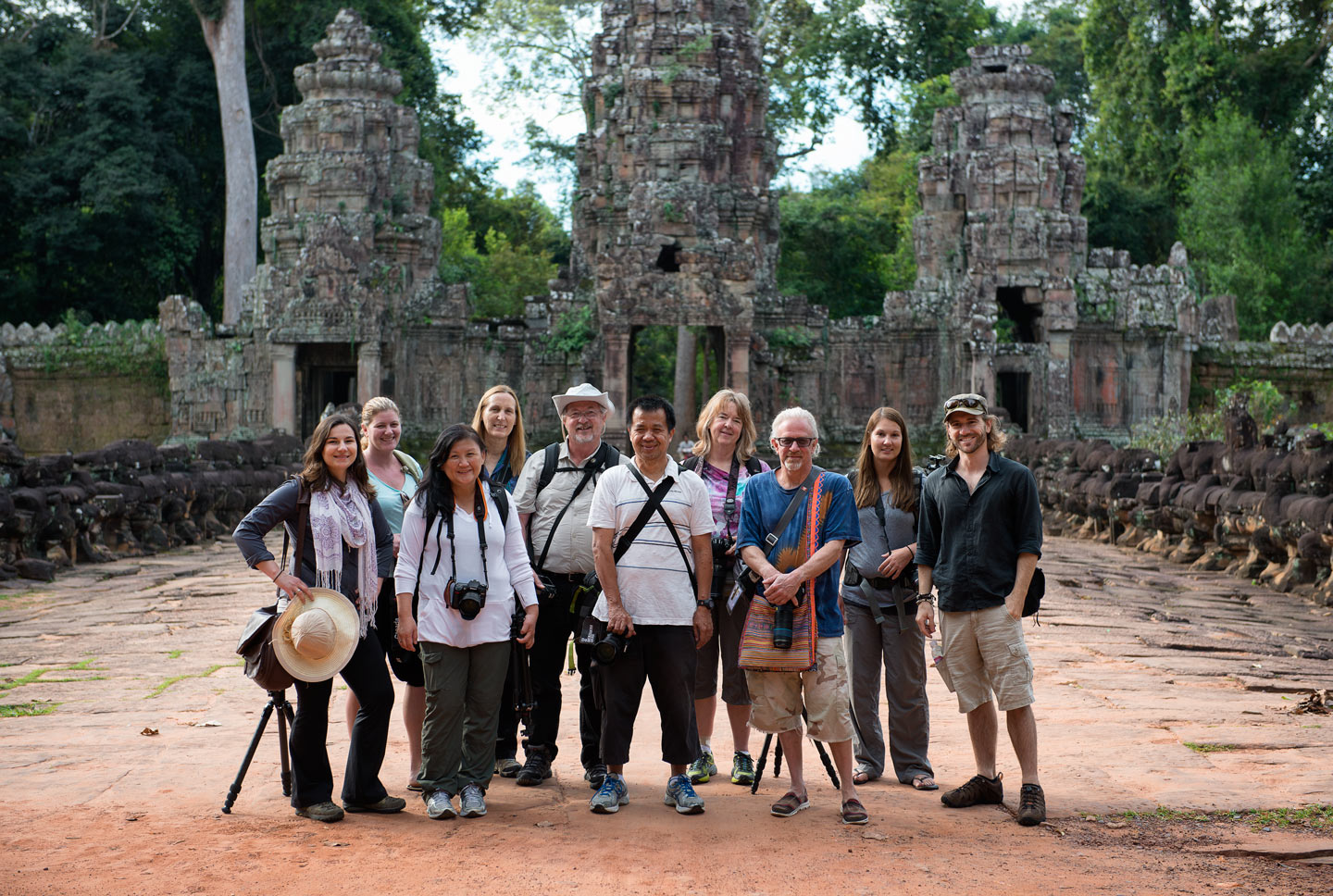 Working with the kids at Anjali House this year was an amazing experience for us all. Though we came here as teachers, we are leaving as students, with the lessons we've learned from the children etched forever in our hearts and minds. The ancient temples of Angkor Wat are certainly amazing, but they pale in comparison to the feeling of sharing our knowledge, passion and support while seeing the impact that it has on these kids.
It was a tender moment as hugs accompanied tears of love and gratitude at the end of the presentation and farewell. I'm glad we were all able to share this amazing experience together and I'm already looking forward to the next time!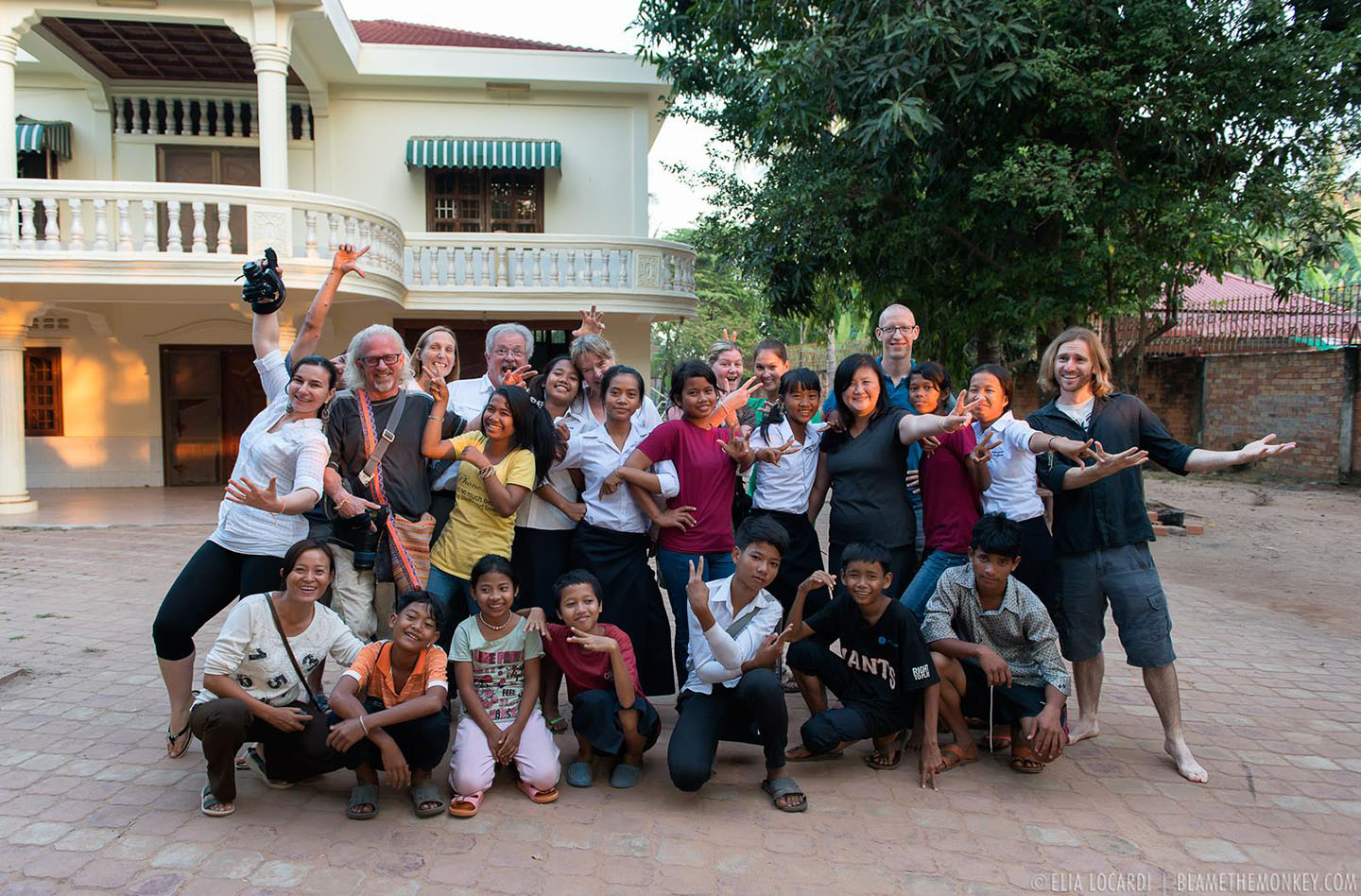 After Siem Reap we flew back to Dubai to enjoy the nice cool weather that their winter season brings. Thanks to my friends Daniel Cheong, Karim Nafanti, Sebastian Opitz, Nicolas Cornet, and Charlie Joe for making feel at home!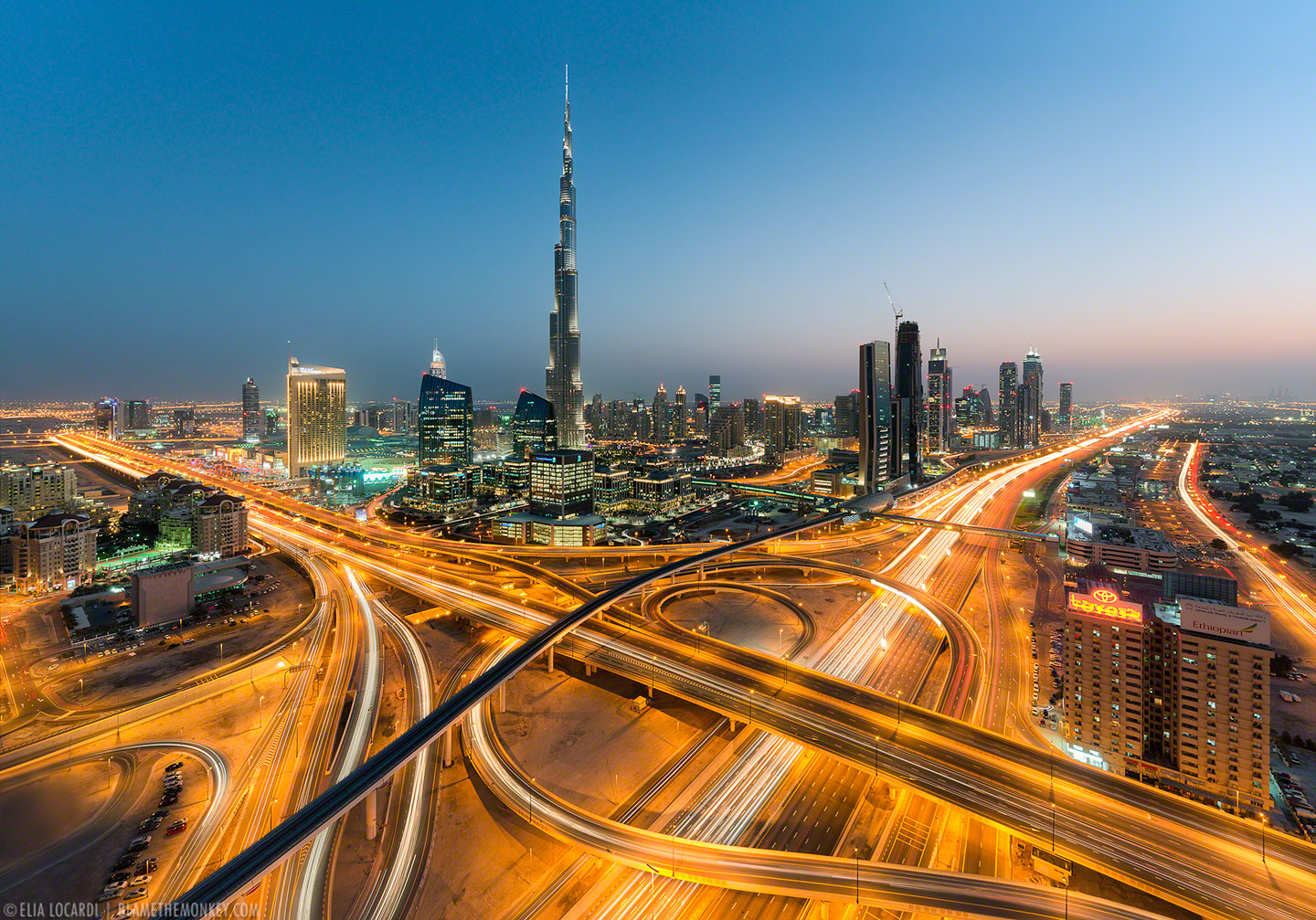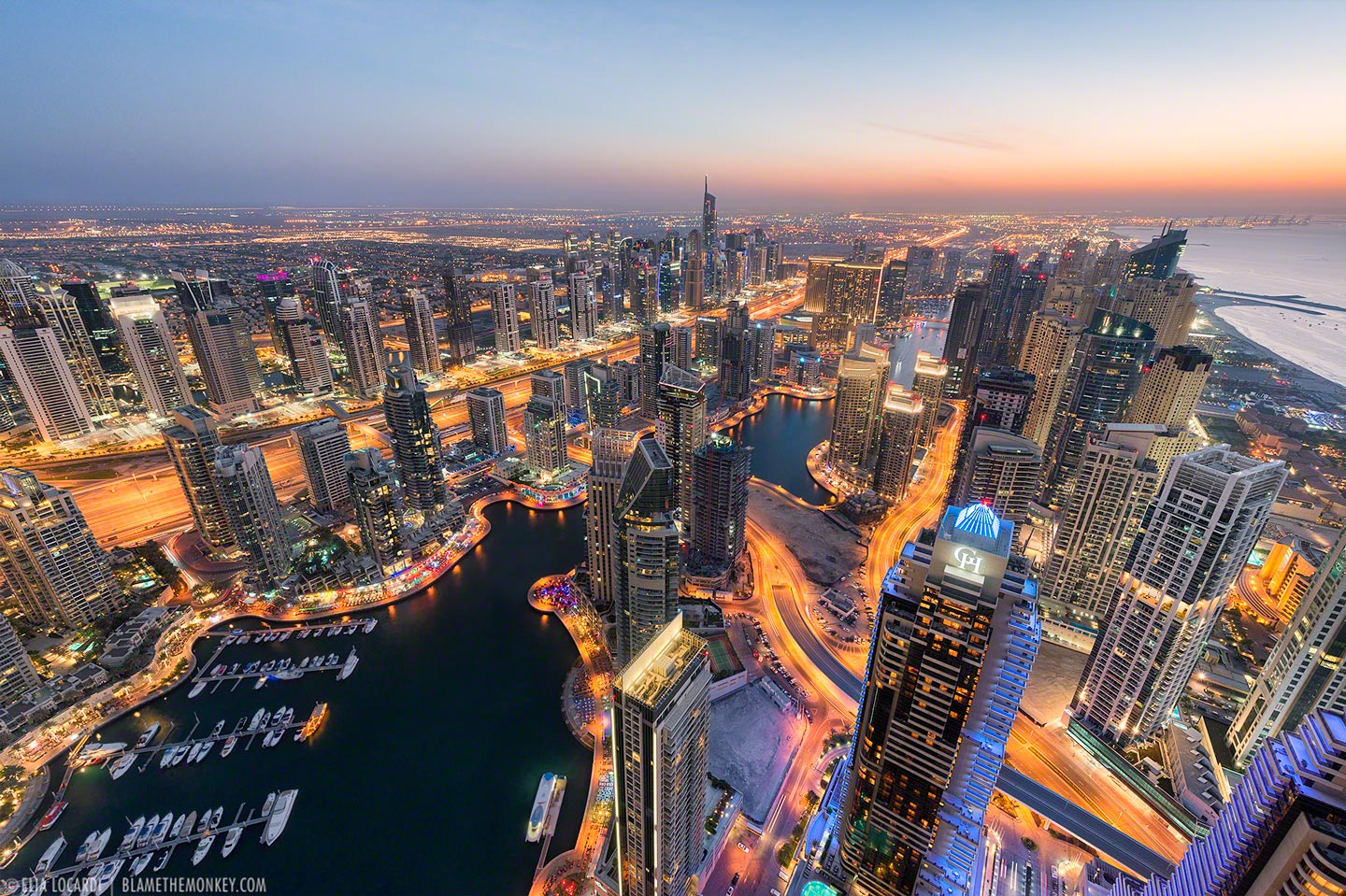 Naomi and I decided to create our Digital Christmas Card while we were shooting under Business Bay Bridge. I think it came out pretty nice. 🙂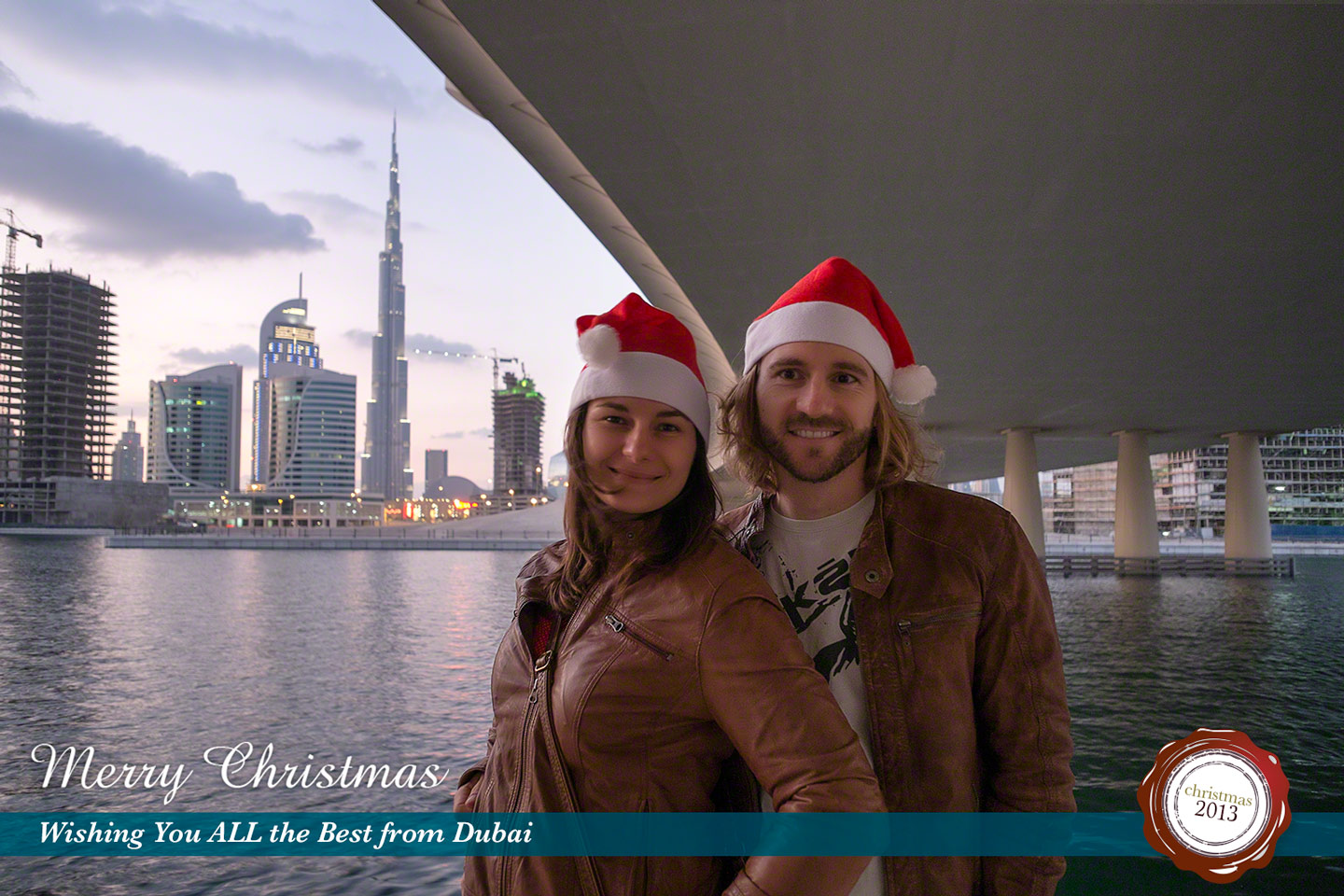 On Christmas Eve, we flew on an Emirates A380 from Dubai to Sydney Australia for a 48 hour layover. After that—in my crazy plan to gain the next tier of status with United Airlines—we flew from Sydney to San Francisco to Honolulu to Lihue, Kauai.
With an overnight in Honolulu Airport, the entire trip from Sydney to Lihue took more than 48 hours and yielded us nearly 10k qualification miles. It looks like I'll be Gold with both Star Alliance and SkyTeam next year!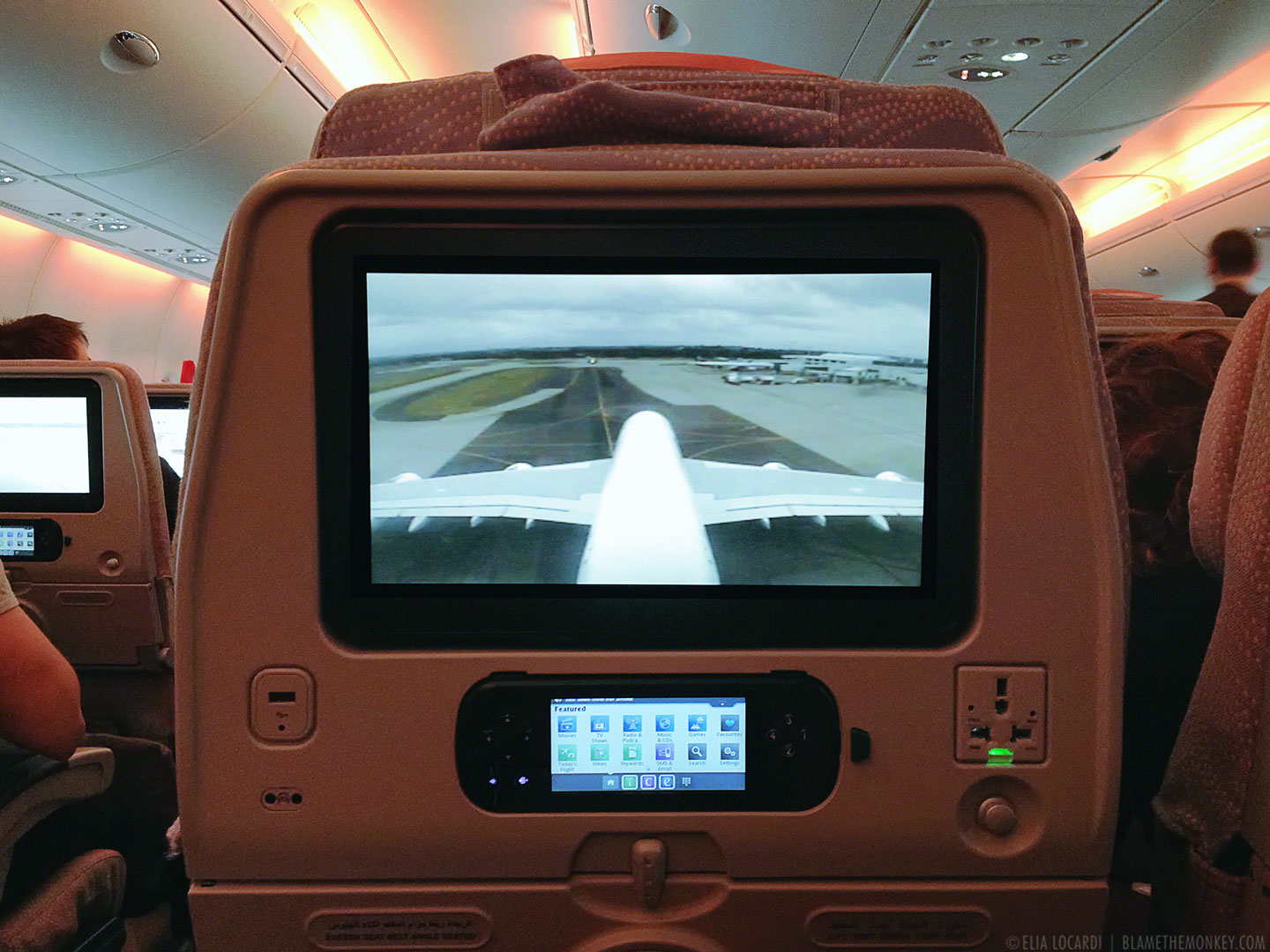 Last but certainly not least, I was featured in the December article of Travel Longer Magazine. Since this issue was released on Christmas Day, I guess this also means that Santa brought me more than just Jet Lag this year. 😉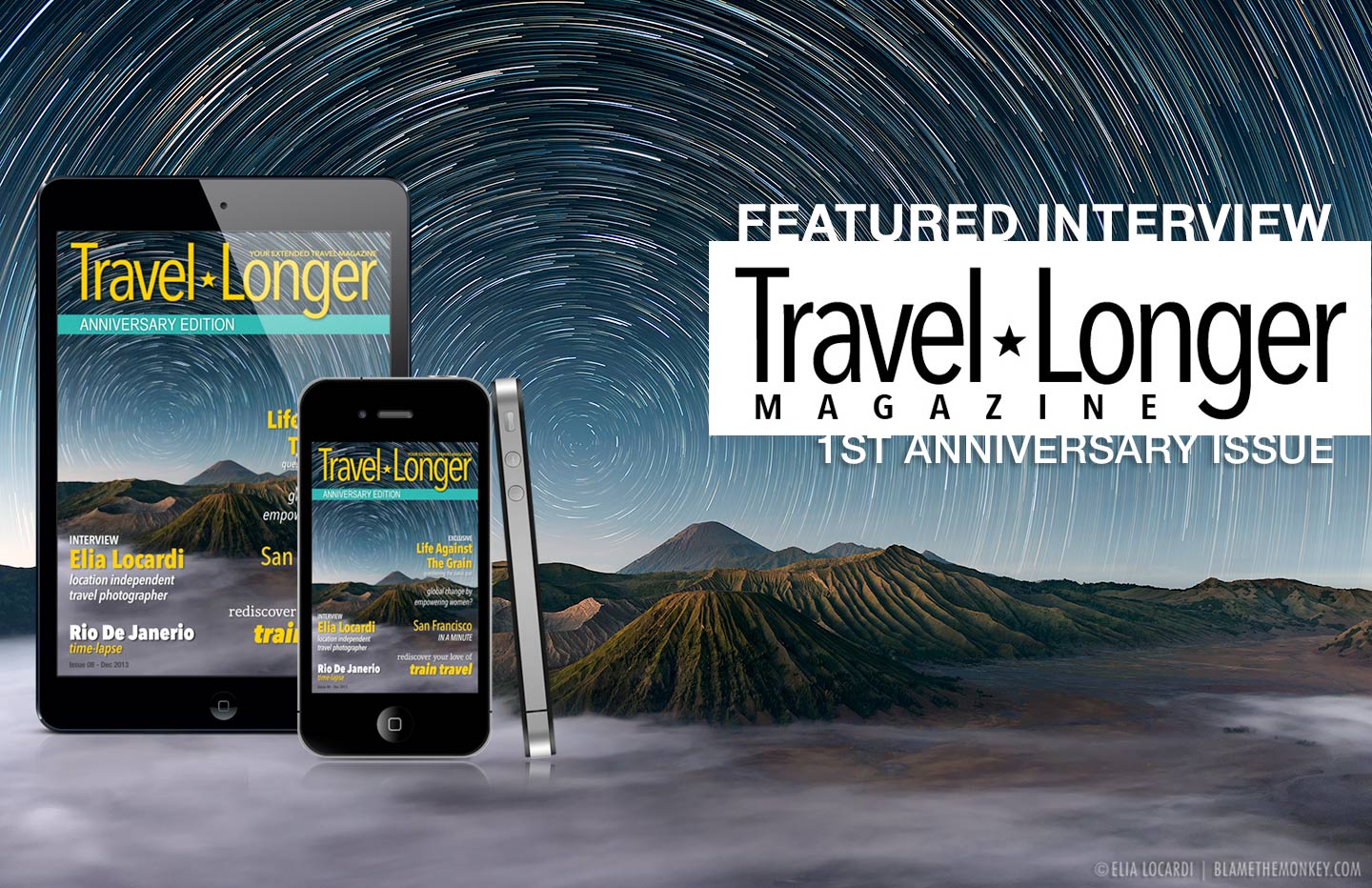 You can also watch the full length video interview below:
Wishing you all a wonderful and Happy New Year! May 2014 take each of you closer to your dreams!