Venice, Italy – Using The Joby UltraFit Sling Strap to scout and shoot one of the most beautiful (and crowded) cities in the world.
Visiting Venice, Italy as a photographer can be both an amazing and frustrating experience. While there is a wealth of color and texture at every turn, there are also huge crowds of visitors filling the narrow streets, making it somewhat difficult to move around with too much camera gear in tow.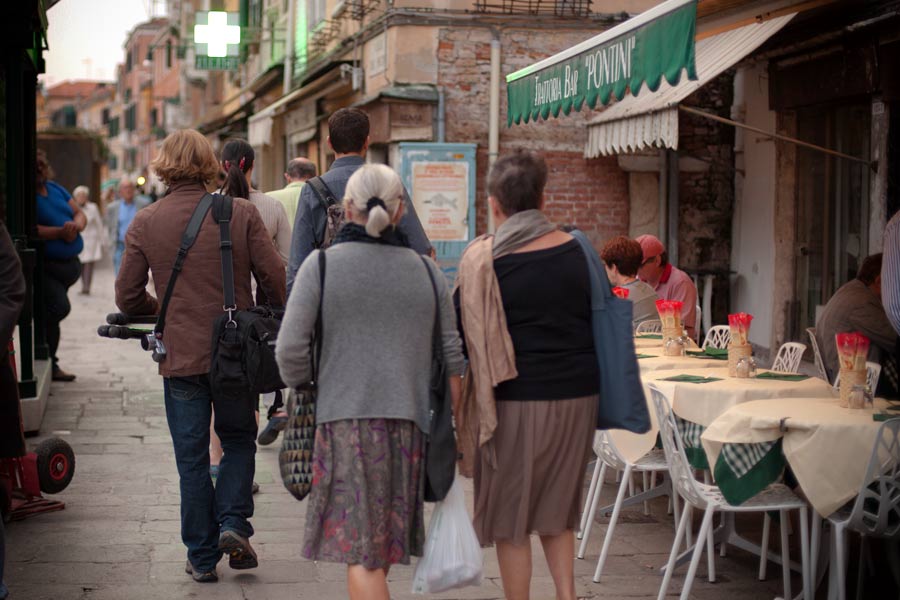 In most European cities—Venice being a prime example of this—I try to do the bulk of my shooting during the early morning hours, well before the main crowds of the tourists hit the streets. Then, when things become too congested, I change to a lighter camera configuration to scout new locations that I return to at a later time, either to minimize crowds or catch the best lighting scenarios.
While scouting I like to use a lightweight and efficient camera configuration so I can easily maneuver through the crowds and not get stuck at a snail's pace. Get in, find the spot, grab a few test shots, and off you go – on to the next one. Besides, the less time you spend stuck in the crowds, the more time you have to enjoy simply being in one of the most beautiful cities in the world. In Venice, I would suggest trying some of the local wine. 🙂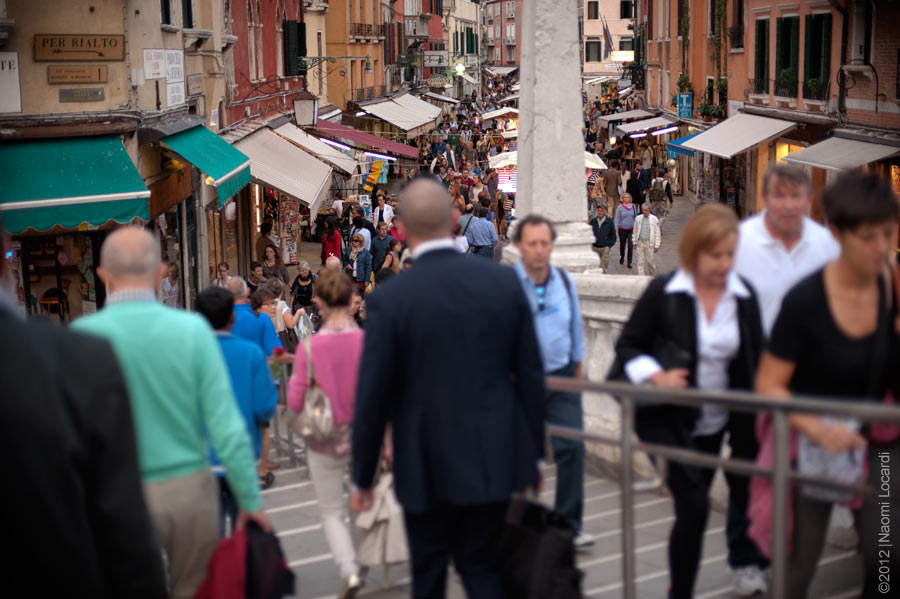 The Joby UltraFit Sling Strap
2012 marks my 5th photography visit to Venice and for this trip I picked up the new Joby UltraFit Sling Strap. I knew that with only 5 days to shoot this year I needed to become a super efficient scouting ninja. During my visit, I used a few different setups, depending on where (and what) I was shooting.
The Joby UltraFit Sling Strap gave me all the flexibility and comfort that I needed. It's easy to configure and intuitive to use. The build quality is also extremely solid, including not only the strap and buckles but also the camera attachment point. It's lightweight, compact, and very well suited for travel photography. Oh, and let's not forget that it looks sharp too!
The UltraFit Sling Strap also helps liberate you from bulky and heavy camera bags. I find that I'm more likely to explore an area thoroughly when I'm not weighed down by my gear. Having a camera at my side with quick and intuitive access really helps me to get the job done.
For a casual scouting session, I generally use a Sony NEX-5 with a 16mm f/2.8 lens attached. This is pretty much my "take everywhere" camera no matter what I'm doing or which city I'm exploring. Attached to the sling strap, the weight is nearly invisible and with one quick motion, you can have it held up, in position and ready to shoot.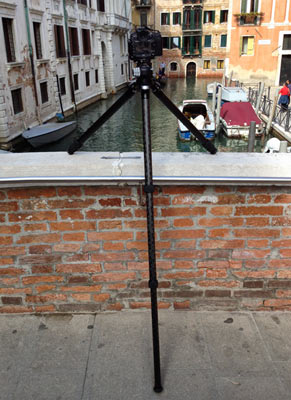 Scouting and planning your shots
Scouting is absolutely essential when planning early morning and blue hour photography. During these lighting scenarios, there really is no time for error. Having a location preselected helps ensure that you will get the shot. Street lights also turn off at a specific time and if you miss it, you can lose the shooting opportunity for the entire day.
Scouting can not only save time but it can also save your back. With many shooting days in a row, camera gear can get heavy fast. If you scout your locations first, you can minimize the amount of wandering around with heavy bags.
Venetian Blues | L'Isola di San Giorgio Maggiore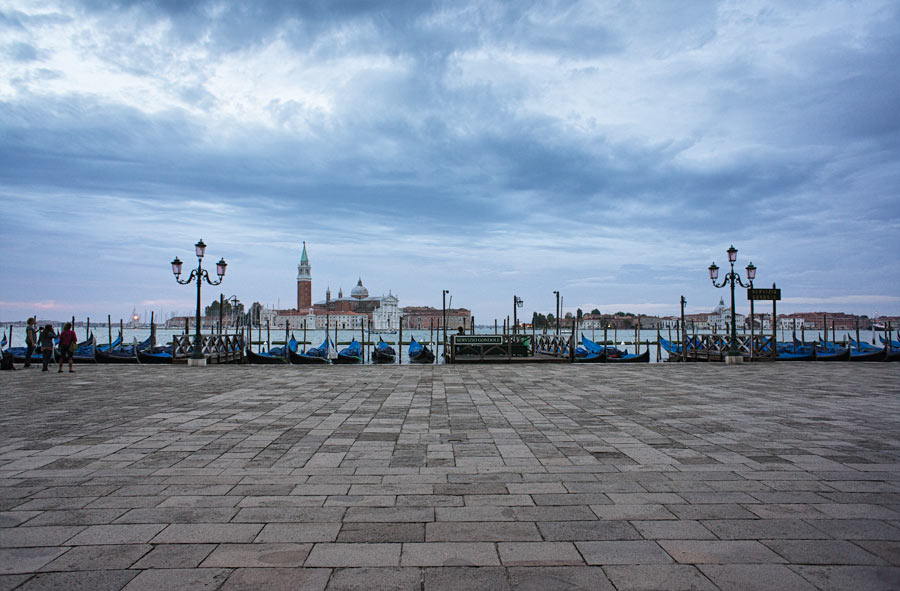 Scouted Shot (shown right)
One of my main objectives for this trip to Venice was to get a good shot of San Giorgio Island, so I spent a good portion of an afternoon scouting the area thoroughly and looking for a nice spot for a long exposure.
You can see that there are many areas to shoot from. I spent quite a bit of time testing various compositions until I found a spot that had the right amount of compositional balance.
Final Shot (shown below)
Thankfully it was a calm and quiet morning and since I already had this spot in mind, it was easy to set up and shoot. It's a good thing too because just as I finished up, a large garbage barge pulled into this boat slip. Learn how this photo was created: Venetian Blues.
Ponte dei Sospiri (Bridge of Sighs)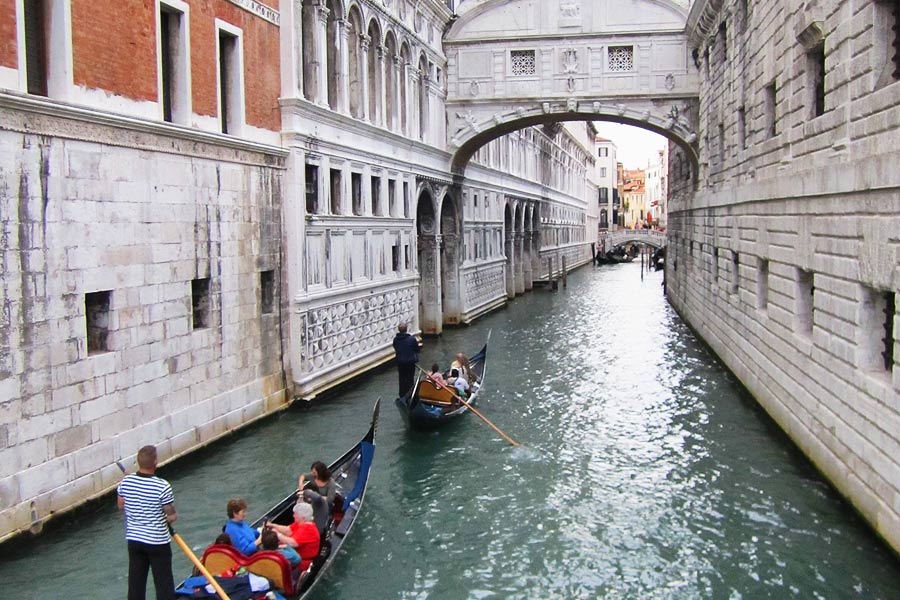 Scouted Shot (shown left)
An added bonus of this trip was shooting the Bridge of Sighs, which has been covered with scaffolding every time I've visited Venice. I scouted the area and decided to shoot it during AM Blue Hour for the best lighting.
This vantage point is very simple but also very crowded, especially during regular daylight hours. Squeezing through with my Joby Sling Strap / NEX-5 combo made things very simple.

Final Shot (shown below)
I knew exactly where to stand and when to shoot. There were a few other photographers standing with me, side by side. Lean more about how this photo was created: Ponte dei Sospiri
Beyond The Rialto | The Grand Canal
Scouting locations isn't just about selecting the right spot, it's also about getting a feel for the environment. I find that the more time I spend walking around, the more I understand how to capture the best moment in time. Lean more about how this photo was created: Beyond The Rialto.