Perched ominously on top of the Spires of Notre Dame, the ancient stone gargoyles patiently watch over the old city of Paris France…
I can honestly say that after 2 visits this season, Paris is rapidly becoming one of my favorite cities in the world. Speaking as a photographer, Paris seems to have an endless selection of extraordinary vantage points and beautiful monuments that seem to fit perfectly into frame. As a world traveller, this city also boasts an incredible amount of beauty and culture that blends seamlessly with the metropolitan Parisian lifestyle. When my location independent adventure finally comes to an end, this is truly a city that I could see myself living in.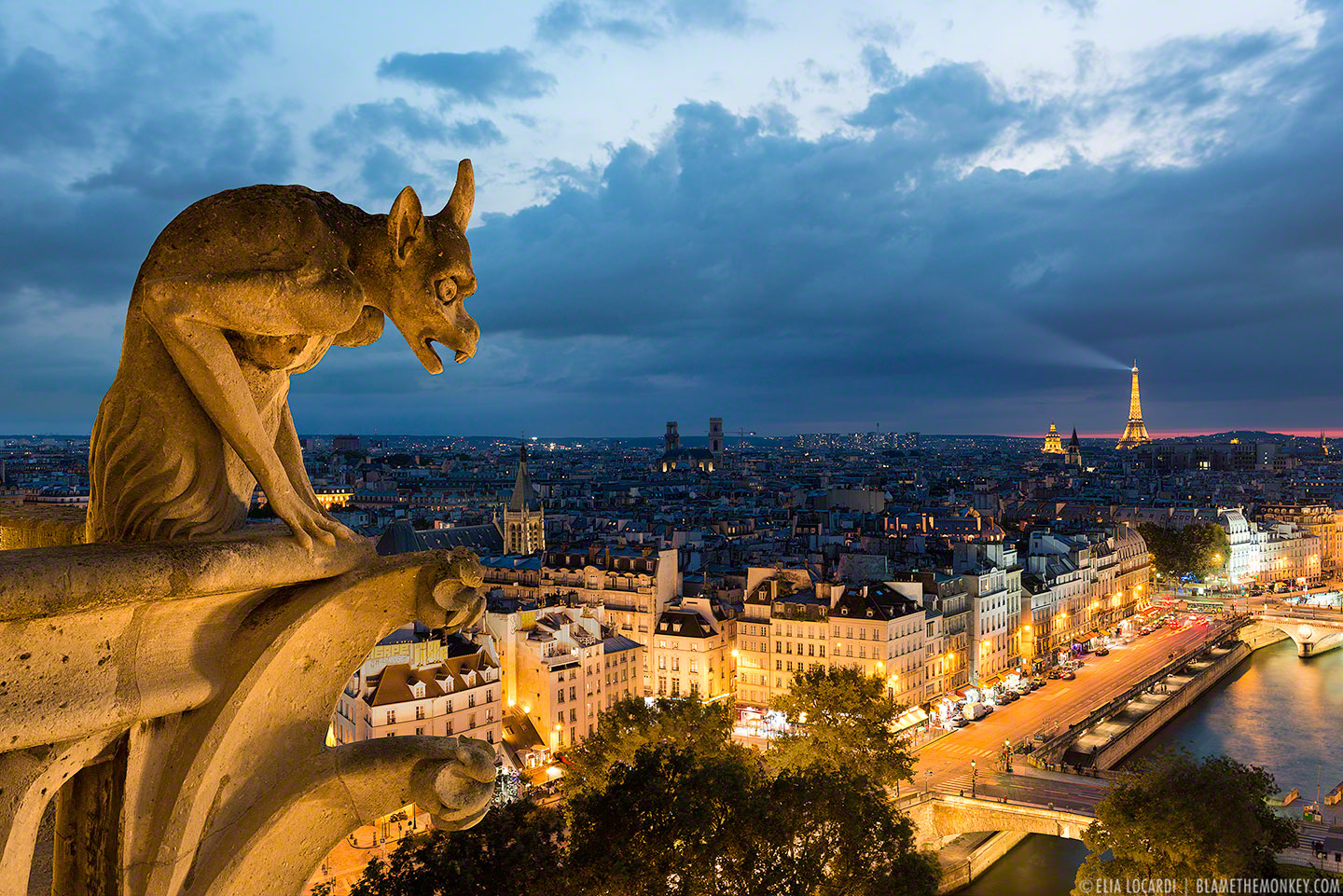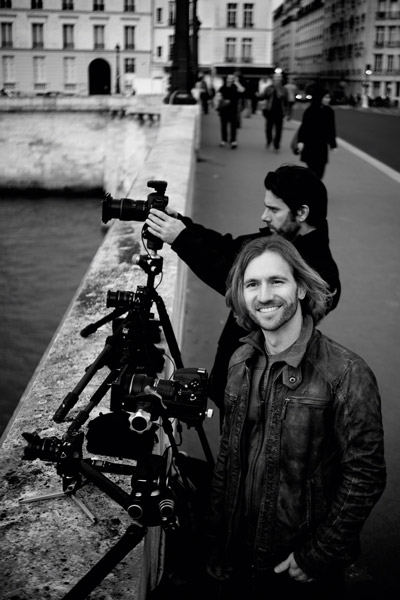 While I was in Paris last week, I was joined by Ken Kaminesky along with our good friend Rod Clark of Formatt-Hitech. Together, we were working on a few inspirational videos about travel photography and the tools and techniques we use to capture and share the moment. Planning this project in advance, we really couldn't think of a better city to do this in than Paris. As I mentioned, It really is a photographers paradise. Oh, and of course the thought of enjoying excellent wine and cuisine in our down time didn't hurt either. 😉
In addition to being an excellent filmmaker, Rod Clark is also an awesome B/W street photographer. Throughout our week long project, he was able to capture some great Moments Between and I have to admit, I'm really digging the black and white look.
You can find more of Rod's street photography on his Website.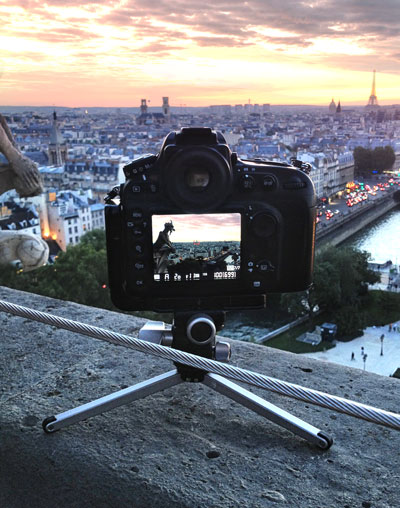 Technical Mumbo Jumbo
Shooting from Notre Dame Cathedral is a little tricky because they do not allow the use of tripods. However, if you're sneaky and the security people aren't paying much attention, you can slide your gear through the wire barricade and set up a small table top tripod on the stone wall. For example, here I'm using the TFA-01 made by Really Right Stuff. As an extra precaution (and something I should've done here), I would also recommend tying off the camera strap to the barricade just in case the camera tips forward and falls.
With such a large depth of field, I decided to use a focus stacking technique to ensure that both the gargoyle and background elements were perfectly sharp. This was done by shooting both focal points separately and blending them together in post-processing.
Camera: Nikon D800
Lens: 24-70 f/2.8 (shot at 32mm)
Tripod: RRS Tabletop TFA-01 / BH-30 Ballhead / RRS L-Plate
ISO: 100 at f/8
5 Exposure Brackets (Background Focus) / 1 Exposure (Foreground Focus)
Location: Shot in Paris, France – September 2013 and post-processed in Paris, France – October 2013
Hardware: 15" 2013 Macbook Pro Retina, Wacom Intuos5 Small Tablet
Software: Lightroom 5, Photoshop CS6, Nik Color Efex Pro 4, Nik Sharpener Pro
Technique: 3 of the 5 exposures were blended together manually in Photoshop along with the focused gargoyle. Nik Color Efex Pro was then used to balance the colors while adding more contrast and pop to the structures. Additional (and light) edge sharpening was applied using Nik Sharpener Pro.
Espresso: Illy Classic brewed with Parisian tap water.