I've always been fascinated by locations that so many people walk by every day without a second glance. Locations that I think scream with color, shape, and texture, just waiting to be appreciated and admired. As a photographer, I'm always challenging myself to see the world differently in order to recognize the true potential of a scene, and not miss out on these little subtleties that can often pass us by.
So while I was on the South Island of New Zealand, standing near the broken pier on St Clair Beach, I couldn't help but admire the multitude of colors and shapes blending beautifully with the soft sunrise. While some people may simply see old broken posts, a photographer sees countless compositions and the possibility to capture something beautiful.
And yes, that island is actually positioned near the center of the posts. 🙂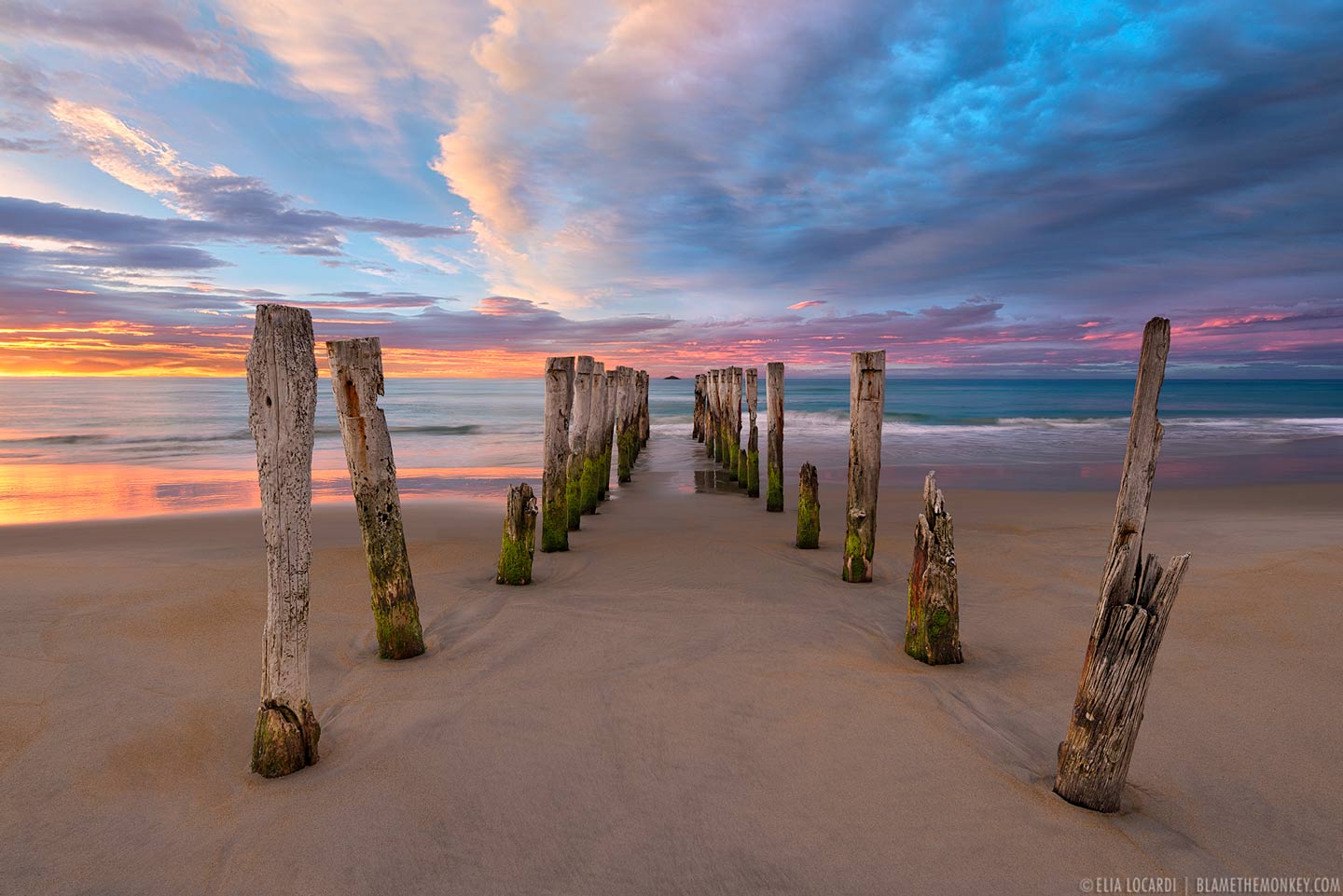 Technical Mumbo Jumbo
Camera: Nikon D800
Lens: 14-24 f/2.8 (Shot at 20 mm)
Tripod: A very sandy RRS TVC-33 / BH-55 Ballhead / RRS L-Plate
ISO: 100 at f/11
5 Exposure Brackets (-2, -1, 0, +1, +2)
Location: Shot in Dunedin, New Zealand – December 2012, and post-processed in Queenstown, New Zealand – January 2013.
Hardware: 15" 2011 Macbook Pro, Wacom Intuos5 Small Tablet
Software: Lightroom, Photoshop, NIK Color Efex Pro 4
Technique and Details: Digital Blending
All 5 exposures were blended together manually in Photoshop using a combination of hand painted masks and precise channel cutting with the lasso tool. No color was added to the scene. Simple color corrections were made using Curves to naturally enhance the color that was already present in the file. On another note, there were a few beer bottles and footprints to paint out as well.
Espresso: Cafe Aurora 100% Arabica