From the bottom of my heart I would like to thank each and every one of you for all the pluses, likes, comments, and shares. Your continued support means more to me than I can express and you have all helped make 2012 truly wonderful. Cheers to 2012 and may 2013 take each of you closer to your dreams.
2012 | A truly remarkable year
After visiting 22 Countries and 55 Cities, I can honestly say that 2012 has been the most incredible year of my life. This was also the year that my wife, Naomi, and I finally realized our dream of becoming completely location independent. And while our journey hasn't always been easy, our experiences in 2012 have left us forever changed. From the good, to the bad, to the truly strange and fantastically amazing, I wouldn't change a single thing. Well, except for having food poisoning in Barcelona… I could have done without that. 😉
This post is a collection of my favorite moments, my favorite photos, and my favorite memories from 2012.
Travel Stats
2012 has been a wild, jet lagged ride to say the least and since we've become location independent, we've actually flown much less – mostly due to the lack of return tickets. Saying that though, we've still managed to fly 172,000 miles and log more than 364 hours sitting on airplanes. So when the flight attendant asks, "Can I get you something to drink?" I say, "Make it a double!" 🙂
Miles Flown: 172,093
Hours on an Airplane: 364
Flights Taken: 81
Countries Visited: 22
Cities Visited: 55

We kicked off the year with a quick (and restful) trip to Buenos Aires, Argentina where we spent a few days wandering around the city. Instead of making photography the goal of the trip, I took a break and did some touristy things instead.
In January I also had a chance to visit Panama City for a few days of shooting. One of my not so favorite moments of 2012 was driving around completely lost in Panama City at 2AM in the worst part of town. Thankfully our rental car didn't look too flashy and we made it safely to our hotel.

In February, Naomi and I spent 10 days in Dubai, UAE while we revamped blamethemonkey.com into version 2.0. I also had the chance to meet up with my friend ,and fellow photographer, Daniel Cheong. One evening we drove out to shoot the uniquely designed Meydan Bridge. I also dedicated some time during this visit to capturing an incredible metro station. Security doesn't allow the use of tripods in the metro stations so I had to shoot it hand held. It took two nights to get it right but it was worth the effort.
After returning from Dubai, I also took a whirlwind trip to Singapore with a good buddy of mine and it was love at first sight. (I mean with Singapore of course, not my friend Matt). We spent two nights scouting and shooting the Marina Bay Sands laser show and had a late night adventure with fellow photographer, Victor Marz. Since then we've become good friends and have had many more late night adventures.

March is really when everything changed. After spending 5 long months selling and getting rid of nearly everything we owned, Naomi and I were finally ready to step onto a plane and say goodbye to our old lives. Clearing house, wrapping things up, and tying up loose ends was a 3 day marathon of zero sleep and incredibly high stress. It was down to the wire and we barely made it onto our flight before they closed the boarding door. We received First Class upgrades at the gate and the flight attendant on board asked, "Can I get you anything to drink before we take off?" I said, "Yes please. Vodka – lots of it." 🙂
In the final moments, I snapped an iPhone photo of what I called my "last hold out" – my laptop sitting on top of a cardboard box desk. As I left the apartment, the laptop went into my bag and the cardboard went into the garbage. Our "sell all" adventure was finally complete. Words can't begin to express the feeling of relief when we stepped onto that plane to begin the next chapter of our lives.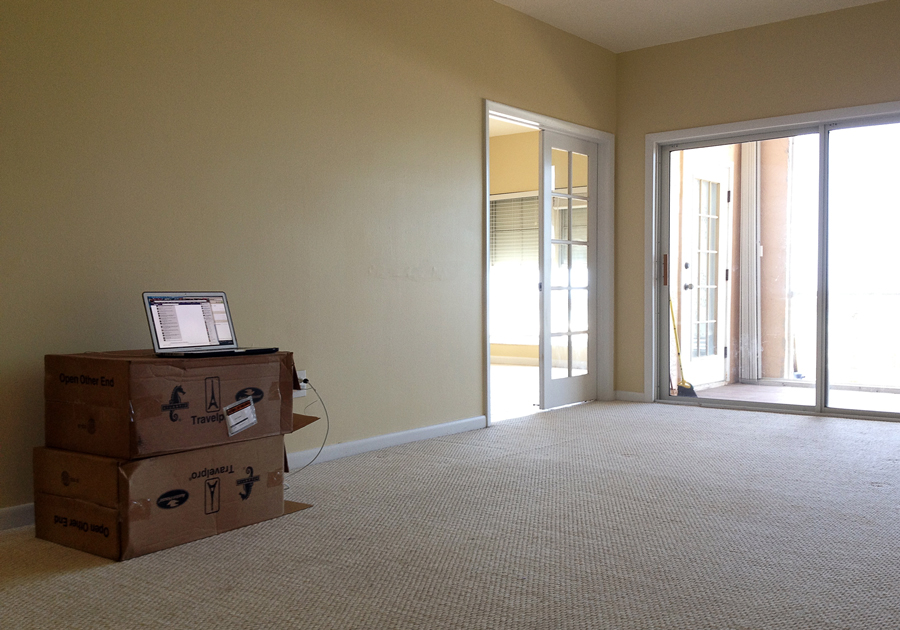 Our very first stop was Sydney, Australia. Here we rented a room from a nice elderly woman in the Millers Point area, which made a great base location to photograph the Sydney Opera House.
After 3 early mornings waiting for the right light, the sun finally broke through the clouds and produced the sunrise I was hoping to capture. Needless to say that on the 4th morning, I slept in.
After Sydney, we flew to Singapore where I met up with with The Landscape Hunters for the first time – an extremely talented group of photographers. On one of my first nights in town, a few of us went to shoot the laser show from this awesome vantage point.
A special thanks to Edward Adios for helping to coordinate the first Blame The Monkey Photo Walk. We had an excellent turnout and I was able to make some great new friends in the process.
Since there were some patchy thunderstorms, we all took shelter under the bridge for a Q&A session. After that, the rain cleared up and we set out to shoot the 2012 iLight Marina Bay Festival.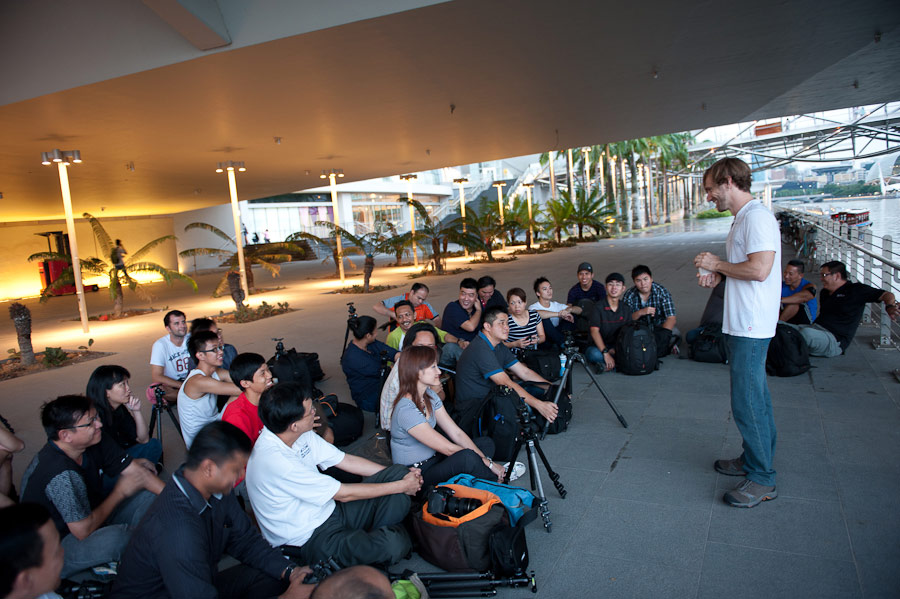 After the Photo Walk, a few of us went out to eat at Lau Pa Sat – a big street market filled with food vendors. I highly recommend it to any travellers visiting Singapore.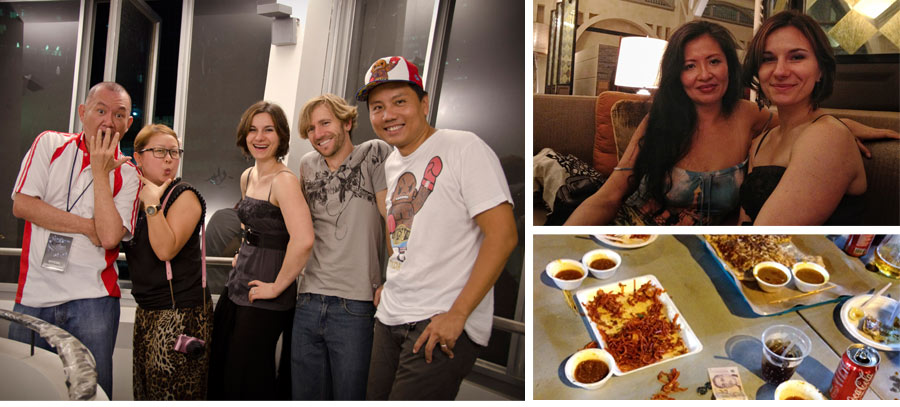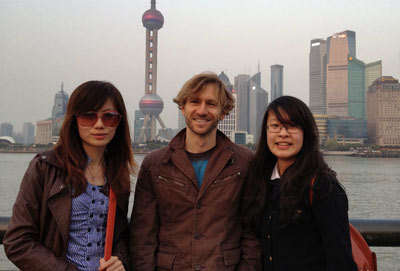 In April we spent the entire month in China, first visiting Shanghai and the nearby water village of Tongli, followed by Beijing before flying down to Hong Kong.
This was my second visit to Shanghai and I got lucky with a very clear night on the Bund. While I was shooting there, quite a few people asked if they could take a photo with me, something that happened to me often while we were in China (really not sure why). These two girls were flattered when afterwards, I asked for a photo with them as well.
In Beijing we rented a budget (aka, really crappy) apartment right across the street from the North Wall of the Forbidden City. The location and price was outstanding but calling the apartment a dump would be too much praise. Despite the grime, it was an excellent base location for exploring the city.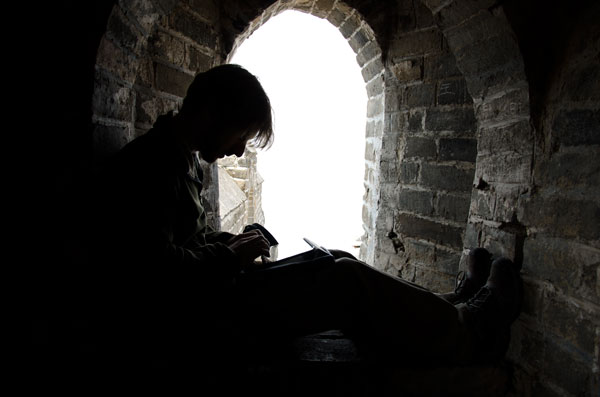 By far, my favorite memory from China was having full 3G service on top of The Great Wall. The signal was so strong in fact, that I was able to Skype call my mom and have a great conversation. I also wrote a blog post from there while we were taking a rest.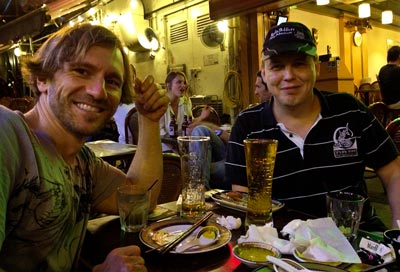 From Beijing we flew down to Hong Kong for a few days where I had the chance to meet up with Alexander Safonov – a very talented underwater photographer. We went out for dinner and drinks and, from what I remember, we had a great time. Consequently, I also spent 2 days recovering from one of the worst hangovers of my life.
— Tip: Never try to out drink a Russian. 😉
Since then, Alex and I have become good friends. You can check out his underwater photography on 500px.

May started off with a brief visit to Florida where I finally got hold of my long-awaited Nikon D800 and some other much needed gear. Then, after a week in Vancouver, Canada and a brief visit to Seattle, Washington we were off to Tokyo, Japan.
Being constantly on the move, we have to set up mobile workstations using whatever flat surface is available at the time. In Vancouver we rented a great apartment through Airbnb and had a sweet setup with an actual desk and big monitor we could connect to our laptops. In Seattle, we took over the kitchen table and attempted to catch up on some work before the next leg of our journey. But not every location presents this luxury and we have certainly had our fair share of uncomfortable and odd working environments in 2012.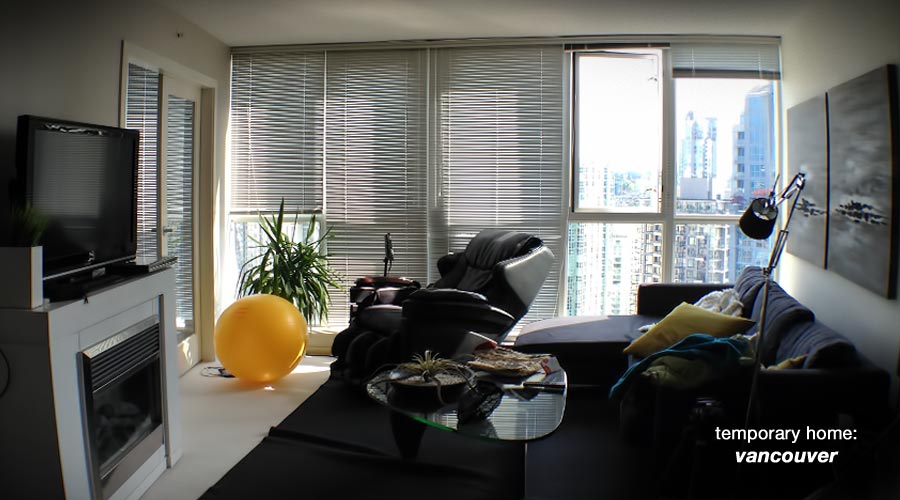 Upon arriving in Japan, we spent a week in Tokyo exploring the dense city and getting lost in the wonderful culture. I also had the opportunity to meet up with fellow Google+ Photographer Takahiro Yamamoto for some evening shooting around the Rainbow Bridge. I had a really good time seeing Tokyo through his eyes and if you want to be inspired by some exceptional photography, definitely check out his work.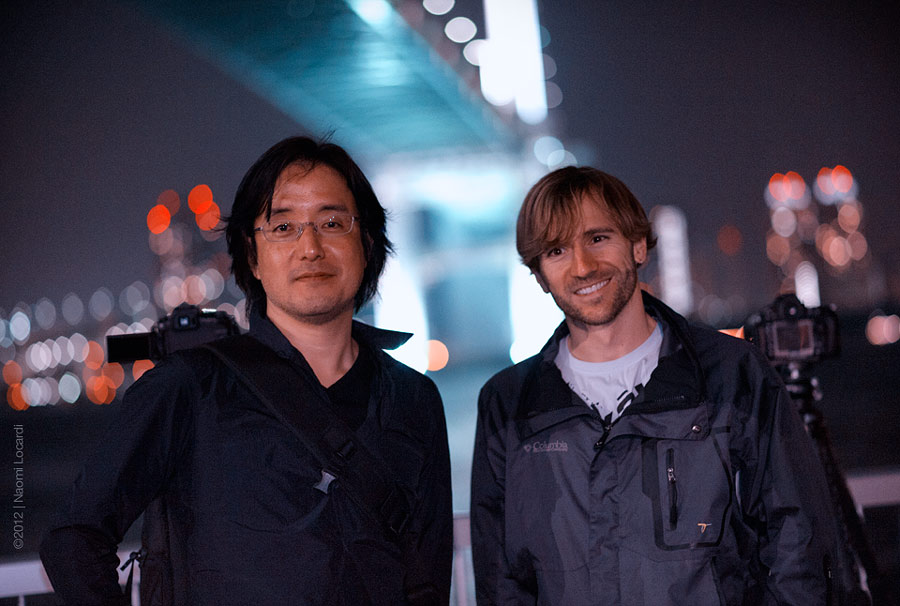 My favorite memory from Japan though has to be the week we spent exploring and shooting in Kyoto. From the bamboo forest, to the ancient temples, and the endless Torii Gates of the Fushimi Inari Shrine, Kyoto has become one of my all-time favorite locations. It's also one of my destinations for 2013. 🙂
Japan is also the land of plentiful vending machines – fully stocked with dozens of tasty and chilled caffeinated beverages. I developed quite an addiction to Boss Coffee while I was there. On shooting days I think I averaged about 10 cans a day. Zooooooom! 😀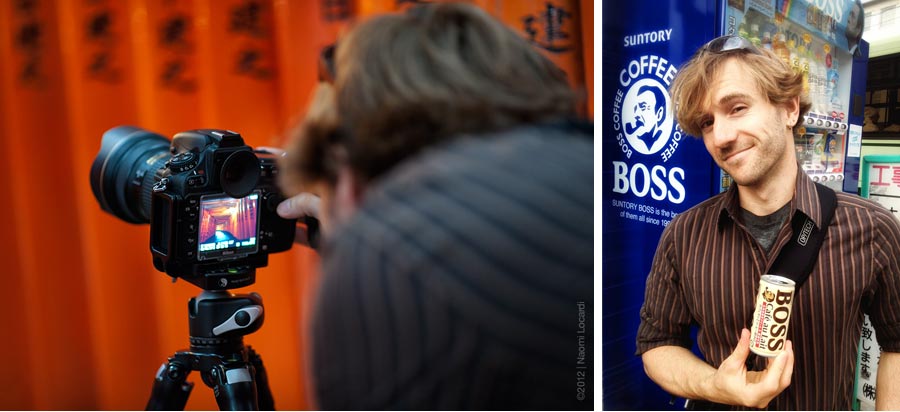 About half way through June, we left Japan and returned to Singapore where I hosted another Blame The Monkey Photo Walk. We had an excellent turnout along with an epic sunset — as always, it felt great to be back in Singapore.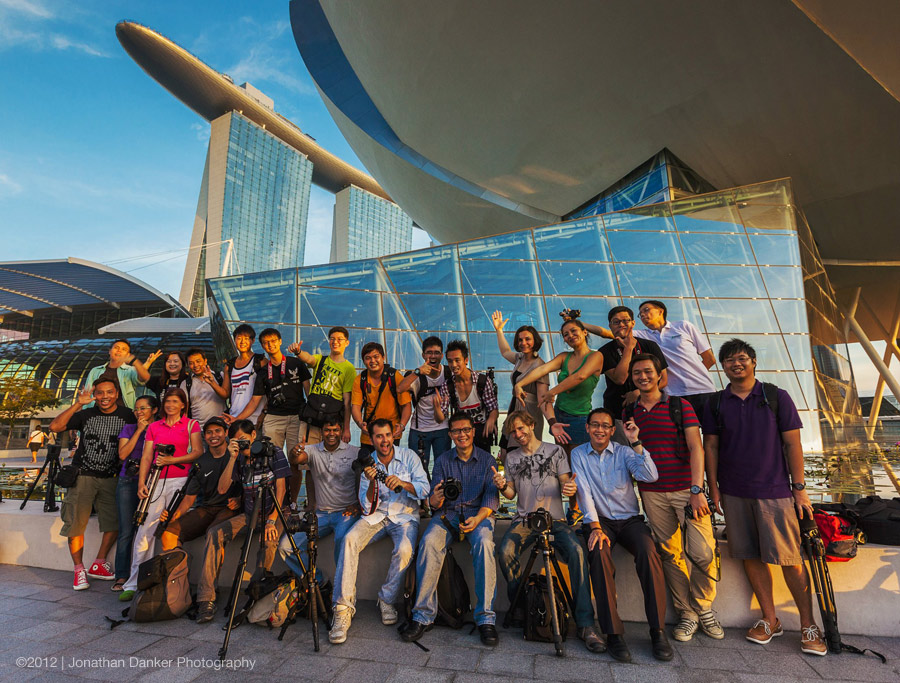 During that visit, I also had the pleasure of teaching an HDR Photography Workshop. As you can see, we were able to book a location with a great view of Marina Bay. It was a fun and informative day filled with post-processing goodness, pastries, and quite a few cappuccinos.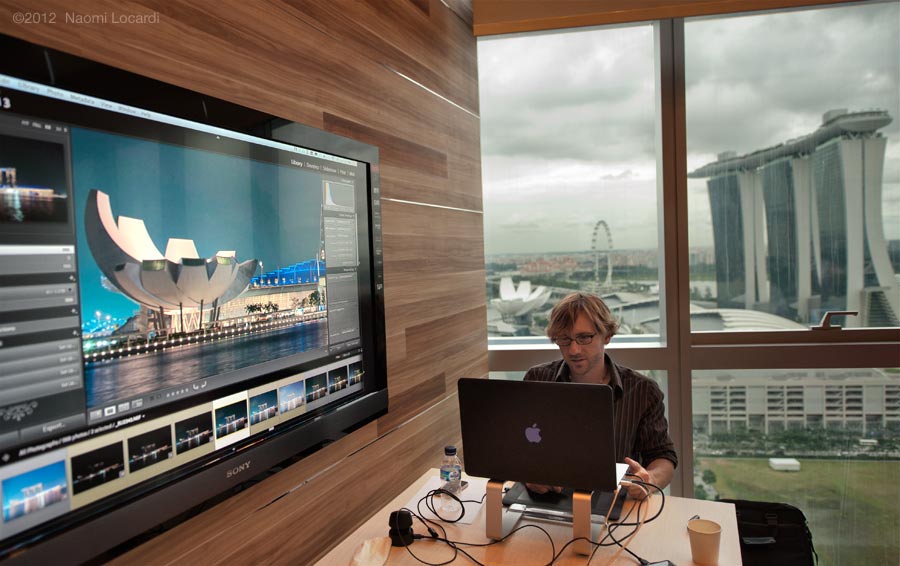 From Singapore we flew to Amsterdam and, from what I remember, it was a beautiful city… I have to admit that while I did manage to get some good shots there, I also spent a bit too much time at the pub. We enjoyed watching the locals on the party boats cruising around the canals of the city, but I couldn't quite figure out what they do for bathrooms… Maybe a bathroom barge somewhere? With all that beer and that many people they must have some solution worked out, right?
Despite the late night adventures, I was still able to explore quite a bit of Amsterdam and it really is a great city and I'm looking forward to getting back there for more shooting in 2013.

From Amsterdam we flew to Barcelona to see the newly finished interior of Sagrada Familia. We were able to find a cool little studio apartment right across the street. Unfortunately, we also came down with a bad case of food poisoning that knocked us out for a few days. Let's call that a not so favorite memory of 2012.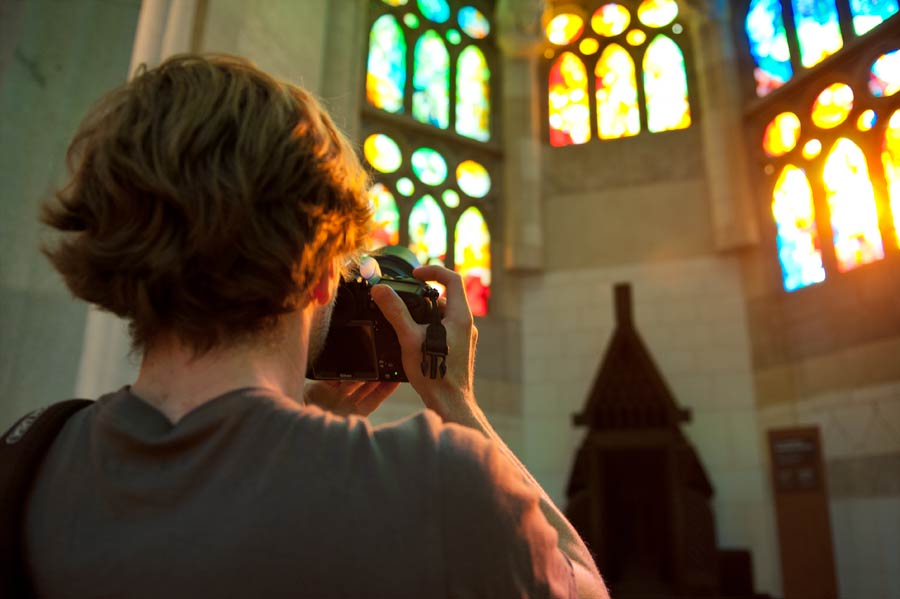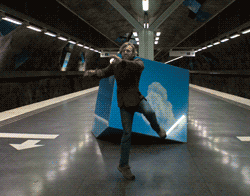 From Barcelona we flew to Stockholm, Sweden to photograph more of the unique Underground T-Bana Stations. I spent quite a bit of time down there each night, sometimes not coming out until 4 or 5 am. Waiting hours and hours to time late night trains did leave me a bit delirious. For some reason, I got the crazy idea to dance and thankfully Naomi was there with a camera. 😉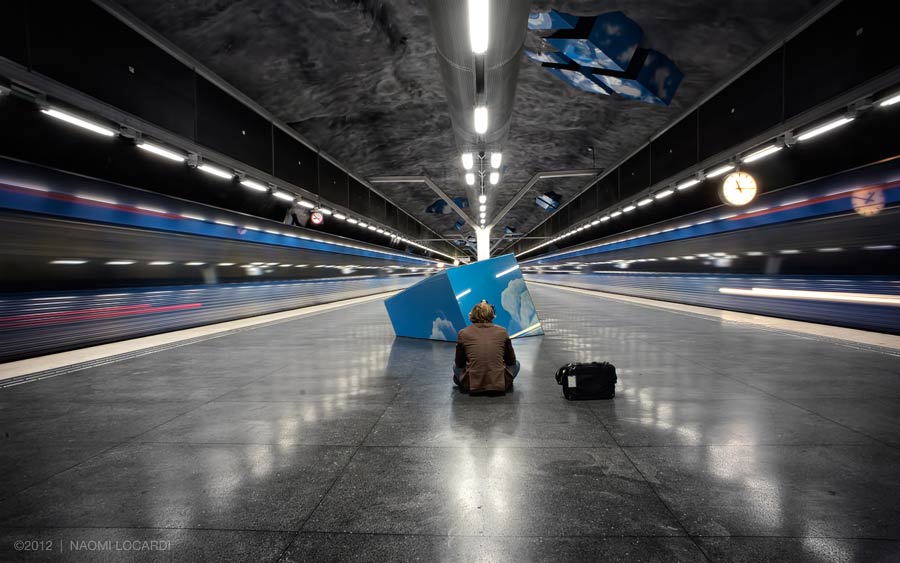 After Stockholm we travelled to Dublin, Ireland where I celebrated my birthday with a few pints of Guinness. After a few days catching up on work in Dublin, we started our two week driving adventure around Southern and Western Ireland.
During our road trip around Ireland, we stayed in many different campgrounds and slept in the car for 12 nights in a row. I was really surprised that after a few nights it started to feel quite cozy. You can also read all about our Ireland Road Trip in the Behind the Scenes Wrap Up.
Ireland has one of the most epic landscapes that I've ever seen. The weather rarely cooperates though, but when it does the drama in the sky can create something truly amazing. Out of the two weeks I think there were only two or three colorful sunsets. Fortunately, I was in the right location to capture this red sky over the Cliffs of Kerry.

In August we returned to mainland Europe with a brief stay in Copenhagen followed by a week in Prague. We rented an apartment right next to Tyn Church, which you can see pictured in the photo below.
At night, this part of the city comes alive with all sorts of drunken debauchery and when you set out early for sunrise, there are still plenty of people stumbling around, trying to make it home. Prague at night is a people watching paradise.
During the visit, my friend Christian Krieglsteiner drove down to meet me for a few days of shooting. We had some good fun shooting from a few of the towers situated all around the city. The photo below is one we shot together from Powder Tower.
I also had the opportunity to meet up with HDR Photographer Miroslav Petrasko for a couple sunset and blue hour shoots.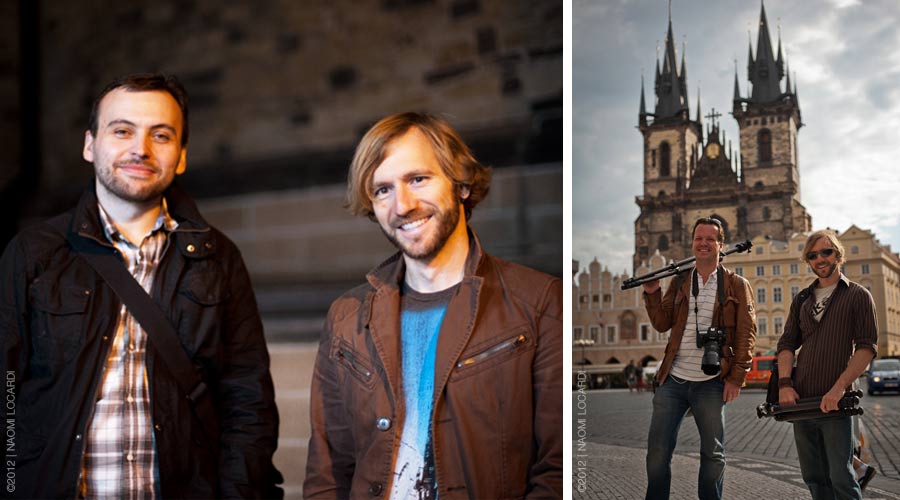 After Prague we flew to Rome and spent a week with my family while I explored and photographed The Eternal City.
It's hard for me to express how happy I was to be back in Rome. In 2009 — before I got into photography — my wife and I visited for the first time and connected with our Italian family. At the time, I had no idea that visit would be the start of the biggest change in our lives.
Since then I've made 6 more visits to Rome and the eternal city never ceases to amaze me. When we are there it just feels like home, and for two people who have given up their home, this is a very special feeling.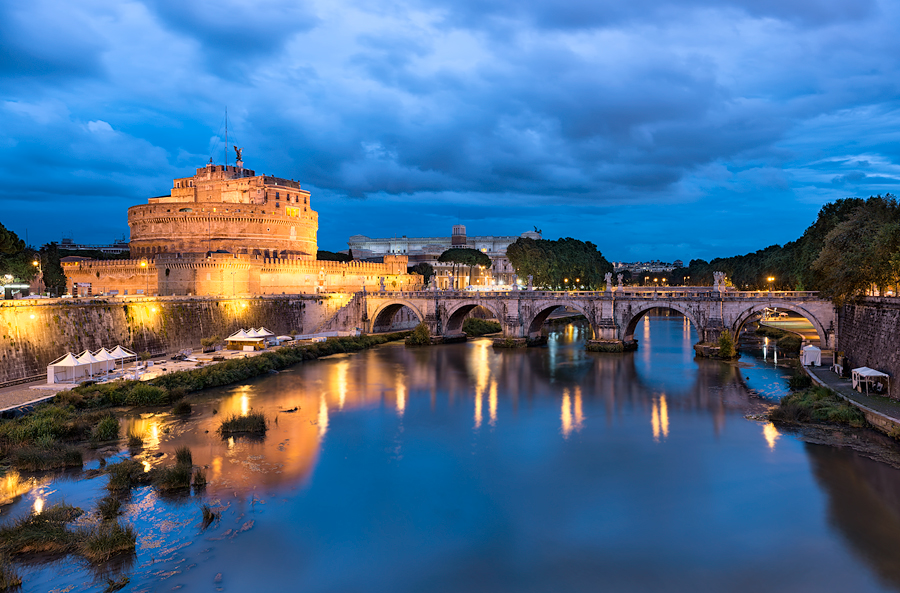 From Rome, we rented a car and drove down to the Amalfi Coast and rented a small apartment in Atrani. Luciano, the apartment owner, only spoke a bit of english so my Italian skills were put to the test. After 10 days in Atrani, I was doing quite well with the language. I even had my first political conversation in Italian. 😉

Atrani is only a short walk from the town of Amalfi, which shares it's name with the entire coast. One early morning I walked over and found this beautiful scene.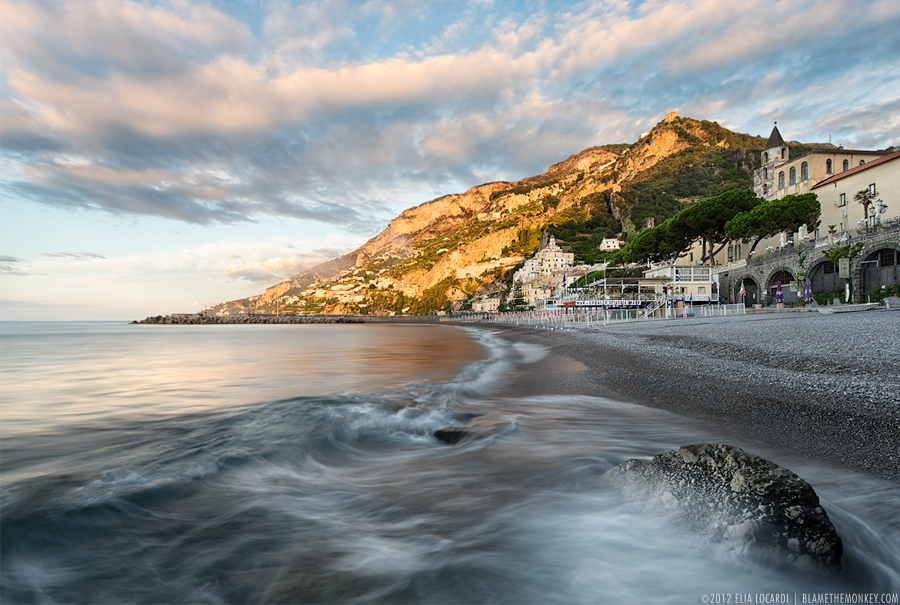 In September we flew to Reykjavik, Iceland and spent a few days in the city before starting our drive around Iceland. While I was there I had the chance to catch up with my old friend Steffan. It was really nice to talk about the good old days in Miami. He also attempted to teach me some Icelandic – or atleast how to not butcher the pronunciation. Of course none of it stuck. 😉
In preparation for our drive we rented a campervan from KuKu Campers that we affectionately named "Truck Norris…" What's that Iceland? You're planning some wind? Some Rain? BRING IT ON! My buddy Chuck here can handle it.
Speaking of which, did you know that Chuck Norris sleeps with a night lite. Not because he is afraid of the dark, but because the dark is afraid of Chuck Norris? True story, look it up.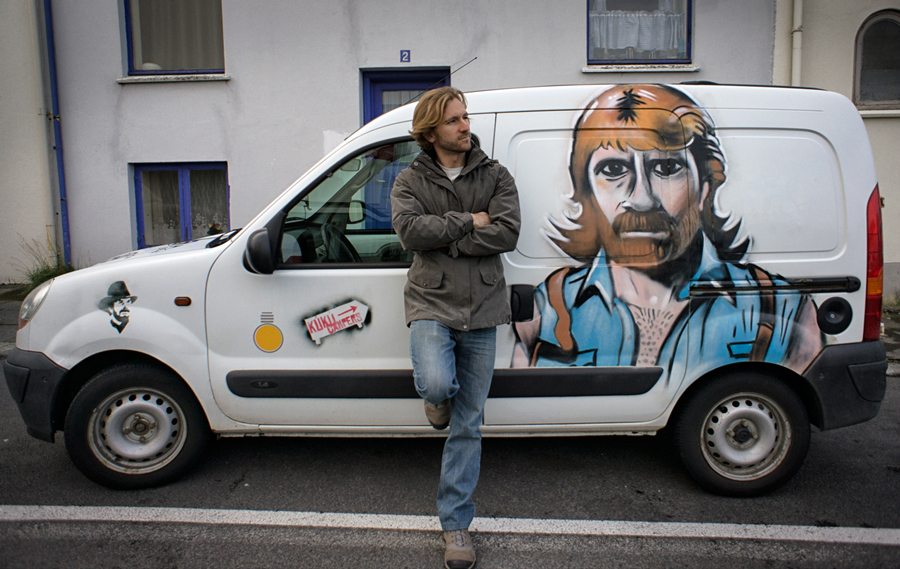 From the epic waterfalls, to the volcanic mountains, to the black sand beaches, The Icelandic countryside left us breathless at every turn. I'm planning on making a couple more visits in 2013.

My all time favorite memory from Iceland (as well as the entire year) was watching and photographing the extraordinary Northern Lights.
Under a cold and moonless sky, showers of green and red light danced all around us, illuminating our souls and bringing joy to our rapidly beating hearts. All sense of time and place seemed to disappear, as we watched the Auroras in awe, all alone in the clear and silent stillness of the Icelandic Countryside…
The Auroras danced in the distance and began to peak around 11pm when we found ourselves right in the center of the activity. No longer were we watching them on the horizon. Now the lights were falling right over our heads—swirling, spinning, and cascading all around us.
For nearly 3 hours we watched in awe as I photographed this magnificent and life changing event. When I was all finished it only felt like 15 minutes had passed. I will be forever humbled by the beauty of our amazing planet.
After Iceland, we returned to Italy for a week in Venice, where we had a few days of great shooting weather. We rented a nice little apartment in a quiet residential district fairly close to all the sights. I was even able to catch up on my laundry.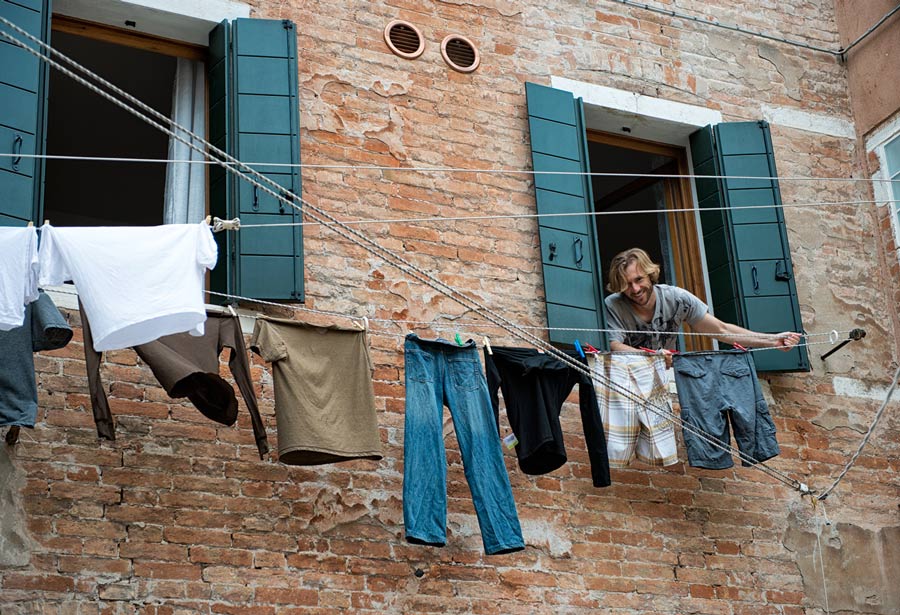 Venice is an extremely beautiful city and as a result, it's also overcrowded with tourists. Thankfully most people — excluding us crazy photographers of course — don't get up before sunrise. So, if you can manage the early mornings, you will find yourself nearly alone in the city and when the lighting is right, it's a photographic playground.
Everytime I visit Venice, I always shoot from The Rialto Bridge. On this trip I finally got the weather and sky drama I was looking for. I'm also already looking forward to shooting it again next year. 🙂
I was also finally able to shoot The Bridge of Sighs without it being covered in scaffolding – an unexpected surprise.

It was an absolute pleasure to co-host a photography workshop with my good friend Colby Brown in Siem Reap, Cambodia. We spent 7 days leading the group through unbelievable ancient temples and unique little villages. I would personally like to thank everyone that was involved for making this one of the most memorable experiences of 2012.
In addition, as part of The Giving Lens, we had the opportunity to work with the children from Anjali House. Anjali house is a great organization that provides the children of Cambodia with healthcare, food, clean water, and education. Learn more about the work they do at Anjali House.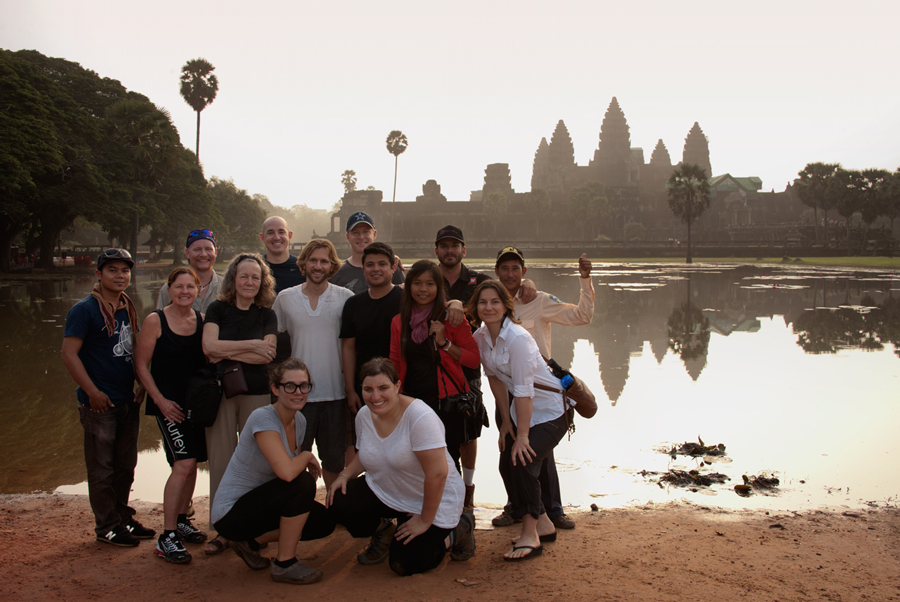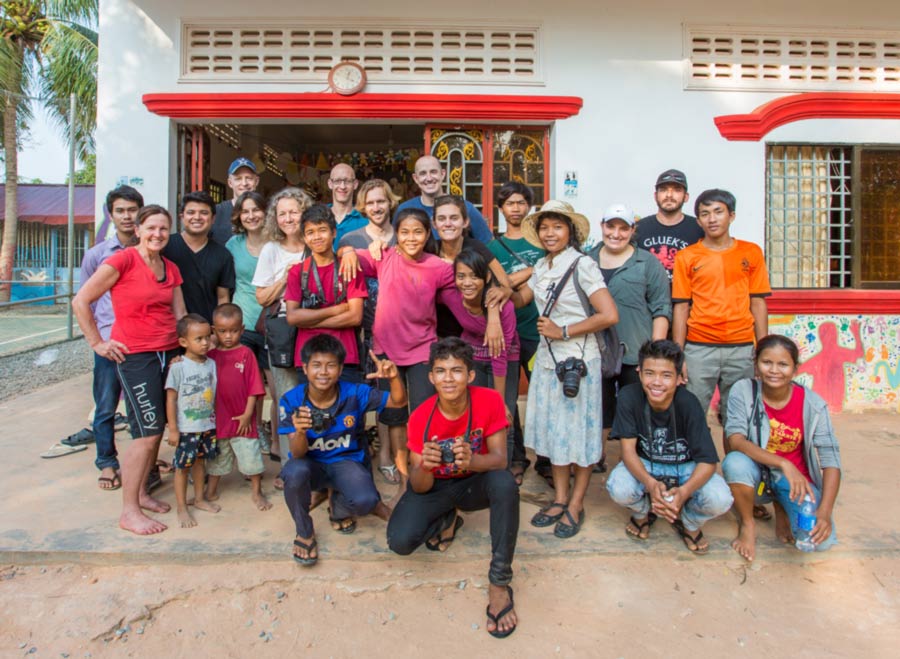 My favorite memory is from our first morning, when we led the group to the a local pagoda in Siem Reap to witness and photograph the Pchum Ben Festival, known to us as the festival of the dead. It's a time when the spirits of the dead ancestors walk the Earth and the living can ease their suffering by offering them food to eat. Shortly after the main ceremony I managed to make some new friends.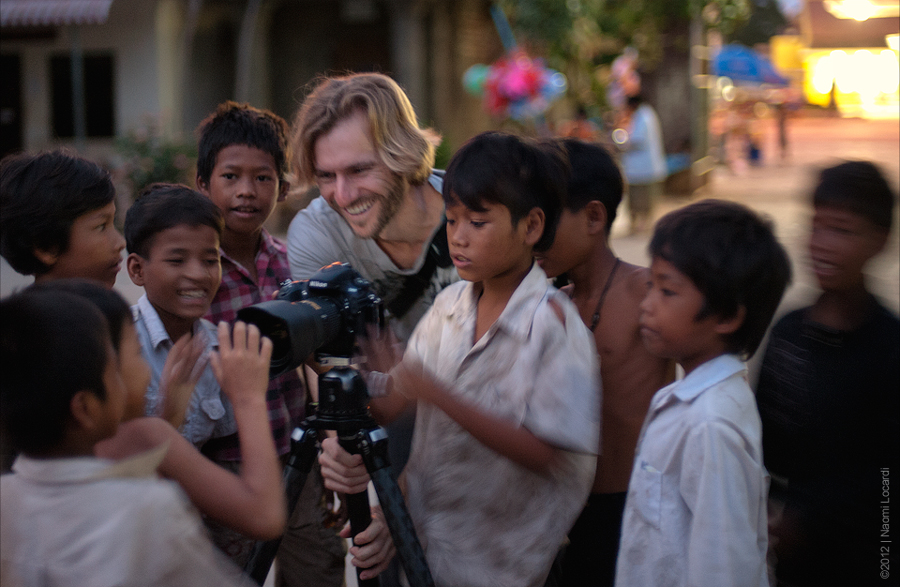 After a brief stop in Singapore, we flew to Miami to spend a couple weeks in South Florida with our friends and family. It had been so long since we returned to the USA that my immigration form was a bit full.
I have to admit that when I wrote 10 countries on my Customs Declaration card, I thought it would at the very least raise an eyebrow. With all my travel, I've certainly had my mix of good and bad experiences with border agents but this time, it was really pleasant.
I handed over our passports and the agent asked me, "How long have you been out of the country."
I said, "5 or 6 months I think." And with a smile and laugh I said, "I actually ran out of space on the form."
He looked at it and said cheerfully, "Man, that's awesome. You guys are seeing the world!"
I couldn't help but smile, "Yea, it really is. I don't think I've ever been happier."
He smiled and said very sincerely, "I'm happy to hear that. You guys take care out there and welcome home."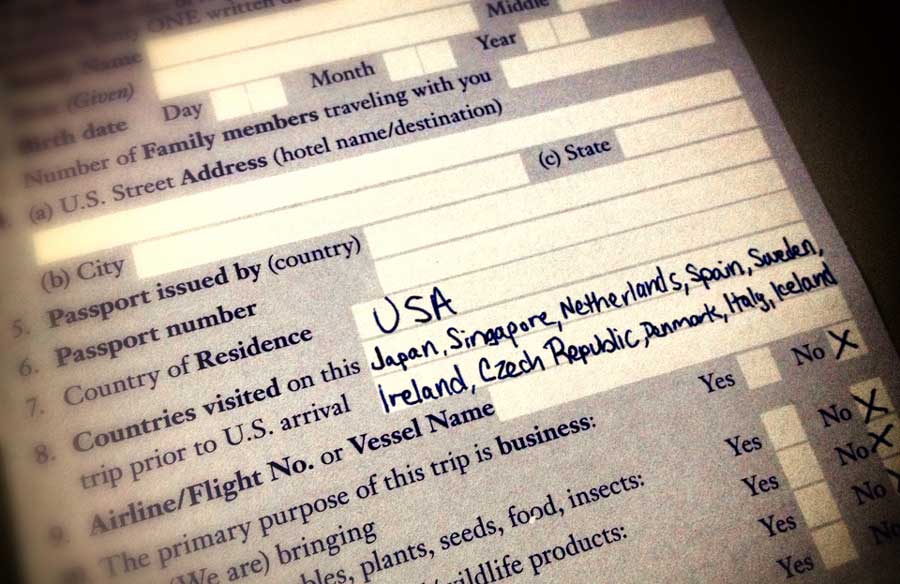 Once again, we said goodbye to our friends and family to get back on the road. We spent Thanksgiving in Singapore where I shot the Supertree Grove with Edward Adios. The atmosphere wasn't totally clear but it helped add a nice effect to the shot.
For Thanksgiving dinner, Naomi and I shared a few Singaporean Street Pancakes. Our entire feast cost 4 Sing Dollars. 🙂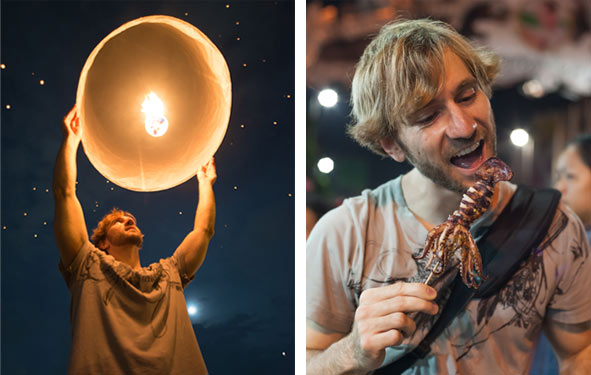 After that we were off to Chiang Mai, Thailand. We spent 10 days in the city to enjoy and photograph the annual Loi Krathong festival where the Thai People release thousands of lanterns into the sky. Naomi grabbed a great photo of me during the festival.
One of the best things about the Loi Krathong Festival in Chiang Mai is definitely the street food. Whether it's sweet banana roti, stir fry, pad Thai, or (my personal favorite) grilled squid in spicy sauce, the Thais really know how to do it right.
Oh, a grilled squid you say? I'll take 3! 😀

In December we started off the month by returning to Siem Reap, Cambodia to commit a few more days (and very early mornings) to photography. I was also lucky enough to capture a truly extraordinary sunrise over the ancient city of Angkor Wat. I still can't believe the colors.
After Siem Reap we crossed the Cambodian border into Thailand on foot to spend a few days down in Phuket. While we saved quite a bit of money traveling this way, we also spent 5 hours in line crossing the border. Despite the savings, I don't think I'll do it again.
In Phuket, there was a big street market where I had a bit more fun sampling some of the Thai street food. Over the years I've had my fair share of tasty treats including, street omelets, snakes, dried fish, squids, crickets, and even silkworms. But when I came across these giant water bugs, I just couldn't bring myself to do it.

From Phuket we flew to New Zealand, aka "Middle Earth," to explore the south island and enjoy the Holiday Season Kiwi style.
Flying into New Zealand I nearly laughed myself to death when I discovered that Air New Zealand is now calling themselves "Air Middle-Earth." Everything is rebranded in Hobbit style and as the new safety video begins, a flight attendant dressed as an elf greets you with "Welcome aboard this Air middle-earth flight."
And if that wasn't enough, as I exited the plane I was greeted by a huge banner that said, "Welcome to Middle-earth." And at the airport info booth, I was even able to pick up a map of middle-earth. LOL, now I know where Mordor is. 🙂
Our first stop in New Zealand was Dunedin and being on the beach really made me feel at home. It has also been nice to take some time to rest and feed my soul. Whether we love the mountains or the ocean, the desert or the snow, we all have a place that has a special meaning in our hearts… No matter where I travel, for me, the beach will always be my home.
There are so many amazing locations to shoot in New Zealand and I plan on sharing many of them in an upcoming Behind The Scenes post. Some of these spots just beg to be photographed.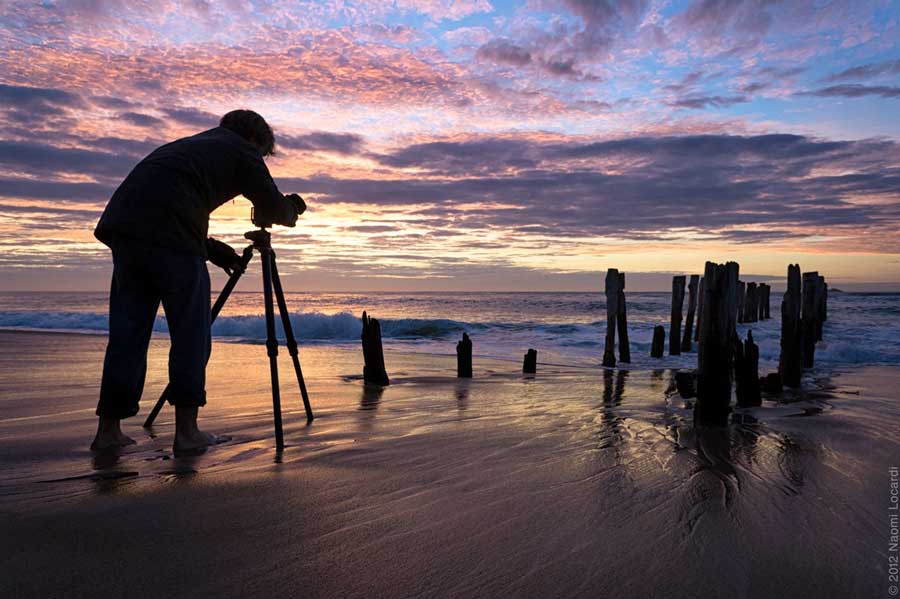 After a few days exploring the southern coastline and The Catlins, we spent Christmas Eve and Christmas Day in Milford Sound and cooked a nice grilled salmon dinner. Since we stayed in a lodge with shared facilities, everyone was super jealous of our meal. Most everyone else just prepared simple camping food like pasta and beans.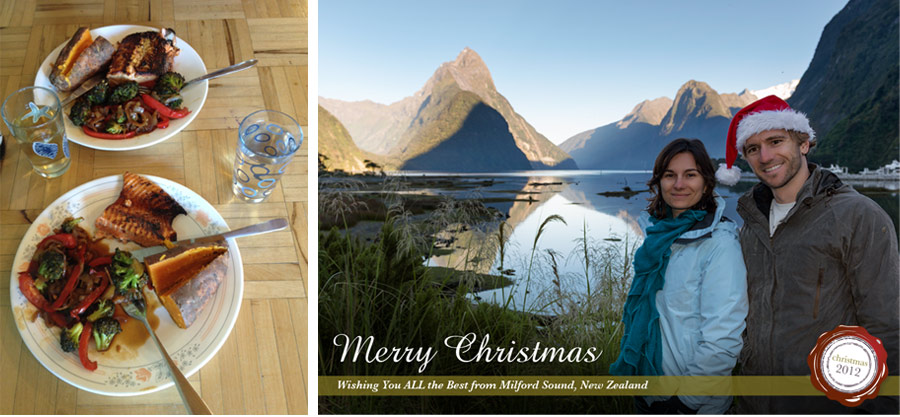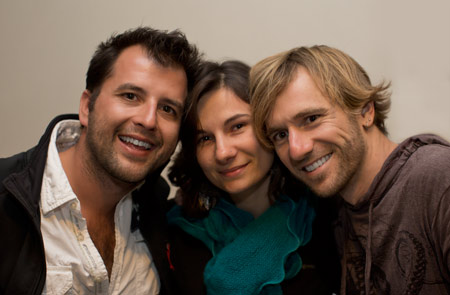 After Christmas we picked up my friend Victor Marz and since then we've continued to explore the beautiful south island of New Zealand.
Naomi and I will be in New Zealand until January 6th, when we fly to Sydney, Australia and kick off another year of full-time travel. 🙂
Countries on menu (so far) for 2013 include: Myanmar, Malaysia, Singapore, Thailand, Cambodia, China, Japan, South Korea, Dubai, Italy, Sweden, Iceland, Spain, Portugal, Netherlands, Hungary, Malta, Jordan, Australia, New Zealand, and of course The USA. So far, it's shaping up to be another incredible year. 🙂
Wishing you all a wonderful and Happy New Year! May 2013 take each of you closer to your dreams!