It's amazing to think that for centuries, the Roman Forum was the teeming heart of ancient Rome and the center of Roman public life. Every time I stand here, gazing out on the ruin of architectural fragments, I feel a profound sense of wonder as I try to visualize the way it looked during its prime, at the peak of the Roman Empire. It's no wonder why the Roman Forum has been called the most celebrated meeting place in the world.
On my last evening in Rome, I spent a bit of time here enjoying the sunset and waiting for the lights to come on. Thankfully there were also some soft and beautiful clouds to work with.
Technical Mumbo Jumbo
Camera: Nikon D800
Lens: 24-70 f/2.8 (Shot at 42mm)
Tripod: RRS TVC-33 / BH-55 Ballhead / RRS L-Plate
ISO: 100 at f/8
5 Exposure Brackets (-2,-1,0,+1,+2)
Location: Shot in Rome, Italy – April 2012 and post-processed in Vernazza, Italy – May 2013
Hardware: 15" 2013 Macbook Pro Retina, Wacom Intuos5 Small Tablet
Software: Lightroom 4.4, Photoshop CS6, Nik HDR Efex Pro 2, Nik Color Efex Pro 3
Technique and Details: All 5 exposure brackets were blended using HDR Efex Pro 2 followed by some cross processing with Color Efex Pro 3. The sharpening was applied using a simple High Pass Filter in Photoshop.
Espresso: Lavazza Oro, my all time favorite roast.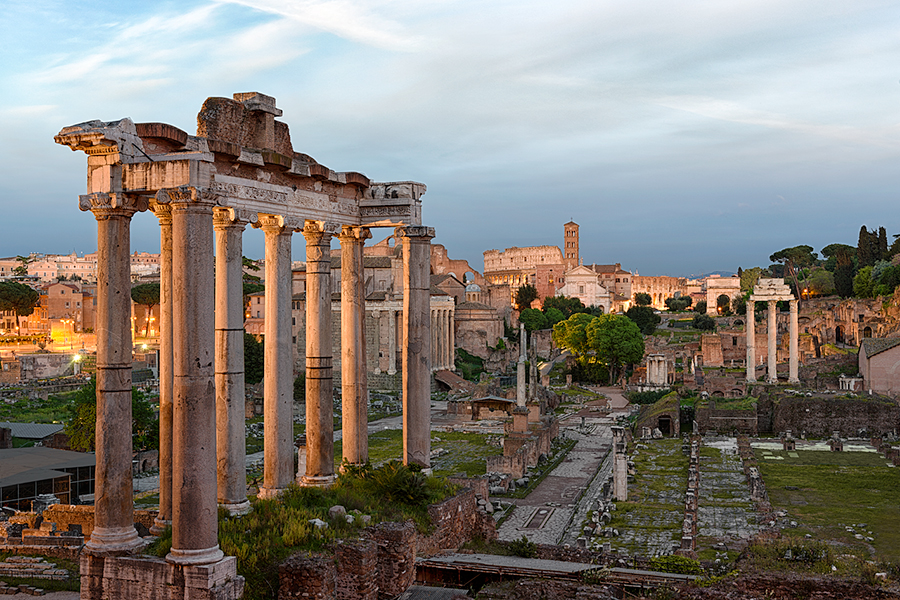 –